News
New Ammo Product Page Layout!
August 10, 2014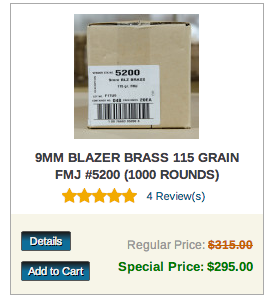 AmmoMan.com has a new layout that should make finding information about the various rounds on the site even easier for visitors. With a larger "Add to Cart" button that's higher on the page and product descriptions with more detail, you can find out even more about your rounds before deciding to buy them. Also, we've added a quick glance table that offers specific ammo information at a glance. Both options are designed to help you learn more about each product and get the info you need as quickly as possible.
Along with the new description areas, you'll also see a cleaned up and revamped product review area. This should make leaving a product review for fellow shooters to benefit from even easier. Also, you'll notice the star ratings appear on the category page. This will let you see what a product is rated before diving into the product-level page and seeing all the details. That way, if something hasn't performed well you won't waste your time clicking into the page. Check it out on the 9mm ammo page here and you'll see a few samples with reviews already up!
To see an example of the new pages, check out the 9mm Blazer Brass ammo page here See anything that should be changed? Let us know. We're all ears!
New Logo and Main Menu!
June 2, 2014
Did you notice anything new on the site today? Check it out, there in the upper left-hand corner, a new AmmoMan.com logo!
We're working on cleaning up the visual design of the site. Don't worry, we'll still have the same great service and assortment of ammo.
What do you think? Better look? Either way, let us know. We'd love to hear it.

Monday, January 16, 2012
The new AMMOMAN webstore is NOW OPEN! We are very excited to offer our new range of products. We will be constantly adding to our inventory so please register on our secure site, this will enable you to keep up to date with any new products.