CZ P-07 Review: Flexibility And Firepower
In many ways, guns are like gloves. They come in a wide range of styles and price points. Additionally, each is a tool that can serve different purposes. A coal miner isn't going to head down the elevator with a pair of fine leather driving gloves any more than a shortstop would shag a pop fly with latex surgical gloves.
Likewise, guns serve different purposes from self-protection to recreational shooting. Many see a gun as a means of putting meat on the table while others see it as a symbol of independence and personal protection.
The CZ P-07 pistol is a hammer-fired handgun designed for self-defense and duty use. It is small enough for concealed carry, yet it is large enough to include a full feature set that makes it suitable for home defense as well.
General Information about the P-07
Introduced in 2009, the P-07 is a polymer-framed pistol that traces its roots to the original CZ-75 handgun. The gun uses a traditional double-action system sometimes called a double-action/single-action system. In practice, this means the first shot has a longer trigger pull than subsequent shots.
For shooters that prefer a single-action pistol, the P-07 can quickly be converted to this mode by the owner. All you do is swap out the decocker for the safety and you can carry cocked and locked.
The grip is sized so even shooters with large hands can get a full grip on the pistol. Since the grip is large, the magazine well accepts double-stack magazines that load 15 rounds of 9mm ammunition. 
CZ uses an aggressive texture on the frame to prevent any slippage during shooting. The company built the frame with a large beavertail to prevent hammer bite. If you have very large hands, you should have no problem shooting this pistol comfortably.
On top of the slide, CZ mounts a set of 3-dot sights. Under the barrel, you can mount a light or supplemental aiming laser on the accessory rail.
CZ P-07 Specifications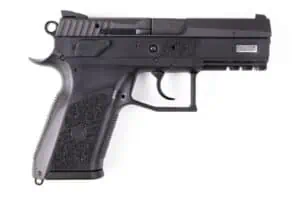 Manufacturer: CZ
Importer: CZ-USA
Action: hammer-fired, Omega DA/SA
Caliber: 9mm
Capacity: 15+1
Number of Magazines Included: 2
Grip/Frame Material: Polymer
Sights: fixed three-dot
Trigger Pull (Average of 4 Pulls): 9.8 pounds (DA), 4.2 pounds (SA)
MSRP: $510
Length: 7.2 inches
Width: 1.5"
Height: 5.3"
Weight (unloaded): 27.7 oz
Range Time
As with any gun designed for defensive work, I want to see how a pistol will perform on the range before I will carry or recommend it. CZ guns enjoy a positive reputation for quality and reliability, but I believe it is only prudent to test one before trusting it.
For this test, I worked the gun on an indoor range using a variety of practice and self-defense loads. I shot 300 rounds through the gun for this article. This included inexpensive Wolf Military Classic, premium Federal HST Tactical and the affordably priced Sellier & Bellot hollow points.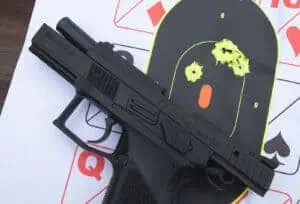 The CZ P-07 offered flawless reliability. Even with the steel cased Wolf ammunition, I experienced no problems with the operation of the pistol.
Testing the P-07
Federal HST Tactical 147 grain JHP
Average Velocity: 987 fps
Average Group Size: 1.5 inches
Sellier & Bellot 115 gr JHP
Average Velocity: 1,170 fps
Average Group Size: 1.4 inches
Wolf Military Classic 115 gr FMJ
Average Velocity: 1,108 fps
Average Group Size: 2.3 inches
Velocity is an average of 10 shots, measured by a chronograph 10' in front of the muzzle. Velocity measurements are in feet per second and measured with a Competition Electronics ProChrono Digital. Accuracy is listed in inches for a five-shot group at 15 yards shot from a rest.
Trigger Warning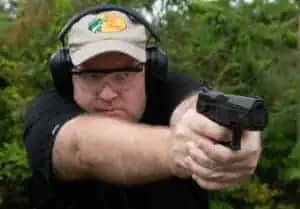 I know a lot of people like the feel of the CZ triggers. However, I was not impressed by the feel of the trigger on the P-07. 
The double action pull measured about 9.8 pounds. That's not unreasonable, but the pull feels very long. It has a small amount of take up with a mostly even pull weight until just before the break. Just ahead of the break, the pull seems to increase creating a small hitch in the stroke.
To reset the action, you need to let the trigger out nearly all the way. This is not ideal for rapid follow on shots.
Single action pulls are significantly lighter, but still require a significant amount of trigger movement. Roughly half of the trigger arc is take-up with a pull that seems long for a trigger in SA mode. Compared to other DA/SA guns like the SIG P226, the SA pull feels substantially inferior.
Nevertheless, I was able to obtain good accuracy. Using a bag to rest on, I managed a best 5 shot group of 1.4" at 15 yards with Sellier & Bellot 115 gr JHP ammunition. The Federal HST ammunition was also very accurate with a best group of 1.5".
One of the things that stands out about the P-07 is the minimal muzzle rise during recoil. The front of the gun stays much flatter than many other pistols of a similar size. I suspect this is due, in part, the high grip I am able to get on the gun relative to the bore. All other things being equal, a higher grip will mitigate muzzle flip better than a lower grip.
I found the front sight on the P-07 was bright and easy for my eyes to pick up. The front post instinctually nestled in the rear notch for a rapid alignment and sight picture. Although I was pleased by the sights, they can be swapped out for something more aligned with you own shooting tastes.
Updated Pistols
My pistol is the original version of the handgun. Since that time, CZ updated the pistol making it even more appealing to shooters. For me, the biggest improvement is the investment in interchangeable backstraps. These adjust the feel of the grip and finger reach to address the trigger. 
Other improvements include the use of metal sights, a melting of the sharp edges, inclusion of front cocking serrations on the slide and a new trigger and hammer design. The company states that it also included fiber-reinforcing to the polymer frame, though I've never seen any issues with the original that suggests this was needed.
Parting Shots
The CZ P-07 is a reliable self-defense pistol with a reasonable price tag. The ability to swap between DA/SA and SA modes with the Omega trigger system is interesting, though I think the design isn't as seamless as the system developed by Springfield Armory on its XD-E pistol. In that gun, there is no need to swap parts or make any changes. The XD-E decocker, when pressed up, is the gun's safety for cocked and locked carry.
Although the CZ P-07 is relatively compact, it still holds 15 rounds in the magazine with a reasonably thin grip. However, the placement of the trigger requires you to have long fingers to properly address the trigger face. For people with short to medium length fingers, you may have to adjust your grip to something less than ideal to pull the trigger.
If you like CZ pistols, you will probably like this one. Regardless, I recommend trying one out before buying.