Ammo cans! They are the optimal storage solution for many things – including ammo. The rugged seam-welded steel receptacle safeguards its contents against physical damage. Its hinged, latching lid's integral rubber O-ring seals out humidity and other contaminants that could gradually damage ammo. The can's hinged carrying handle also makes transporting ammo to and from the range a breeze. Just don't drop a full ammo can on your toes, or you may wind up with significantly fewer toes!
What Are the Dimensions of an Ammo Can?
Two types of steel mil-spec ammo cans are commonly available on the commercial market: M19A1, which was designed to store .30 caliber ammunition (7.62×51/308 Win), and M2A1, which was designed to store .50 caliber ammunition (50 BMG).
M19A1 (.30 cal) Ammo Can Dimensions
Exterior: 11.75″ x 3.75″ x 7″
Interior: 10″ x 3.5″ x 6.5″
Weight: 3.7 lbs
M2A1 (.50 cal) Dimensions
Exterior: 11.75″ x 6″ x 7.5″
Interior: 11″ x 5.5″ x 7″
Weight: 5.2 lbs
Two other types of steel ammo cans are also available: M548 (20mm) and M116A2 (40mm).
M548
Exterior: 18.75″ x 8.5″ x 14.5″
Interior: 17.25″ x 7.5″ x 14″
Weight: 19.8 lbs
M116A2
Exterior: 18.25″ x 6″ x 9.75″
Interior: 17.25″ x 5.5″ x 9.5″
Weight: 14.0 lbs
How Much Ammo Can Fit Inside an Ammo Can?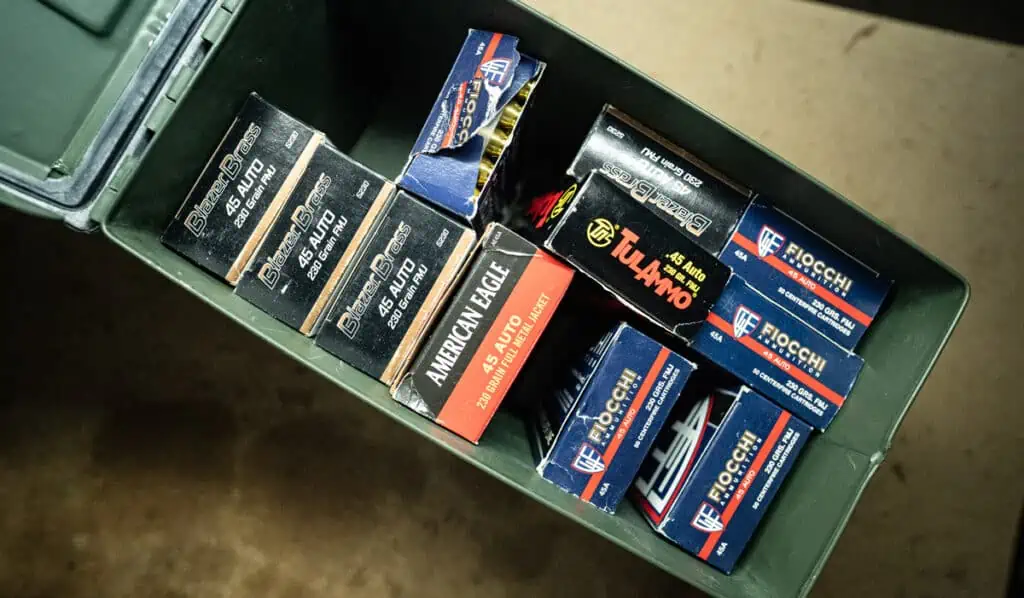 The smaller .30 cal ammo can does not necessarily have to store .30 cal ammunition. Likewise, the police will not come to arrest you for storing other types of ammunition in a .50 cal ammo can (in most states!) If you're storing loose ammo inside an ammo can, you can reasonably expect to fit the following numbers of cartridges (you will fit even more rounds if you carefully stack them instead of simply pouring them inside).
M19A1 (.30 cal)
12 Gauge – 140
308 Win – 320
5.56×45/223 Rem – 600
45 ACP – 770
40 S&W/10mm – 1,000
9mm – 1,200
M2A1/M2A2 (.50 cal)
12 Gauge – 250
308 Win – 640
5.56×45/223 Rem – 1,200
45 ACP – 1,300
40 S&W/10mm – 1,750
9mm – 2,200
What Is an M2A2 Ammo Can?
The newer M2A2 ammo can is identical to the M2A1 with one important exception: the M2A2 features an additional metal support bracket in its latch assembly. The bracket prevents the M2A2's rubber gasket from getting crushed while it is under pressure (i.e. when multiple full cans are stacked on top of one another for extended periods of time). As such, the M2A2 protects its contents with a more reliable watertight seal.
The M2A2 is printed with white digital letters instead of traditional yellow stenciling. The M2A2 was introduced around the mid-2010s, so it is still relatively hard to find military surplus on the commercial market. This will change as the U.S. Armed Forces gradually phases out M2A2 cans it deems no longer fit for service.