Range Bag Essentials
Leaving an essential piece of gear behind on a range trip is a frustrating experience that happens to the best of us. Despite all our efforts, we forget something, be it eye protection, extra magazines or some other essential shooting accessory. Getting a good grasp of your range bag essentials before you head out to go shooting is an important part of any range trip, and unfortunately, it's one we skip way too often. 
I have several bags that are dedicated to range work. One is a dedicated medical bag, with tourniquets, bandages and other first aid gear. Another bag is filled with extra eye protection, extra ear protection and targets for when I take new shooters to the range. Ammo and other guns usually have their own bags. In addition to this, I have one more bag for when it's just me that's going to the range. 
The bag that I use when I'm by myself on the range is an old military surplus canvas ammunition bag. It has one large center pocket with a zipper and six smaller pockets on the outside with closeable flaps. It's the right size for me and my gear. I am not a fan of large range bags that are the size of a small ottoman. I'd much rather have just the gear I need, and keep other gear in my car. 
When I shoot indoors, I usually either bring a target that I printed at home, or I use one of the paper targets for sale at the range. When I shoot outside, however, it's almost always at a cardboard USPSA or IDPA target that I bring along, or else I'm shooting at steel targets. 
Inside that bag are the items I need for a short practice or training session with my defensive pistol. If I'm shooting other guns, I bring other bags to hold the accessoires I need. The contents of this range bag are meant for three different purposes: Safety, performance, and maintenance. 
Range Bag Essentials: Safety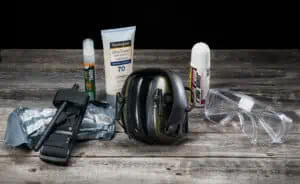 I regularly shoot outside on a pistol bay or some other outdoor range. Safety for me on an outdoor range means more than just the usual eye and ear and protection. Safety also means protecting myself from the environment. Insects are quite common where I shoot, so bug spray is an absolute necessity. I also live in the Sunshine State, which makes sunscreen a vital part of staying healthy when I'm outside. 
That sunshine also means my hands also tend to get sweaty when I'm outside. At the back and on the right side of the photo at right is a tube of Pro Grip compound to keep my hands dry. The last thing I need to do is drop my gun because my hands are sweaty. 
Accidents happen on the range, and some can be worse than others. I make it a habit to carry a tourniquet on me at all times. I also have a tourniquet in every range bag I own, including this one. In this bag, I also have an Israeli-style bandage if it's needed. 
Range Bag Essentials: Maintenance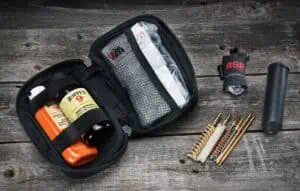 I prefer not to do any major repairs on my gun away from the range. As such, the maintenance and repair part of my range bag is quite small. I have a bore brush and patch holder rod that is contained in a small plastic tube to clean the barrel and action. The brass rod that holds the bore brush or patch holder can also be used as a squib rod if needed. 
I also prefer to clean my guns at home. However, there occasionally comes a time when excessive dirt and grime causes problems with how my guns operate. I found a small case online that contains a bottle of cleaning solution, gun oil and cleaning patches that allows me to clean my guns at the range if needed. 
Range Bags Essentials: Performance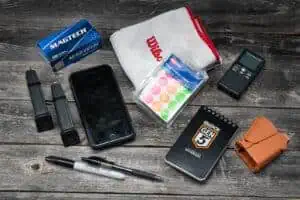 Here's where the rubber meets the road. This gear is to help me tweak my skills on the range, and record what happens for analysis later. Aside from a few spare mags and some practice ammo, I have a Maglula speed loader to save time (and my thumbs) loading magazines when I'm at the range. There's a shot timer to keep me honest about how fast I am shooting and some small adhesive dots to give me a precise aiming point on the target. There's also a small hand towel in my bag (the one I use is actually an old golf towel) to wipe away sweat or clean up a spill. I keep a notepad and pens in my bag so I can write down ideas or items of interest that might happen while I'm shooting.
One of the most important tools I bring to the range is my smartphone. I can use it to take pictures of my targets and record my group sizes, take notes or to look up information on drills to shoot at the range. A smartphone can also obviously make phone calls, which comes in very handy if there is an emergency at the range. 
Choosing the right range bag essentials is a process. You'll find out there are some things that you once thought of as necessary that you'll no longer need, You'll also find new gear that will make life easier for you when you go to the range. A well-stocked range bag is a vital part of your shooting gear. Make sure it (and the items it contains) goes with you when you go to the range.