A Family Tradition Of Gun Ownership
We see it in gun ads all the time: A long, slow shot of an idyllic woodland meadow, panning over to a man dressed in orange and flannel holding a rifle or a shotgun, his steady hand guiding the aim of the child at his side as they enjoy the outdoors together. In the background, you hear the narrator say things like "A storied tradition, passed down from generation to generation." Yes, those types of ads are a cliché, but there's an element of truth to them. For many of today's gun owners, it was our fathers who exposed us to the world of safe firearms ownership, and they were the ones who taught us how to shoot.
Things today are different. Between binge-watching streaming television, social media and the hurried pace of the modern work environment, we have so many distractions to keep us away from spending our time doing what we love with the ones we love the most. As a result, finding the time to teach our children about how much fun it is to safely shoot guns seems to get tougher each year.
We're here to help. This Father's Day, instead of getting Dad a tie (which he won't wear) or cologne (ditto), why not get him what he really wants: More trigger time. Help him make memories that will last a lifetime by setting aside a day for him to head out to the range and shoot his favorite guns with his favorite people.
Give The Gift Of Time
To help make the occasion a little more special, we've created a downloadable certificate for a day off at the range that you can give to Dad, redeemable by him for a day at the range.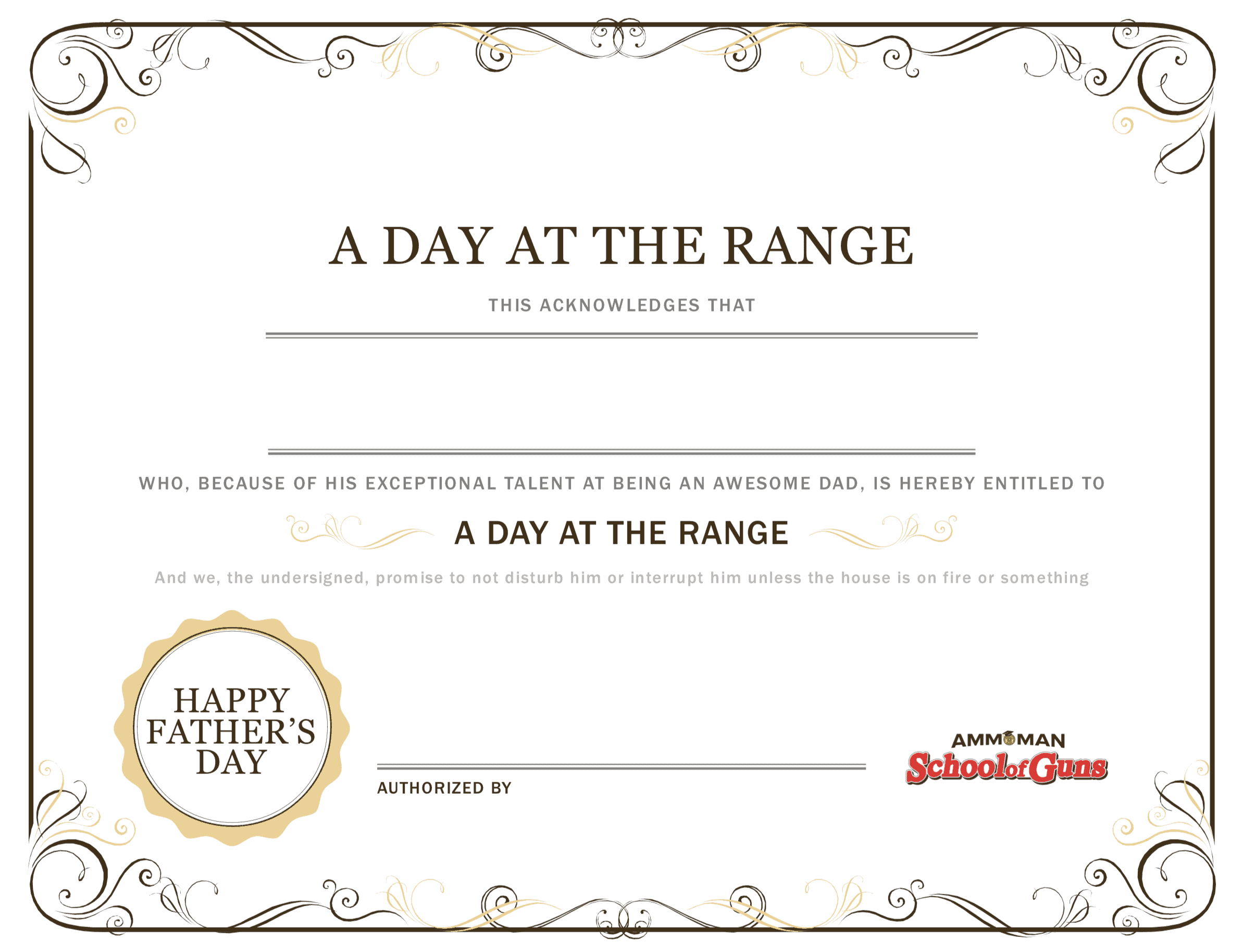 To personalize the certificate to your special Dad, download this document, open it up in Microsoft Word® or a similar program, type in your Dad's name and your name(s), and then print it out and present to him on Sunday. If don't have Microsoft Word, we also have a PDF version available here that you can print out fill in by hand.
And Happy Father's Day to all the Dads out there, from all of us at Ammoman.com.
P.S. If Dad should happen to need ammo for his range trip, we have that available for him as well.