Building An Everyday Carry Bag for Every Day Use
Everyday carry gear has been a hot topic on the internet for quite some time. Photos of all kinds of gear show up on social media. The owners are proud of how they have carefully made decisions about the gear they carry with them and how they carry it.  But I've noticed that many people often confuse the gear in their everyday carry bag with the kinds of gear they need in a worst-case scenario.
To me, the gear in your everyday carry bag should be the things you need to make your everyday life a little bit easier. That means, it's not necessarily the gear you need to survive the zombie apocalypse.  Your everyday carry bag is not your bug-out bag full of stuff to keep you going on the road under any circumstances. For instance, it shouldn't contain your shelter-in-place gear for disasters. Rather, an everyday carry bag should have stuff you need to make an ordinary day run a little bit more smoothly. What that gear will be depends on what your ordinary day looks like.   
I've been creating photos and articles for various clients for quite awhile now. I also have a wife and two teenage sons. Therefore, my everyday carry bag contains gear that makes my job easier and helps the lives of me and my family.
Remember, it's an everyDAY carry bag — not an everyWEEK carry bag. Keep it light, small, and useful. 
My Experience With Using An Everyday Carry Bag
As I said, I've been a professional photographer for decades. During my career as a shooter (of photos), I've learned that taking a good photo is easier when I have the right gear on hand. I've also learned that, in addition to taking pictures, it is also my job to make sure the client is happy and comfortable while we are taking pictures. Sometimes, pulling out an aspirin or antacid from my camera bag goes as far in keeping the client happy (and paying) as pulling out a good shot. 
Why Have Everyday Carry Bag?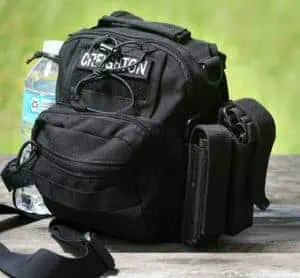 On a recent trip to Orlando, I spent some time people-watching in the mall while my wife shopped for curios. I paid particular attention to the men, and noticed many of them walking around with backpacks or messenger bags. In fifteen minutes of people-watching on a Saturday afternoon, I spotted around twenty men carrying a bag or satchel of some kind.
Granted, Orlando is a resort area. We tend to carry gear on vacation (sunscreen, sunglasses, etc.) that we don't normally carry. But it wasn't just married men or obvious tourists who were carrying an extra bag. It's easy to spot single men and dads tasked with carrying all of the family's gear.  It seems like the everyday carry bag may be here to stay.
I also noticed that if men have to carry around a man-purse, they want it to be as tough looking as possible. The majority of bags I saw had military-style MOLLE straps on them. Most of those bags were in some form of camo.
What's My Bag?
What I carry on me everyday affects what goes into my carry bag as much as my job and my lifestyle does. I carry a firearm, tourniquet, flashlight, and knife with me everywhere I can. The gear in my bag should complement (not duplicate) the stuff I have on my person. As such, the only two things in my everyday carry bag that duplicate what I have on me is an extra tourniquet and a more powerful flashlight. Other than that, the gear in my bag is different than what I carry on me and can be broken down into three groups.
Group Number One: Writing/Photography/Other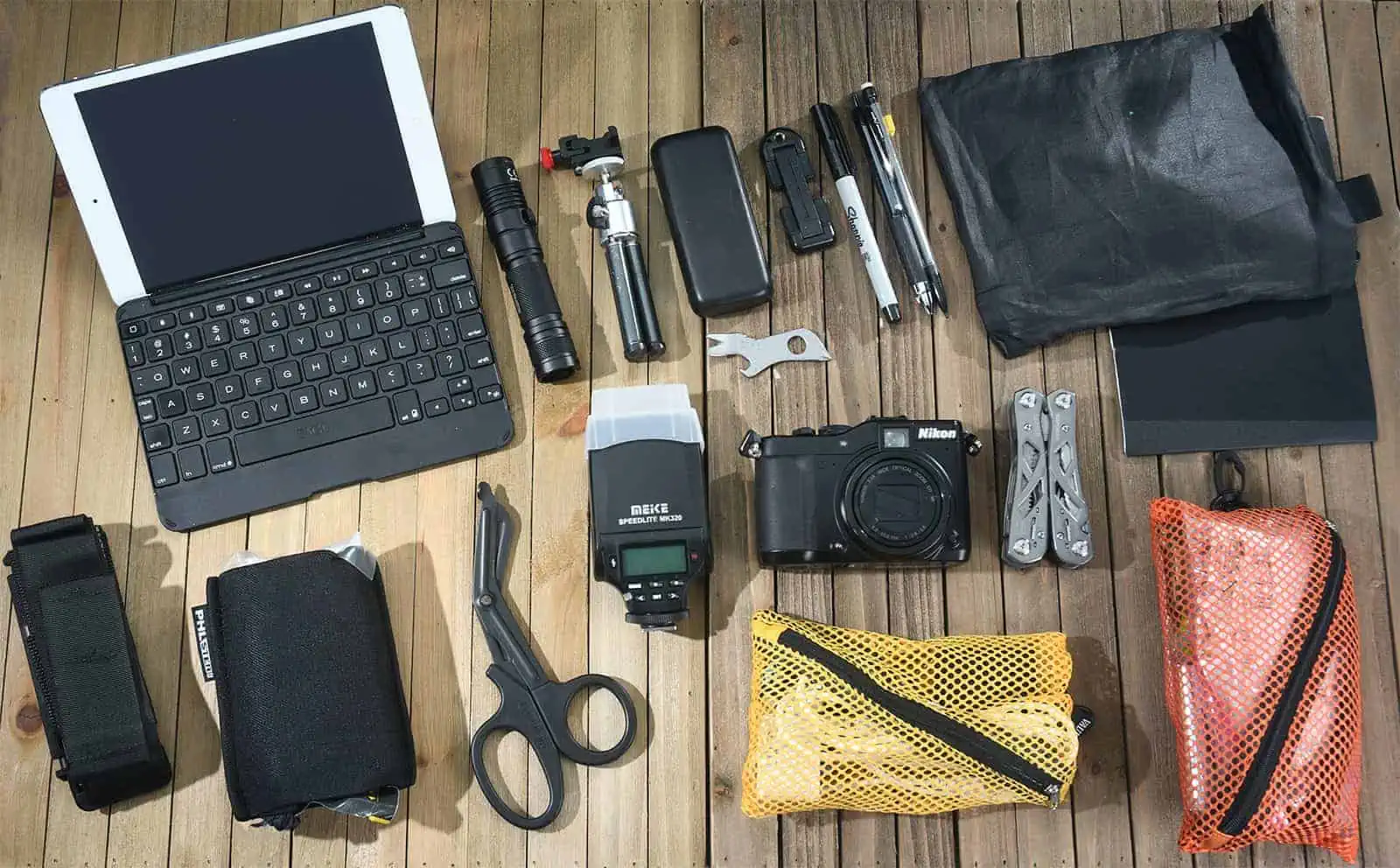 I firmly believe that the best camera you have is the one you have at that moment, so I carry a small digital point-and-shoot wherever I go.  I also carry an external flash (center) and bounce cards and softbox (upper right) to improve the quality of my photos. While it may look basic, I can take some high-quality photos with this gear if needed.
The iPad and keyboard (upper left) are there to help me edit the photos and write articles.
Other gear of interest in this photo are:
Spare tourniquet

Pocket Emergency Wallet from PHLster holsters (bandages and gloves for first aid/trauma)

An extra flashlight

Small tripod

Phone battery

Smartphone tripod adapter

A SOG Multi-tool
Group Number Two: Yellow Bag with Cords/Cables/Batteries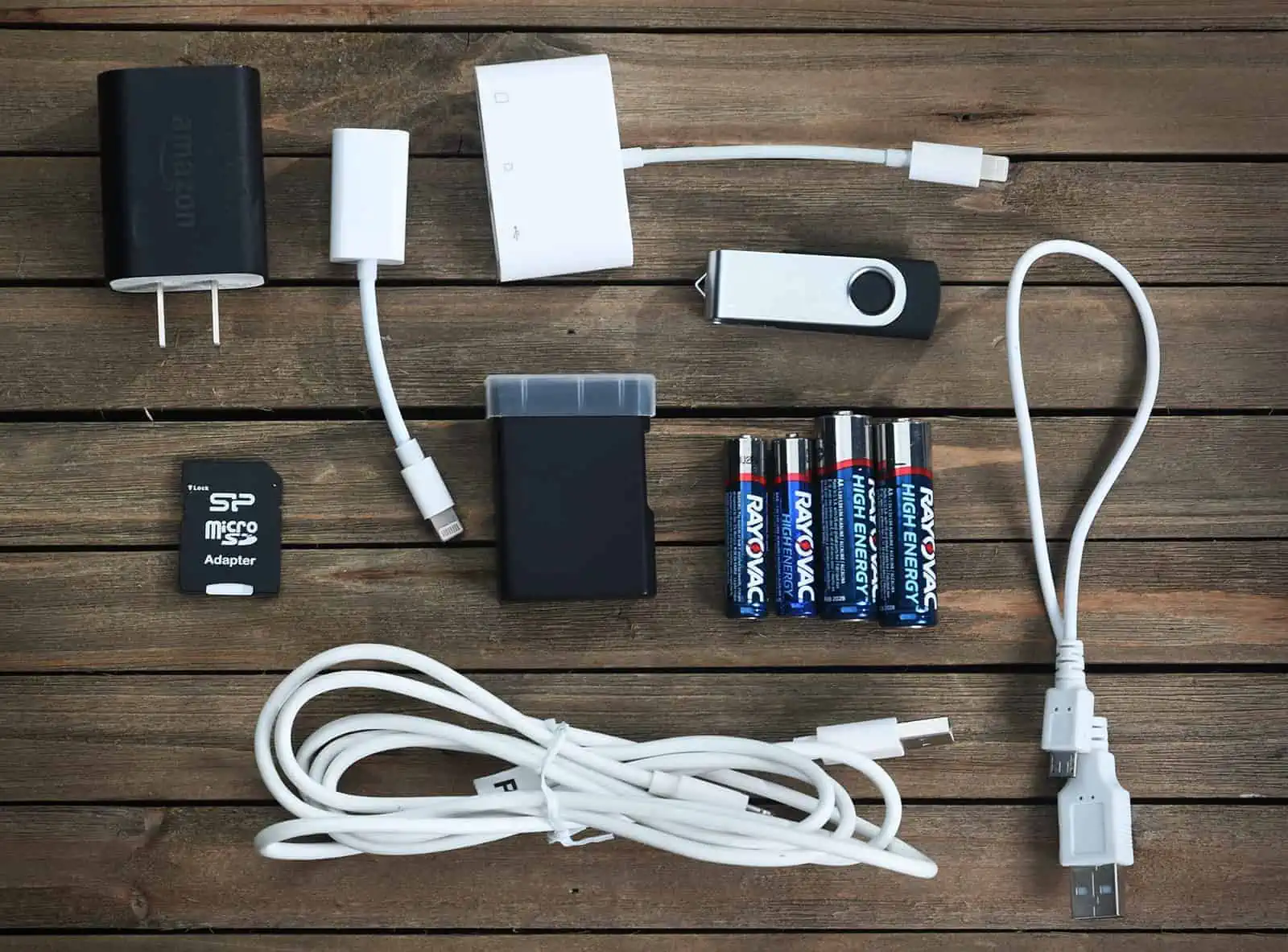 The yellow bag contains all the extraneous stuff I need to connect my camera to my phone or iPad and my iPad to a power source.  It also has spare batteries for the flash and for all the other things that might need spare batteries. 
Group Number Three: Orange Bag for Life's Little Problems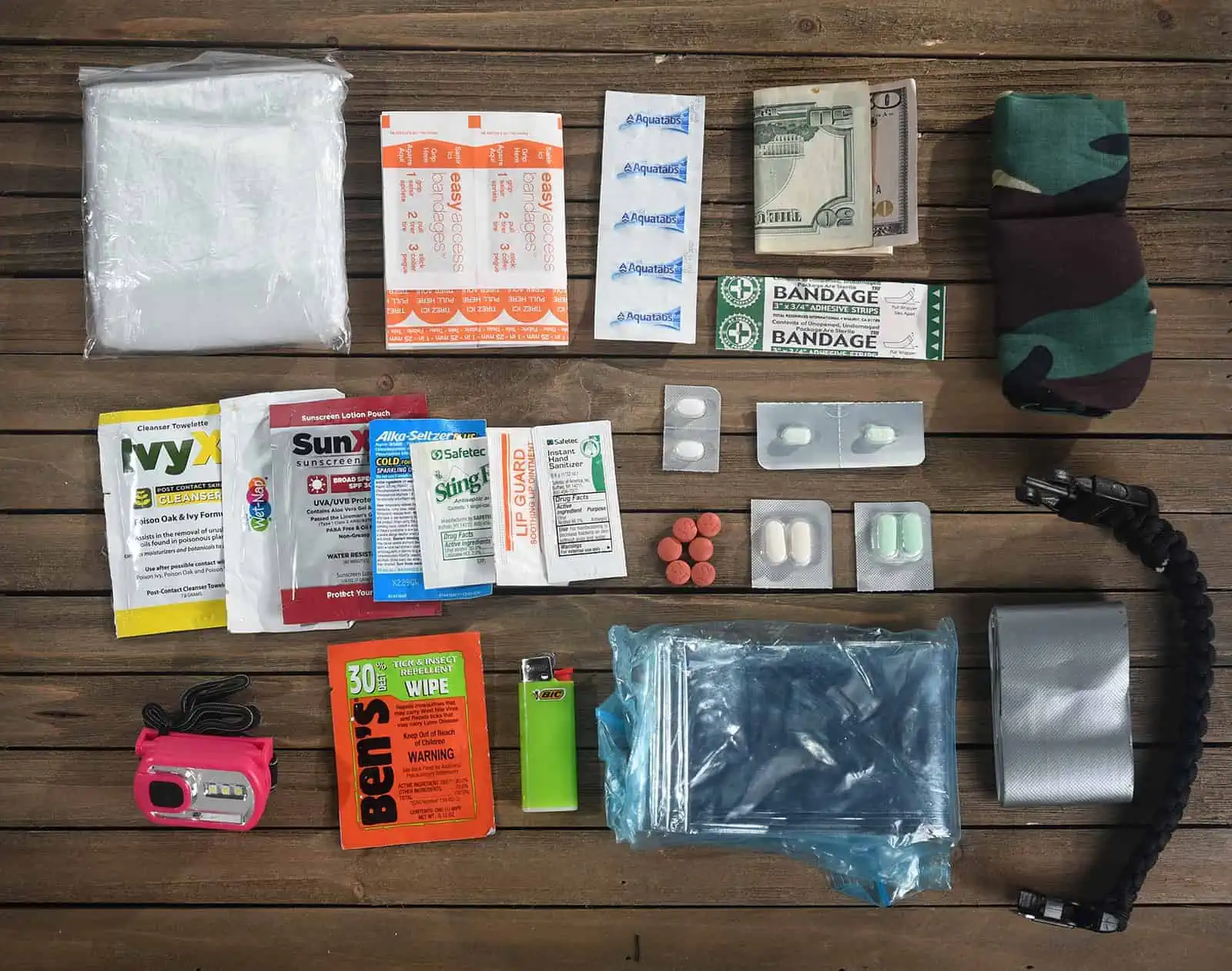 The orange bag is the core of what makes my everyday carry bag so useful. Here I have, starting at the top left, a plastic rain slicker (because I'm in Florida.) I also have band-aids and water purification tablets. (The tables are my one "prepping" item in this bag, as clean water is a big priority for me.) I also carry extra cash (always useful), more band-aids (what can I say… I have teenage sons), allergy pills, anti-diarrheal pills, day and night time cold medicine, ibuprofen, Mylar blanket (useful for treating shock), a lighter, insect repellent, headlamp (really useful), and a selection of one-use packs of lip balm, sunscreen, itch relief gel, and similar ointments. 
All of this gear fits into a small satchel that also has a small water bottle. It is easy to carry all day long and doesn't look out of place most places I go. I've used this bag for a couple of years now, and it (and the gear inside) has come in handy more times than I can count. 
What's in your everyday carry bag, and what would you change about mine?
Also, be sure to subscribe to our newsletter for more information about being ready for all of life's ups and downs and staying safe no matter what happens to you.