Springfield Armory XD-S Review
Subcompact 9mm pistols are a popular category of self-defense handguns. They offer good concealment, are chambered for a duty-level cartridge, and are reasonably comfortable to shoot. The problem is there are a lot of them on the market. 
How do you choose between them?
Recently here at the School of Guns, Kevin took a look at 10 single stack, compact 9mm pistols. There are a lot of good pistols in that evaluation, but I offer another for your consideration that Springfield updated in 2020. Let's dive in and get to know the new Springfield Armory XD-S Mod.2 through an in-depth review.
9mm Springfield Armory XD-S Mod 2 Specs
Manufacturer: Springfield Armory
Importer: Springfield Armory
Action: striker-fired
Caliber: 9mm
Capacity: 7 and 9
# of Magazines Included: 2 (one 7-round, one 9-round)
Grip/Frame Material: Polymer
Sights: fixed three-dot
Trigger Pull (Average of 4 Pulls): 6.6 pounds
Length: 6.3 inches
Width: 0.9 inches
Height: 4.4 inches
Weight (unloaded): 21.5 ounces
MSRP: $524
General Information
Designed for concealed carry, the XD-S line of pistols are thin handguns: about 0.9" across at the grip. Yet, they are large enough to pack in seven 9mm rounds in a flush fitting magazine. That's eight rounds before a mandatory reload. Should you anticipate a greater need, the company also includes a 9-round magazine with the pistol.
If you believe that self-defense calibers should begin with the number four, the company also offers versions chambered for the .40 S&W and .45 ACP. As you might expect, the larger rounds take up more space at the cost of reduced magazine capacity.
Sighting options vary, though it appears the company is consolidating the line to a tritium front sight with a U-notch rear. The tritium front sight is outlined by a photoluminescent ring to improve visibility in brighter and transitional lighting conditions. However, the .40 S&W version is also available with a fiber optic front sight.
You can attach a white light or laser to the XD-S using the integral accessory rail located under the barrel. Although it is short, there are a range of weapon lights that will fit.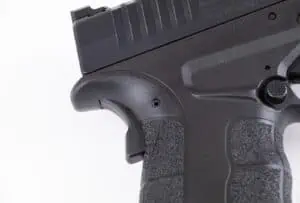 Earlier XD-S pistols used an aggressive, grenade-like pattern on the grip. While I found the original offered excellent resistance to slippage during recoil, the newer Mod.2-type grip is more comfortable in the hand. This will be a welcome change for some shooters. In my testing of the gun, I found no appreciable difference between the two textures when it comes to actual performance. 
Stand (Off) And Deliver
Possibly the least known aspect of the XD-S Mod.2 is the built-in stand-off feature. Don't know what a stand-off is? Let me explain. If you press a semi-automatic pistol against a surface, you will possibly push the gun out of battery. This means the slide is slightly pushed back, and it may not fire. 
While we don't normally think about it, a self-defense shooting can be quite ugly. You may be forced into a position where you have no choice but to jam your pistol into the ribs of your attacker and pull the trigger. I know of at least two coworkers who had to do just that to save their partner's life or their own.
The unique recoil spring assembly of the XD-S protrudes slightly from the bottom of the gun to help prevent the slide from being pushed out of battery. So, in a horrible situation where someone is on top of you or a loved one and the only shot you can make is a contact shot, the XD-S is more likely to go "bang" instead of "click." No system is foolproof, but I appreciate the added margin of success.
Range Time with the Springfield XD-S
My primary concern for a self-defense pistol is reliability. The gun has to work every time I pull the trigger. Otherwise, I simply won't carry or recommend it.
In my experience, the XD-S is completely reliable. I shot 300 rounds of ammunition through the XD-S 9mm for this article, plus other, additional shooting that I've done previously with the pistol. The handgun was infallible. 
One concern that some people have is that the grip safety may not disengage when the gun is gripped. I've never had that problem with any pistol – XD, 1911, or Smith & Wesson Shield EZ. The XD-S has an improved grip safety that should eliminate any problems, real or imagined.
Springfield Armory XD-S Ammo Test Results
Federal American Eagle 115 gr FMJ
Average Velocity: 1127 fps
Average Group Size: 1.5 inches
PMC Bronze 115 gr FMJ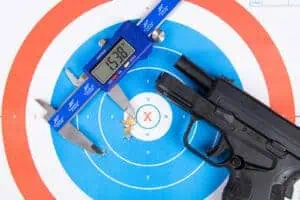 Average Velocity: 1,092 fps
Average Group Size: 1.7 inches
Wolf Military Classic 115 gr FMJ
Average Velocity: 1,110 fps
Average Group Size: 2.1 inches
At the bottom of the grip safety, Springfield Armory built up the lever so that it will be deactivated with even the limpest of grips. During my shooting, I had no problems whatsoever with the grip safety.
Understandably, the grip on the XD-S is relatively short. The pinky extension on the flush fitting magazine allows me to get a full hand on the pistol to control recoil. Consequently, the recoil was controllable. The gun had a fair amount of muzzle flip, but no more than any other subcompact pistol I've shot recently.
If you have large hands, you may find the extended magazine is a better choice for you. It allows for a full grip no matter what your hand size.
Another area of concern in a defensive firearm is accuracy. For this Springfield Armory XD-S review, the pistol performed within my expectations. A subcompact pistol with its increased recoil, smaller grip, and shorter sight radius can be difficult to shoot well. Nevertheless, you still need to achieve an acceptable level of accuracy.
The potential accuracy of a pistol is always greater than the human holding it. Using a rest, we can increase our own potential for accuracy and precision. I used a sandbag to brace the pistol while I was testing the ammunition. Immediately, the firearm's accuracy impressed me.
I achieved good groups with all of the ammunition I shot. I found the pistol did very well with the American Eagle 115 gr FMJ. That ammunition provided the best five-shot group of a hair over 1.5" at 15 yards. Other ammo turned in a similar performance, but none quite as good as the American Eagle.
Parting Shots – Springfield XD-S Review
The selection of a handgun for self-defense is a highly personal one, so just my seal of approval through this Springfield Armory XD-S review is likely not enough for you to have your mind made up. What may work well for me may not be ideal for you. You are in a great position, however, as the modern firearms world offers many good choices for personal protection.
The XD-S is one of the firearms you should consider if you are seeking a single stack, subcompact pistol. Based on the testing I have done, the gun is reliable, accurate, and won't beat you up during a range session.
Springfield Armory built the gun with a number of features conducive to personal defense and managed to keep it at a reasonable price. As far as small guns go, the XD-S is also fun to shoot. That aspect of shooting cannot be underestimated. A gun that is enjoyable to take to the range is one you are likely to practice with.