Ruger LC380 Review
Ruger launched the LC380 in 2013 as a lower-powered, easier-to-manage version of the LC9 single stack pistol. It is identical to its 9mm cousin in almost every way. It's the same weight, height, width, and length, and just like LC9, it holds seven rounds in the magazine and one in the chamber. There are, however, some noticeable differences that make the LC380 a good choice for someone looking for a defensive pistol that's easy to handle and shoot. Those differences became very apparent after we started shooting the pistol for this Ruger LC380 Review.
The first, and most obvious, is the difference in power between the 9x19mm 9mm cartridge and the 9x17mm .380 ACP cartridge. Shooting the smaller .380 ACP round in a gun designed for 9mm makes for a pistol with recoil that's very easy to control and a gun that's easy to load.
The second noticeable difference is the trigger. The LC9's trigger was a little odd, with a strange mid-reset "click" that made you think the trigger was reset and you could shoot it again . . . except you couldn't. Fortunately, the Ruger LC380 I tested didn't have that problem. In fact, the trigger was quite good, needing 6.2 pounds of effort to fire the gun. There was some slight stacking (increased resistance) as the trigger neared the hammer release, and the pull was slightly heavy compared to others in this test. Aside from that, if you can't shoot the LC380 well, it's not the trigger's fault.
Ruger LC380 Reivew: Our First Impressions
The LC380 is a double-action only, hammer-fired gun. At 4.5 inches high, 6 inches long, and less than an inch across, it's very easy to carry in an inside waistband holster. There is a loaded chamber indicator on the top of the slide, and just like all the guns in this test, it comes with three dot sights.
The magazine holds seven rounds.  Interestingly, it's the exact same dimensions as the LC9's magazine. The LC380's magazine uses a spacer built into the magazine body to accommodate the shorter length of.380 ACP cartridge.
The LC380 has a manual safety that's in a good spot for right-handed users. It also has a magazine disconnect safety that prevents the gun from firing if a magazine is not inserted into the gun. The slide stop lever is right where you expect it to be, and the magazine release is easy to access.
In general, the LC380 felt a little odd in my hands. Its single stack design and thin profile made it seem like I was holding onto a stick of lumber, not a gun. That said, it shot quite well on the range and was easy to control under rapid fire. 
The LC380 ships with just one magazine. It also comes with an additional flat baseplate for the magazine (which will shorten the overall height of the gun), a gun lock, instructions, and a small takedown tool for disassembling the pistol.
Public Service Announcement: The LC380's cleaning procedure requires the takedown tool to be inserted into the side of the gun in order for you to remove the slide, barrel, and recoil spring . If that tool gets lost, you'll need to either order a new one from Ruger or scrounge around your house until you find something that will work as a stopgap. 
Range Impressions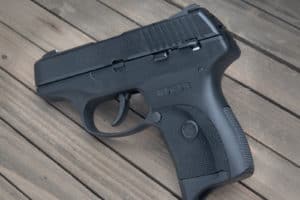 I mentioned before that the LC380 felt a little odd in my hands.
Its thinness and flat sides made it feel a bit strange. That odd feeling, however, did not translate into an unpleasant feeling on the range. The gun was easy to control under rapid fire, and what little recoil I felt was easy to control. The manual safety was easy to disengage with my thumb when shooting right-handed, although I did struggle with it when I shot left-handed. 
We shot 500 rounds through the LC380 to test its reliability for this review. Everything went well, right up to the point when I started shooting jacketed hollow point rounds. 
Issues
Round 224: Stoppage (Failure to Feed), Remington Golden Saber

Round 384: Stoppage (Failure to Feed), Federal HST

Round 388: Stoppage (Failure to Feed), Federal HST

Round 394: Stoppage (Failure to Feed), Federal HST


Round 398: Stoppage (Failure to Feed), Federal HST
Total Issues: 5
Based on these results, I would advise against using Federal JHP rounds if you carry an LC380. Instead, I would use either Hornady Critical Defense rounds (my .380 defensive round of choice) or Fiocchi JHP rounds, as those fed with no issues. If those aren't an option for you or you're looking for maximum penetration from the lower-powered .380 ACP round, then take a look at carrying full metal jacket ammunition in your gun instead.
Accuracy 
The Ruger LC380's accuracy was in line with the other .380 pistols we tested. It shot right in between the Sccy CPX-3 and Kahr CT380 from at rest at 15 yards. 
Test Ammunition
250 Rounds Tula 91 Grain FMJ
100 Rounds Blazer Brass 95 grain FMJ
50 Rounds PMC 90 grain FMJ
50 Rounds Fiocchi 95 grain FMJ
20 Rounds Federal Premium 99 grain JHP
25 Rounds Remington Golden Saber 102 grain JHP
20 Rounds Hornady Critical Defense 90 grain FTX
The LC380 was easy to keep on target, and its size and heft made it easy to perform quick, accurate follow up shots.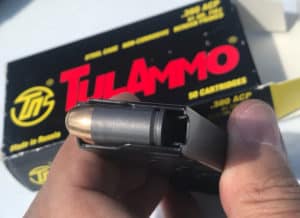 Results
Chronograph: Shooty Alpha
Chrono Distance: 10 ft
Distance to Target: 15 yds
Blazer Brass FMJ
Average Velocity: 928 fps
Average Group Size: 4.45 inches
Federal HST JHP
Average Velocity: 752 fps
Average Group Size: 4.48 inches
Tula FMJ
Avg. Velocity: 973 fps
Avg. Group Size: 4.3 inches
Cumulative Group Size: 4.39 inches
Average Trigger Pull: 6.19 pounds
Average Slide Rack Effort: 14.8 pounds
Reliability 
Overall, the LC380 was quite reliable.  That said, our model had issues with two types of ammunition: Remington 102 grain Golden Saber JHP and Federal 99 Grain HST JHP. Both of these failed to load into the LC380 consistently. This reinforces the need to thoroughly test your defensive ammunition before you rely on it to defend a life. 
Wrapping Up The Ruger LC380 Review
The Ruger LC380 is one of the first of the compact .380 pistols. With that time on the market, shooters trust it to be a reliable performer when using the right ammunition.  It was easy to shoot on the range and felt good in my hands, due in part to the fact that it's the same size and shape as its 9mm cousin (the LC9).
As a bonus, the fact that it shares a form factor with the LC9 means that most of the accessories and gear designed for the LC9 will also work with the LC380. The LC380 may not have lit up the charts in our tests, but it's a proven platform that will serve you well on the range, in the home, or in your holster.