Ruger 5.7: Tactical Meets Tacticool
FN Herstal, a Belgian company, created the 5.7×28 mm round in the early 1980s. The round was FN's response to a NATO request for a "Personal Defense Weapon," or PDW. The request was for a combination of gun and ammo that could be used by second-line troops such as drivers and support personnel. The idea was to create a small, compact firearm that was easy to carry around but still an effective combat weapon. A few years after the military request, FN released the 5.7×28 round to civilians. Ruger has now come out with the Ruger 57 pistol chambered in 5.7×28. 
The Ruger 57 is not the first gun to use the 5.7mm. FN USA (the stateside branch of FN Herstal) released the FN Five-Seven pistol to the civilian market in the early 2000s, along with the PS90, a longer-barreled version of the PDW created for the NATO requirement. Interest in both of these guns grew, and while sales were good, they never reached the popularity of similar guns chambered in more common rounds such as 9mm. 
Innovative Once Again
Enter Sturm, Ruger & Company. In 2007, Ruger took a look at the depth and breadth of the existing gun market and saw that there was a need for a super-small, concealable semi-automatic pistol. They then introduced the Ruger LCP, and it became the best-selling pistol in America. Ruger looked at the long-range rifle market and saw the need for a low-cost, introductory rifle, then rolled out the Ruger Precision Rifle to almost universal acclaim. Now, Ruger is rolling out a pistol chambered in 5.7x28mm, and it looks like they have another winner on their hands. 
First Impressions Of The Ruger 57
The Ruger 57 is a full-sized, delayed blowback action semi-automatic pistol. It has a 4.94 inch long barrel, an overall length of 8.65 inches, a width of 1.2 inches, and a height of 5.6 inches. The pistol has a fiber-optic front sight, a blacked-out rear sight, and holds 20 rounds in the magazine. 

Yes, you read that correctly. The standard capacity magazine for this gun holds 20 rounds of 5.7mm ammunition. That's more than a Glock 17, Smith&Wesson M&P, or pretty much every other full-sized 9mm pistol on the market today. However, the magazine for the 57 is a little… odd. The 5.7mm round has a much smaller diameter than a round of 9mm. This means you can stack more rounds of 5.7 into the same space compared to 9mm. However, the 5.7 round is much taller than the 9mm round, which means that the magazine is shaped much differently than the magazine for, say, a Glock 19. 
Ruger 57 Range Impressions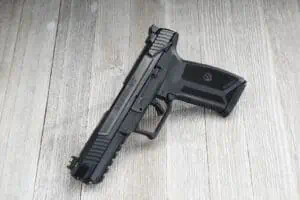 That unusual magazine shape means that the Ruger 57's grip is a bit different than most other pistols on the market. The grip is longer back-to-front than most guns, which means your fingers don't wrap around the grip as much as you'd expect. Does that deeper grip affect how you shoot the gun? Not really, but it does take some getting used to. Other than that, however, I found the ergonomics on the Ruger 57 to be just as good as any other full-sized semi-automatic available today. The magazine release and slide lock lever were easy to use, easy to reach, and right where you'd expect them.
There is also a good-sized portion of Picatinny rail under the frame for mounting a light or a laser. The grip is textured so it's easy to hold onto. The pistol has an ambidextrous, frame-mounted safety, and the trigger has an internal blade safety as well. The trigger on the 57 has some slack in the takeup, no overtravel, and a noticeable reset. The average trigger pull weight of the Ruger 57 was 5.5 pounds, about right for a full sized pistol. 
The Ruger 57 is not small. Its length and height are outside of what I'd consider to be suitable for concealed carry. However, that size, combined with the 5.7mm round, make it very easy to control on the range, even during rapid fire. Most of all, though, it's fun to shoot. The pistol had very little felt recoil and the sights came back on-target very quickly. The twenty-round magazine, simple controls, and easy to shoot nature of the 57 made it easy (VERY easy) to empty the magazine in a blaze of spent brass and ear-to-ear grins. The gun ran reliably in our tests. It shot 300 rounds of both Federal and FN ammunition without a hitch, which only added to the enjoyment of shooting this pistol. 
Accuracy 
There are two commonly available rounds for 5.7mm: the 30 grain 5.7mm hollow point Lead Free ammunition from FN, and the Federal 40 grain 5.7mm full metal jacket round. We shot four five round groups at a target 15 yards away to measure the accuracy of the pistol. We also shot ten rounds through a Pro Chrony chronograph set up 10 feet away from the muzzle to test the speed of each round. 
Test Results 
American Eagle 30 Grain FMJ
Average Group Size: 2.5 inches
Minimum Group Size: 1.6 inches
Maximum Group Size: 3.2 inches
Average Velocity: 2163 fps
FN USA 40 Grain JHP
Average Group Size: 2.29 inches
Minimum Group Size: 1.6 inches
Maximum Group Size: 3.1 inches
Average Velocity: 1653 fps
Reliability
The Ruger 57 fed 300 rounds of our test ammo with no issues. At first, the magazines for the pistol did require a significant amount of effort to load. However, over time, we were able to load them to full capacity with relative ease.
Wrapup 
The Ruger 57 represents a completely new paradigm in full sized service pistols. By rolling out this pistol in the overlooked 5.7×28 cartridge, Ruger has breathed new life into the market for 5.7mm ammo. Choosing 5.7mm for this pistol means that the gun has almost no recoil, holds lots and lots of ammo, and is easy to operate, even for people with reduced hand strength. Reasonably priced, fun to shoot, and with a twenty-round standard capacity magazine, it is a great option for someone who wants a defensive pistol that is accurate and easy to control but is still loads of fun to shoot on the range.