Sccy CPX-2 Review: Back To Basics 
We all know that one restaurant that is unpretentious and inexpensive but somehow makes that one item, be it an entree or dessert or something else, which is somehow better than the same item at the fanciest of restaurants. This idea appears to be the business model for Sccy Firearms. They don't make a wide variety of guns. All they make are polymer-framed subcompact pistols in .380 and 9mm. All the firearms have 10+1 capacity. They are all well-made pistols, though, and all of them have been a surprisingly good value. This includes the firearm we'll dive into here in this Sccy CPX-2 review.
We reviewed the .380 ACP Sccy CPX-3 in 2019 as part of our compact .380 roundup, and it held its own against the competition. Now let's look at its older brother, the 9mm Sccy CPX-2. The Sccy CPX-2 is a compact (just 15 ounces, unloaded) hammer-fired, double-stack 9mm pistol. It is a Double Action Only (DAO) pistol with a long, slightly heavy trigger pull. The CPX-1 model is quite similar, but has an external, frame-mounted safety. The CPX-2, however, relies on its long trigger pull as the primary safety, just like a double-action revolver does.

One of the nicer features of Sccy pistols is that they all have 10 round magazines as standard equipment. In a world where some subcompact guns ship with 6 round magazines, those four extra rounds provide a bit more confidence when you're carrying this gun. The nicest feature about the CPX-2, however, is its price. It has an MSRP starting at just $269, and the price at your local gun store is probably much lower. This makes it a very attractive option for people who feel the need to defend what's important to them, without having to pay out all their worldly goods to do so. 
Sccy CPX-2 Review: First Impressions
I first became aware of Sccy firearms in 2006, when they introduced their first pistol, which was very similar to the CPX-2. However, that gun had an angular frame with rough edges. It was not a fun gun to shoot, and I could only shoot it for a short while before it was too painful to continue. 
Firearm Feel
The CPX-2, however, feels great in the hand, and I had no problems shooting hundreds of rounds through it in one session. Sccy laid the controls of the gun out well. They are easy to find and use. The sights are conventional 3 dot sights, and the slide has rear serrations for easy manipulation. The frame has finger grooves on the front and is lightly stippled on the sides and rear for a better grip. While there are no interchangeable backstraps for the pistol, it was easy to hang onto and felt great on the range. 
Sccy CPX-2 Trigger
The trigger on the Sccy CPX is long, with some slack before the tension mounts as the springs are compressed. The effort increases slightly as you pull it back, and the break is a little spongy. There is no overtravel, though, and the reset is positive. The trigger guard is undercut, allowing you to get a higher grip on the pistol for added control. The pistol requires an empty shell casing, flat screwdriver or a similar tool for disassembly, and taking apart for cleaning was no problem at all. 
Sccy CPX-2 Specs 
Manufacturer: Sccy Industries
Importer: Made In The USA
Action: Hammer-fired, Double Action Only
Caliber: 9mm
Capacity: 10+1
Number of Magazines Included: 2
Grip/Frame Material: Polymer
Sights: Fixed three-dot
Trigger Pull (Average of 4 Pulls): 9.2 pounds DA
MSRP: $269
Length: 6.01 inches
Width: 1.4 inches
Height: 5.06 inches
Barrel Length: 3.1 inches
Weight (unloaded): 15 ounces
Range Impressions
The Sccy CPX-2 is not a big gun. It's just a hair over six inches in length and is easily carried in a pocket with a flat baseplate attached to the magazine. Its small size means that you'll feel the recoil from the 9mm round a lot more than you would with a larger gun. However, the gun is easy to hang onto and easy to keep on-target, even during rapid fire. The extended magazine base is definitely a must-have for longer range sessions, as they made the gun much easier to control when it was attached to the magazine. 
The magazine release and slide lock lever are on the left side of the pistol and not interchangeable for lefties. The front sight is fixed to the frame, and the rear sight is drift-adjustable for windage if needed. All of these features add up to a gun that has everything you'd need to get up and running in the world of defensive pistols, for not a lot of money. 
Accuracy
To test the accuracy of the Sccy CPX-2, we shot four five round groups with three different kinds of 9mm ammunition. We shot those groups from a rest at a target that was 15 yards away, and then measured the furthest distance between shots in each group.
The long, stiff trigger and short sight radius of the Sccy CPX-2 did not do it any favors in this test. Most of us don't consider 3-4 inches at 15 yards to be "tackdriver" accuracy. However, the CPX-2 can be found for around half the price of other compact 9mm guns. Trading off slightly worse accuracy for a gun that you can afford to buy and shoot is a good idea for some people, and the Sccy fits that bill nicely 
Ammo Test Results
Tula 115 Grain FMJ
Average Group Size: 3.6 inches
Minimum Group Size: 3.02 inches
Maximum Group Size: 4.2 inches
Average Velocity: 1051 fps
Winchester 115 Grain FMJ
Average Group Size: 3.3 inches
Minimum Group Size: 2.5 inches
Maximum Group Size: 4.1 inches
Average Velocity: 1136 fps
Federal 147 Grain HST JHP
Average Group Size: 3.2 inches
Minimum Group Size: 2.5 inches
Maximum Group Size: 4.1 inches
Average Velocity: 940 fps
Overall Average Group Size: 3.6 inches
Reliability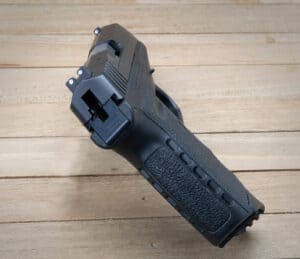 We shot 300 rounds of various kinds of 9mm ammo in order to test the reliability of the Sccy CPX-2. The Sccy experienced two Failures To Feed (FTF), one with a round of 115 grain Federal FMJ ammo at round 143, and one with a round of Tula 115 grain FMJ ammo at round 235. Both of these FTFs happened with the same magazine, however, leading me to believe that the fault lies with that magazine and not with the gun itself. 
Wrap Up
If there is one word I'd use to describe the Sccy CPX-2, it would be "convenient." It has all the essentials you need in a defensive pistol, at an extremely attractive price. It also holds its own against other similarly-sized pistols, and its small enough to carry just about anywhere. The CPX-2 is all of this, and yet is still quite comfortable to shoot on the range. The CPX-2 will work with holsters from the previous Sccy pistols, so your selection of carry gear is actually quite adequate for most purposes. As an added bonus, the CPX-2 is very inexpensive compared to many other 9mm defensive pistols.
All the defensive firepower in the world means nothing if it's not there when you need it. The best way to summarize this Sccy CPX-2 review? The pistol allows you to have a gun that is up to the task of saving a life, without emptying your bank account in the process.