There are times when ammo is tough to find, when we realize how every round we send downrange is money out of our wallets. We still want to go to the range and enjoy the shooting sports, but when ammo is tough to find, the cost/benefit scales can dramatically shift against us. In addition to this, ammo shortages are quite often brought about by an influx of new gun owners who will need training on safety and basic firearms operation. What's needed is a way to teach new gun owners the basics of grip, aim, stance and trigger manipulation, without spending piles of cash in the process. What's needed is a gun like the Smith & Wesson Victory 22. 
The Smith & Wesson Victory 22 is a single-action, enclosed hammer-fired, blowback semi-automatic pistol. These features are common to all the models in the Victory line of .22 pistols, and there are quite a few models indeed. The particular model we'll be testing is the Threaded Barrel version with the optional top-mounted Picatinny rail installed. 
Smith & Wesson Victory 22 Threaded Barrel Model Specifications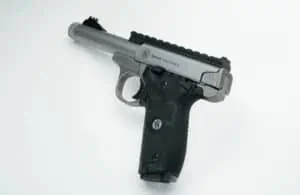 Manufacturer: Smith & Wesson Inc.
Importer: N/A
Action: Single Action, Hammer-fired blowback
Caliber: .22LR
Capacity: 10+1
Number of Magazines Included: 2
Grip/Frame Material: Stainless Steel
Sights: Adjustable fiber optic front and rear, optional Picatinny rail
Trigger Pull (Average of 4 Pulls): 3 pounds SA
MSRP: $429
Length: 9.2 inches
Width: 1.3 inches
Height: 5.6 inches
Barrel Length: 5.5 inches
Weight (unloaded): 36 ounces
Smith & Wesson Victory 22
First Impressions 
Smith & Wesson introduced the Victory in 2016 as a replacement for the M22a pistol. The "Victory" moniker hearkens back to when Smith & Wesson Model 10 revolvers were used as military sidearms during WWII. While this new pistol is a semi-automatic chambered in .22LR, not a revolver chambered in .38 S&W, it's nice to see Smith & Wesson give a nod to their history and release a gun that keeps the "Victory" name alive. 
The Victory is functionally very similar to the earlier M22a. The Victory holds 10 rounds in its single stack magazine, just like the M22a. It has a safety on the right side of the frame and a comfortable, full-bodied feel to the grip, just like the M22a. However, unlike the M22a, the magazine release button is up near the trigger guard, where the M22a has the release down further on the grip. This magazine release placement makes the rimfire Victory operate more like a full-sized centerfire pistol, a handy feature if you want to use this gun to teach the fundamentals of pistol shooting to new gun owners. 
Range impressions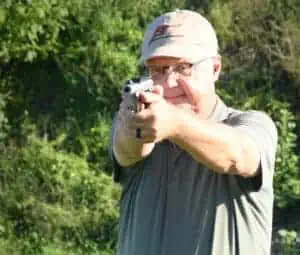 On the range, the Victory was just a great big bundle of fun to shoot. It has essentially no recoil, it's quiet and controllable, and the low noise and muzzle flash of the .22LR round calms the nerves of even the most apprehensive of new shooters. The trigger on the model we tested broke at 3 pounds of pressure in our tests, and the trigger travel is adjustable via a set screw on the trigger itself. 
Operating the S&W Victory 22 is almost identical to operating a larger pistol. The slide lock lever, safety and other controls are right where you expect them to be, and the gun is large enough to grip just like you would a centerfire defensive pistol. 
Our test gun usually has an inexpensive red dot optic mounted to the Picatinny rail which was removed for our testing, as we wanted to test the gun itself, not the effectiveness of the optic. With the optic attached, the Victory becomes an ideal training tool for new shooters. All the variables of sight picture, sight alignment and trigger press get boiled down to "Put the red dot on the target and gently press the trigger." This simplicity of operation lets new shooters concentrate on just trigger press, which is one of the most difficult skills for a new gun owner to master. 
Accuracy Test
To test the accuracy of the S&W Victory 22, we shot four five-shot groups of three different kinds of .22LR ammo through it at a target that was 15 yards away. We took the average of the extreme spread of each group and then averaged them together to get an overall group size. 
Ammo Test Results
Wolf Match Extra 40 Grain 22 Long Rifle
Average Group Size: 1.97 inches
Minimum Group Size: 1.4 inches
Maximum Group Size: 2.6 inches
Average Velocity: 941fps
Federal AutoMatch 40 Grain 22 Long Rifle
Average Group Size: 1.15 inches
Minimum Group Size: 0.97 inches
Maximum Group Size: 1.4 inches
Average Velocity: 1032 fps
CCI 40 Grain MiniiMag 22 Long Rifle
Average Group Size: 1.97 inches
Minimum Group Size: 1.05 inches
Maximum Group Size: 2.97 inches
Average Velocity: 1066 fps
Overall Average Group Size: 1.7 inches
Reliability
We shot 300 rounds of .22 Long Rifle ammo through the S&W Victory to test its reliability. The gun experienced 3 failures to extract (FTE) in our testing, all with Remington Thunderbolt ammunition. The other ammunition used in our test, including CCI Mini-Mags, Wolf .22, Winchester Super-X and Federal AutoMatch, all fed, shot and extracted without incident. 
Wrap up
One of the things I like about the S&W Victory versus some of the other pistols on the market is what comes with the gun as standard equipment. Even the basic models have adjustable fiber optic sights and come with a Picatinny rail. In addition to this, the stock trigger on the Victory is really good, and there are many accessories available to make this great gun even better. 
At some point in your gun ownership journey, you're going to realize that you need a gun like the SW22 Victory. Whether it's for introducing others to the joy of the shooting sports or becoming a better marksman or just for going out and poking holes in a tin can, a .22LR pistol is a must-have for anyone who wants to have a great time time at the range, but doesn't want to empty their bank account with every shot that goes downrange.