Taking A Peek At The Modern LPVO
Magnified rifle optics have been around for many decades. The accuracy of rifles started to improve in the first half of the 1800's. This allowed people to make hits at longer and longer distances. It also increased the need to spot targets at longer ranges. Eventually, a telescope was added to a rifle and the telescopic sight was born. Telescopic sights started out as something for shooting at longer ranges, which limited their utility at closer distances. People soon started realizing the need for something that worked at both close range and long range, and thus the low power variable optic, or LPVO, was born. 
Germany has a long history of creating precision optical gear, so it's no surprise that the first LPVO was made for a German rifle. In 1922, Carl Zeiss rolled out the "Zielmulti" scope, one of the very first low power variable optics. The scope (and others like it) was used by hunters who needed to quickly transition between targets at different ranges. For most of the 20th century, though, the rifle scope was thought of as something used only at long distances (over 300 yards) and only by people such as snipers or hunters looking for long-range prey. 
In the 1990's, though, things changed. America's armed forces were frequently fighting in urban environments where hostiles were intermixed with innocent civilians. It became important to have good target acquisition and verification at ranges past 50 yards. This meant finding an optic that worked while our soldiers went from room to room clearing houses and could also be used to peer down an open street. 
Enter The LPVO: Low Power Variable Optic
The answer was the Schmidt & Bender "Short Dot" LPVO, which was created in the mid-1990's as a response to the experience of Special Forces units fighting in the Battle of Mogadishu. The Short Dot codified many of the features found on today's LPVOs. 
1-4 power with a 20mm front aperture

External adjustments for elevation and windage in 1/2 moa clicks

BDC (Compensation) markings inside the reticle for 5.56mm and .308 ammunition 

A range of scope illumination settings

Shorten the scope as much as possible

A short throw lever on zoom ring to rapidly change the power from one setting to another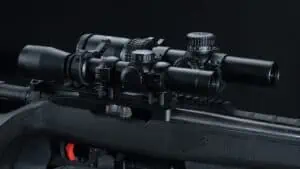 The rest of the military began to see the advantage of an LPVO. Soon variable power scopes were in common use by regular troops as well as more elite units. 
The mid-1990's was also when 3 Gun competition was starting to take off. Competitors in that sport quickly saw the advantages of an optic that would allow them to quickly shoot targets at close ranges yet still be able to dial up the power to hit small targets at 300 yards and beyond. They put scopes like the Leupold Mark 4 CQ/T into use, and a new division (TacOptics) was created to level the playing field between competitors with a magnified optic on their rifle and those without. 
Reasons For And Against Using An LPVO
I spoke with Michael Branson, the Product Marketing Director at Swampfox Optics, about what an LPVO can and can't do for your shooting. 
"The biggest reason to use an LPVO is that there is limited space on top of your rifle," Branson said. "If you know beforehand what type of shooting you'll be doing, you can adjust your optic to fit your need. Non-magnifying red dot optics are great for close ranges and more powerful scopes in the 4-16x range are excellent for long distances. An LPVO gives you options. You can shoot just about anything, anywhere with one on your rifle. An LPVO gives you flexibility. It's intended as a do-it-all scope that can handle most common engagement distances, especially in defensive situations." 
Are They A Jack Of Trades Optic?
"An LPVO does a lot of things reasonably well," Branson continued, "but it's not the best at any one thing. I think that a red dot or a prism is a better choice for up close work. For shots that are further out, a higher power scope, like something in the 4-16x range is a better option. Those scopes have features like parallax correction and first focal plane reticles. These sort of things really help get your shots on-target at 400 yards and beyond. In addition to this, LPVOs are heavier than a red dot, and more cumbersome. However, they are lighter than high-powered precision rifle scopes."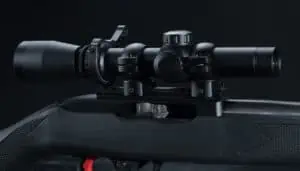 I asked Branson if he thought that going with a higher maximum power is always a good choice when buying an LPVO, and this was his response. "Low power variable optics started out in the 1-3 or 1-4 range, and there is a reason for that. At higher powers, you lose eyebox and cheek weld space, and the scope is darker because of reduced light transmission. You gain more magnification which in turn enables better hits at longer ranges. Also, because of the tighter field of view, your target acquisition times grow longer as you increase the power on your scope." 
Searching For The Best LPVO? Start here. 
If you've decided that a low power variable optic is right for your rifle, here are a few choices for you. There are a wide range of prices, powers and features in an LPVO, so consider these scopes as a starting point for your journey towards the right scope for you, rather than a definitive end to your search. 
Burris TAC30 Riflescope 1-4×24 – MSRP $329: Burris optics are known for combining world-class glass on the inside with first-class features on the outside, and this scope is no exception. 
Swampfox Tomahawk 1-4×24 – MSRP $279: Wanting to test the LPVO waters, but don't want to spend a lot of money? Start here. The Tomahawk line gives you the features you want in a rugged package that won't break the bank.  
Primary Arms SLx 1-8×24 FFP – MSRP $479.99: The 8x maximum magnification and innovative ACSS reticle (on the first focal plane, no less) make this scope an attractive option for someone looking to shoot at longer ranges. 
Trijicon Accupoint 1-6×24 – MSRP $1,399 : John Wick tested, John Wick approved. Trijicon optics are trusted by military, law enforcement and competition shooters alike, and the Accupoint is one of their best. 
Sig Sauer TANGO6T – MSRP $1,429 : The TANGO6T is the current optic of choice for the U.S. military, and with good reason. It has a great feature set for the price, and is built to handle everything an infantryman can throw at it. 
Leupold Mark 6 1-6×20 – MSRP $2,859: Leupold is one of the first people to make a rugged LVPO for military and law enforcement use, and that experience shows in the Mark 6 line. 
Is A Low Power Variable Optic Right For You? 
The answer to this question depends on how you plan to use your rifle. If you're looking for a close quarters defensive gun, a red dot or prism optic might be your best choice. If you're looking to stretch your shots out to 300 yards and beyond, then definitely consider something that starts at 3 or 4 power and goes up from there. For applications where you're just not sure of the distance of your target, such as a scout rifle, an LVPO might just be your next optic.