Colonel Jeff Cooper: Visionary Firearms Trainer
In every profession, there is usually someone who stands out as an iconoclast above all others. If you study photography long enough, you'll appreciate how Ansel Adams wrote the book on how we use cameras to see our world. If you want to learn to play the blues, you start with Robert Johnson. And in today's world of firearms training, all roads eventually lead back to Colonel Jeff Cooper. 
Jeff Cooper, or "The Colonel" as he was known, was a former Marine Corps Colonel, author, and the founder of Gunsite. He casts a long shadow over the gun industry to this very day. The vast majority of the concepts and ideas that Jeff Cooper talked about in his writings in Guns & Ammo and elsewhere remain as true today as they were decades ago, when Col. Cooper laid them out for all to see. He emphasized that a "combat mindset" and ability to spot trouble before it happened were far more important than that the latest gadgets and firearms fads. 
Old Ideas That Still Ring True Today
This has allowed his ideas to remain relevant throughout the years. Firearms technology has changed somewhat since 2005, when Jeff Cooper passed away. Some of his ideas, such as the preference for the 1911 in .45 ACP, are not as popular with the gun community as they were in years past. The ballistic performance of the 9mm cartridge has closed the gap with Cooper's preferred .45ACP round. Other ideas, such as the scout rifle and the 10mm Auto cartridge, have undergone a recent resurgence in popularity. Technology, however, is just one element to Cooper's Modern Technique of the Pistol, which took years of refinement to create. 
Jeff Cooper was born on May 10, 1920, in Los Angeles, California. He enrolled in the Junior Officers Training Corps in high school. He then went on to Stanford, where he graduated with a degree in Political Science. Cooper was commissioned in the United States Marines in September 1941 and served with distinction in the Pacific Theatre during World War II, ending the war as a Major. After the war, he resigned his commission but returned to service during the Korean War, ending his service as a lieutenant colonel. He enrolled in college again in the 60's, earning a master's in history from USC. He started shooting competitions in southern California, and eventually started the Leatherslap competition in Big Bear Lake, California. 
From Slapping Leather To The Modern Technique
The Leatherslap competition became the first proving ground for Jeff Cooper's ideas. The Leatherslap, at its heart, was very simple. Two men competed, side by side, to see who could get hits on target the fastest. This simple format led to a lot of experimentation. Eventually, an L.A. County Sheriff Deputy named Jack Weaver started to win the matches with the two-handed grip that bears his name. The Colonel saw the benefit of that technique, and filed it away for further study and later use. The Leatherslap competition eventually outgrew its home and turned into the Southwest Combat Pistol League, which features more complex courses of fire and multiple targets. This, in turn, led to the founding of the International Pistol Shooting Confederation in 1976, and practical shooting matches as we know them today were born. 
As a writer, Col. Cooper was known for his columns in Guns & Ammo magazine. Those columns helped shape the direction of American gun culture, and he codified many of those ideas into the lessons taught at the American Pistol Institute, otherwise known as Gunsite. Gunsite was the first full-time firearms training academy for the armed citizen. Gunsite continues to train armed citizens, and also trains law enforcement personnel and some of America's most elite servicemen. Studying the roles that guns play in American society, and the best way to safely use them, was Col. Cooper's passion and is now his legacy. 
Meet Some Of The People Who Knew Jeff Cooper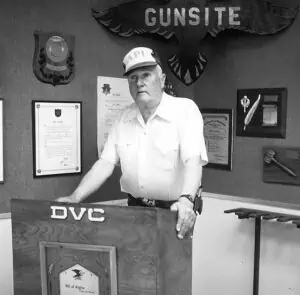 "I first met Jeff Cooper during my first trip to Gunsite many years ago," Sheriff Ken Campbell, the CEO of Gunsite said. "It's important to remember that from his youth on, Jeff was a student of shooting. From hunting to his time in JROTC, to his service in the Corps to his later work with the FBI and other units, he was always paying attention to what was happening on the range, and seeing if there was any way it could be improved. This continued with the Leatherslap competition," Campbell went on to say. "The Colonel looked at the techniques that the fastest and most accurate shooters were using to win those matches, and integrated them into what eventually became what we teach here at Gunsite." 
Lindy Cooper Wisdom is one of Jeff Cooper's three daughters. She runs the Jeff Cooper Legacy Foundation, dedicated to preserving, protecting, and defending the principles of self-reliance and the individual right of self-defense espoused by her father. 
"I remember growing up in Big Bear Lake, helping my Dad set up the matches there," Lindy said. "Dad was a competitor his whole life. He used to race cars, especially Porsches, at Riverside Raceway in California, and knew the value of competition," she said. "The Leatherslap competition was a testing lab to see what pistol techniques worked best under pressure."
Practical Shooting, Practical Teaching 
However, Jeff Cooper's legacy extends far beyond starting practical shooting as we know it today. Charlie McNeese knew Jeff Cooper and trained with him at Gunsite. Charlie is now an instructor at Gunsite. He told us what the Colonel taught at Gunsite.
"The Colonel was an avid reader. He knew that skill was important, but all of what he did at Gunsite was directed towards mindset. He was all about having a plan to deal with what's in front of you while armed, be it hunting or a defensive encounter or a pistol stage. We continue that legacy today. What we want at Gunsite, more than anything, is that our students leave with the knowledge and ability to perceive a threat early enough to avoid it before it becomes a problem." 
Standing On The Shoulders Of A Legend
It's hard to sum up all the events in Jeff Cooper's life, and it's almost impossible to overstate the influence he has had on American gun owners. Hunters, defensive pistol owners, and competitors alike have been influenced by his writings and teaching. In recent years, new faces and new techniques have popped up in fields of firearms training and practical shooting, but if you look hard enough, the roots of those techniques can probably be traced back to Jeff Cooper and the influence he has had on the shooting sports.