Ruger Security 9 Review: A Defensive Pistol That's Very Affordable
Sturm, Ruger & Co. makes some of America's most-popular guns. In 2007, they introduced the ultra-compact LCP, chambered in .380 ACP, a gun that went on to become one of best selling guns of recent years. In 2016, Ruger introduced the LCP2, which had an improved trigger and a host of other upgrades. Sales for that gun took off like a rocket as well, firmly establishing Ruger as a leader in the polymer pocket pistol market. 
However, things weren't going as well for Ruger when it came to larger polymer guns. The SR-9 series sold well, but never reached a dominating market position like the LCP did. Ruger then came out with the American series of polymer striker-fired guns and followed that up with the budget-priced Security 9 Compact and Full Size pistols. 
Security 9 First Impressions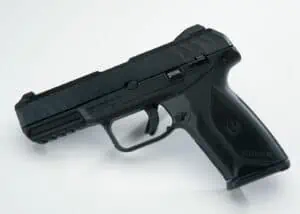 You'd be hard-pressed to spot the differences between the Security 9 and other more expensive pistols at first glance. The Security 9 looks and feels like a pistol that costs 2-300 dollars more. However, there are a few things that show where Ruger pinched a few pennies in order to lower the over-the-counter cost of this gun. For instance, the backstraps on Security 9 are not interchangeable. This feature allows the width of the gun to be tailored to different-sized hands and is a common feature on more expensive guns. In addition to this, the magazine release on the Security 9 will not move over to the left side for southpaw shooters. 
On the plus side, the Security 9 ships with two 15 round magazines (where permitted), and the fit and finish are equal to any other service pistol on today's market. The frame is stippled for a better grip, and the slide features front and rear serrations for easier operation. There is also a decent-sized length of Picatinny rail in front of the trigger for adding a light or a laser. All in all, the Security 9 is not lacking for features, making its low price seem even more attractive. 

Ruger Security 9 Specs
Manufacturer: Sturm, Ruger & Co.
Importer: N/A
Action: Hammer-fired, Single Action Only
Caliber: 9mm
Capacity: 15+1
Number of Magazines Included: 2
Grip/Frame Material: Polymer
Sights: Drift-adjustable dot and bucket
Trigger Pull (Average of 4 Pulls): 4.3 pounds SA
MSRP: $379
Length: 7.24 inches
Width: 1.3 inches
Height: 5 inches
Barrel Length: 4 inches
Weight (unloaded): 23.8 ounces
Range Impressions
The Security 9 is a hammer-fired Single Action Only (SAO) gun that uses an upsized version of the action from LCP2. This gives it an action that's been debugged on the LCP series of guns and a light trigger pull (just over 4 pounds in our tests). There is a blade safety built into the trigger of the Security 9 and there is also a frame mounted-safety on the side of the gun. The frame-mounted safety is easy to activate with your thumb if you're right-handed. Lefties, however, may have some problems with working it in a timely manner.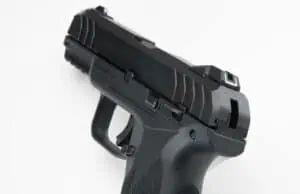 The sights on the Security 9 should be instantly recognizable to anyone who's ever shot a Glock. The dot on the front, U-shaped bucket in the rear is not my favorite type of sights, but they do the job. The gun is very comfortable to hold, and the grip is long enough that I can easily maintain a good firing grip on the pistol with both hands. The controls are well-placed, with two exceptions. The slide lock lever is a little small for my liking, I found it hard to manipulate on the range, and the pistol requires an additional tool such as an empty shell casing or small punch for disassembly. All in all, though, it didn't feel like an inexpensive gun as I tested it on the range. 
Accuracy Test
The grip length and comfortable feel of the Security 9 made it a joy to shoot on the range. The gun didn't have a "cheap gun" feel to it and was very easy to control under rapid fire. The stippling is just right: Not so aggressive that it tears up my hand during long range sessions, but not so smooth that the gun moves in my hand under recoil. Speaking of recoil, one of the nicer things about the Security 9 is its lighter, 13 pound recoil spring. That lighter spring means that it's easier to manipulate the slide on the pistol than other guns of comparable size, which is a nice feature for people who have trouble operating the slide on other pistols. 
To test the accuracy of the Ruger Security 9, we shot four five round groups with three different types of ammo with it at a target that was 15 yards away. The pistol performed well in our tests, aided by the light trigger which helped us keep the sights on-target throughout the trigger press. 
Ammo Test Results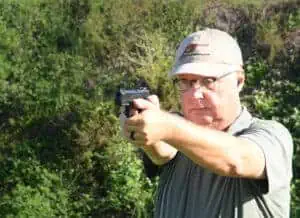 Wolf 115 Grain FMJ
Average Group Size: 2.5 inches
Minimum Group Size: 2.2 inches
Maximum Group Size: 2.8 inches
Average Velocity: 1155 fps
Average Group Size: 4.2 inches
Minimum Group Size: 3.2 inches
Maximum Group Size: 5.4 inches
Average Velocity: 1124 fps
Average Group Size: 3.1 inches
Minimum Group Size: 2.4 inches
Maximum Group Size: 4.1 inches
Average Velocity: 1073 fps
Overall Average Group Size: 3.25 inches
Reliability
As I said before, the action inside the Security is debugged technology. It worked well in the LCP, and it works well in this pistol as well. We shot 300 rounds of various kinds of 9mm ammo through the gun with no issues at. The pistol had no problems feeding jacketed hollow points, full metal jacketed rounds in our test. 
Wrapup 
The Security 9 is almost identical in size to other compact polymer 9mm guns such as the Glock 19 or CZ P07. Guns of this size are a great balance between size, controllability, and firepower. As such, I recommend them to first-time pistol owners. The Ruger Security 9 fits right into that niche, especially for people who like the added layer of security of a frame-mounted safety on their gun. The Security 9 may not be the last word in sophisticated defensive pistols, but with a great set of features and a very attractive pistol, it allows you to protect all that you hold dear, without taking out a second mortgage to buy your gun.