Ruger Security 9 Compact Review
Sturm, Ruger & Company started out making semi-automatic pistols in .22LR caliber. In 1985, they started making the Ruger P85, a large double action/single action 9mm pistol. Ruger produced variations of that pistol in different calibers until 2004, when the line was discontinued. In 2009, Ruger re-entered the centerfire pistol market with the polymer-framed,  striker-fired SR series, a thin, double-stack pistol which re-established Ruger as a player in the defensive pistol market. 
In 2018, Ruger came out with yet another centerfire polymer pistol, the Ruger Security 9. The Security 9 is a full-sized, single-action, hammer-fired 9mm pistol that packs a lot features into a gun that has a very competitive sales price. The Ruger Security 9 Compact model, introduced in 2019, takes those features and packs them into a smaller package that is easier to carry.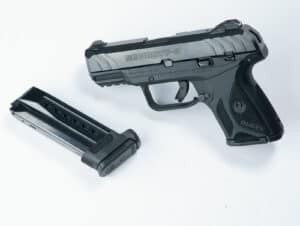 The Ruger Security 9 Compact uses an upscaled version of the single action firing mechanism found in another Ruger, the LCP. The ultra-compact .380 ACP LCP is one of America's best-selling guns, and using that trigger group in a larger gun makes a lot of sense. The proven and debugged fire control group, modern manufacturing techniques, and extensive use of polymers in the Security 9 give it a very attractive price point. The newer Security 9 Compact looks like it might just continue Ruger's reputation for making quality guns. 
Ruger Security 9 Compact First Impressions
The Security 9 Compact is, well, compact. It's smaller than a Glock 19, yet larger than a Sig P365 or similar single stack pistols, it's a great size for someone who is looking for an everyday carry gun. The pistol ships with three magazines, two 10 round 9mm magazines and one 15 round magazine, which is not all that common these days. The 15 round magazine has a sleeve around the bottom which allows you to get a full firing grip with your hands. The ten round magazines, on the other hand, were a bit short for me. I found that my little finger and half of my ring finger were left hanging off the bottom of the gun when I used the 10 round magazines. If someone from Ruger is reading this, a 12 round magazine that is just a bit taller than the standard 10 round magazine, but adds an extra two rounds to the magazine would be a great idea for this gun.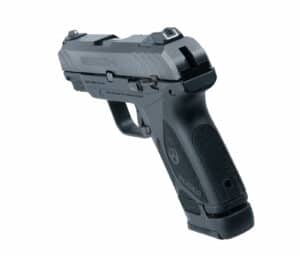 The Security 9 Compact is set up quite nicely out of the box. The sights on the gun are the front sight dot, rear sight "U" that will be instantly recognizable to all the Glock owners out there. There is a short length of Picatinny in front of the trigger so you can mount a light, laser or other accessory. The slide has serrations on the front and back to help in slide manipulations. There is a manual, frame-mounted safety on the Security 9 Compact. This is not a feature that I normally prefer on a defensive carry gun. However, given the light trigger weight on our gun (just under five pounds in our test) and the short trigger travel, a manual safety makes a lot of sense. 
Ruger Security 9 Compact Range Impressions
The Ruger Security 9 compact has a magazine disconnect safety in addition to the frame mounted manual safety. The magazine disconnect prevents the gun from firing unless there is a magazine inserted. The feature is also found on other pistols besides the Security 9 family. The idea is that by blocking the trigger when there is no magazine in the gun, it helps prevent negligent discharges. There are some people who find a magazine disconnect useful. I am not one of them. I much prefer to follow the Four Rules of Gun Safety rather than rely on a mechanical device to keep me safe.  
With its light, short trigger and the comforting feel of the fifteen round magazine made the Ruger Security 9 Compact a lot of fun to shoot on the range. The frame-mounted safety was easy to activate when it was needed, and the other controls were right where you'd expect them to be. The pistol certainly didn't feel like a gun with a $379 MSRP. Rather, it felt and shot like guns that cost hundreds of dollars more. 
Accuracy
To test the accuracy of the Security 9 Compact, we shot four five round groups with three different types of ammo with it at a target that was 15 yards away. The pistol did quite well, but the short sight radius of the gun did cause the groups to open up somewhat compared to larger guns. This pistol isn't designed for one-hole groups on the range, though, and the results we found are just fine for defensive purposes. 
Ammo Test Results 
Winchester 115 Grain FMJ
Average Group Size: 3.1 inches
Minimum Group Size: 2.7 inches
Maximum Group Size: 3.5 inches
Average Velocity: 1100 fps
Tula 115 Grain FMJ
Average Group Size: 3 inches
Minimum Group Size: 2.5 inches
Maximum Group Size: 3.4 inches
Average Velocity: 1051 fps
Federal 147 Grain HST JHP 
Average Group Size:2.67 inches
Minimum Group Size: 1.87 inches
Maximum Group Size: 4.3 inches
Average Velocity: 953 fps
Overall Average Group Size: 2.94 inches
Reliability 
We shot a total of 300 rounds through the Security 9 compact from a variety of different manufacturers, using different bullet weights and bullet types. The pistol shot all of the rounds in our test with no issues. It had no problems feeding jacketed hollow points, full metal jacketed rounds or any other styles of bullet in our test. 
Wrapup 
The Ruger Security 9 Compact stands out in the often-confusing world of defensive firearms. Small enough to carry almost everyday, it still packs 15 rounds of 9mm and the confidence of the Ruger brand. However, it's a newer gun on the market, which means that holster and accessory selection is a bit limited, but it is growing. I've recommended this gun as a great option for concealed carry, and I'll do so in the future as well. The Security 9 Compact is one of those guns that gets almost everything right, and does so at a very good price.