What You Pay Is What You Get: Finding the Best 9mm for the Price
During my time behind the counter at a gun store, I saw new customers hesitate for quite a while before buying their first gun. I can understand why. Buying a defensive pistol is a big decision. Even if you do a lot of research beforehand, it's hard to be sure that what you're buying is actually the best 9mm for the price. 
In order to calm those fears, I've asked two of my fellow gun writers, Tamara Keel and Richard Johnson, to chime in with me to help you decide if the gun you're looking at is among the best 9mm pistols for the price. 
Tamara Keel  For over fifteen years, Tamara toiled in the salt mines of the gun retail business, slinging guns across the glass for a living in every position from a part-time counter monkey at a hole-in-the-wall neighborhood shop to working as a retail sales manager for a busy Class 3 SOT manufacturer with an indoor range. She's the Handgun Editor at Shooting Illustrated and a gun school junkie, with hundreds of hours of formal firearms training. She's also been known to shoot various action pistol games if someone else is driving out to the range. Tamara's words can be found in numerous web and print media outlets, including Recoil Magazine, Concealed Carry Magazine, and on her own long-running personal blog, View from the Porch.
Richard Johnson Richard is a former law enforcement officer who elected to remain in uniform patrol for the entirety of his career. He served as a sergeant and as a shift commander, but most enjoyed his time as a field training officer teaching new cops how to stay alive while ethically applying the law in the real world. Nowadays, Richard spends much of his time reviewing guns over at GunsHolstersGear.com. 
How To Spot A Good Value In Guns
For this article, we'll be looking for a best value in compact-sized 9mm pistols. The compact 9mm is a great choice for the first-time gun buyer because it offers a balance of accuracy, concealability, and firepower while still being very comfortable to carry on a daily basis and very easy to practice with on a regular basis.  We'll be choosing our pistols using the following categories: 
Reliability: Does the gun come from a company with a history of producing reliable guns? Is the gun itself reliable and a proven performer?
Long-Term Value: What range of accessories are available for the gun? Will the pistol adapt and grow as the skill of the owner grows? 
Price: There is a premium for performance. It's true in cars, TVs, and guns. There are reasons why a BMW holds its value as well as a Honda Civic. There are reasons why people will pay a bit more for a gun that will perform at a higher level.
Utility: Will you enjoy shooting the gun on a regular basis? Is it comfortable to shoot, or does it kick like a mule on steroids? Is the gun useful for a wide range of activities such as plinking, training, and self-defense, or is it a one-trick pony, like a dedicated competition pistol? 
Tamara's Choices for Best 9mm for the Price:
Glock 19 Gen 3 – $500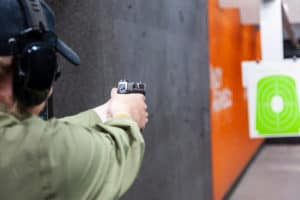 Gun number one is the one that's been a default recommendation of mine for many years. While it's rumored to be on the way out, you can still buy a Gen3 Glock 19 from many vendors for the squeaks-under-our-price-cap tariff of $499 before tax.
Glock has doggedly held that price line for well over a decade. Part of the reason I'm picking the Glock 19 as a best value is its ubiquity for all that time means it enjoys aftermarket support like few other pistols do. Parts? Factory parts and aftermarket upgrades are legion. Holsters? If a company makes holsters, it almost certainly makes one to fit the Gen3 19. If you walk into any gun store in the land, its almost certain to have at least sights, spare magazines, and holsters for a Glock 19.
All that and you're getting a sidearm with a nearly unmatched track record for ruggedness and reliability. It's hard to beat that for under five bills.
Smith & Wesson SD9 VE – $389
Suppose you don't have five bills to drop on a gun right now. Well, that takes us to my second choice in a best price handgun: Smith & Wesson's SD9 series.
Greeted skeptically by the cognoscenti at its launch , the SD9 has been winning grudging converts from among their ranks ever since. The reason for the skepticism was that the SD was an offshoot of the family tree that began with Smith & Wesson's ill-starred Sigma series in the mid 1990s. But Smith & Wesson learned from that experience and the SD is as much a cousin of the much-lauded and widely-used M&P as it is an offspring of the Sigma.
The SD9 is one of Smith & Wesson's best-selling centerfire pistols. That popularity ensures that accessories and spares are commonly stocked and reasonably priced. If you buy it new it's covered by Smith & Wesson's warranty. That's not something to overlook. Should you want to sport it up some, performance parts are available from Apex Tactical, among others.
The SD9 series (especially in its "VE" for "Value Edition" guise) can sometimes be found for as low as $300 when wholesalers are blowing out overstock. Both of these choices are biased toward the "do-it-all" side of things: a handgun that is balanced for recreational and sport shooting as well as personal protection inside and outside the home. But what if you're on a budget and not as concerned with sport as you are with CCW?
Mossberg MC1sc – $350 
My last best price choice is one that surprised me with its effectiveness: the Mossberg MC1sc. Unlike the above two double-stack compact service pistols, the MC1 is a subcompact quasi-single-stack that is definitely biased toward concealability over raw shootability.
Mossberg's first venture back into the handgun market since the FDR administration is a subcompact 9mm pistol that bears all the hallmarks of being a great value. Its architecture bears a striking similarity to the Glock 43, down to using the same magazines, but its street price is nearly a hundred dollars lower. Mossberg thoughtfully ensured that holster makers were on board before the MC1's launch. Between that and using Glock 43 magazines and Sig Sauer P-series sight dovetails, the aftermarket support for this brand new pistol is surprisingly strong.
Kevin's Choices For 9mm Pistol Value:
Back in the 1970's, there was a saying in the computer industry that "nobody ever got fired for choosing IBM." IBM was THE business computer supplier back then, and that's what the Glock 19 is for the defensive pistols of today. It is reliable to a fault, easy to carry, easy to shoot, and just like a certain toy rabbit in a TV ad, it keeps going and going and going… 
The Glock 19 is not the cheapest gun out there, but what you're paying for, in large part, is peace of mind. The Glock 19's reliability is the stuff of legends, which definitely adds to the long-term value of the gun. No one (and I mean no one) likes to shoot a gun that breaks down all the time. 
The thing that makes a Glock 19 really worth the price over the long term is that you'll never run out of options for it. Want new sights? There are literally dozens of different options to choose from. Holster choices are almost limitless. These are just a few of the reasons why the Glock 19 is one of the best values out there. 
Sig Sauer P320 Compact – $550 
Remember playing with Lego bricks? Remember how you could disassemble one of your creations to build something even more glorious? That's the Sig Sauer P320 Compact. The P320's trigger pack is inset into the frame of the pistol and is removable. This means you can lift it out and drop it into any number of different frames in order to make it work best for you. In addition, Sig makes caliber conversion kits which allow, for instance, your 9mm P320 Compact to quickly become a .45ACP P320 Compact. This flexibility in size and caliber means you will never run out of things to do with your P320 Compact.
As far as reliability is concerned, a variant of the P320 was chosen in 2017 as the new service pistol for the U.S. military, so that base should pretty well be covered. Because of this contract and the increasing popularity of the P320 series, the market for third-party accessories like holsters and sights is growing rapidly. There are enough options for the present and even more in the future. This makes the P320 a gun that will hold its value for years to come. 
Ruger Security 9 – $379
If you're the type who looks for value and wants to find the best 9mm for the price, take a long, hard look at the Ruger Security 9. The Security 9 is based on an upscale version of the best-selling LCP2 pistol. It comes from one of America's most trusted gun manufacturers. The Security 9 is new to the market, so the holster and accessory support isn't as robust as the other pistols on my list. But this gun's MSRP is significantly lower at only $379. This makes it a real bargain. 
Because the Security 9 compact was rolled out in April of this year, there has yet to be any serious reliability testing done with this pistol. However, Ruger has a track record of producing pistols that are outstanding performers in their price range.  Due to the popularity of the Ruger label (and the appealing price point), I expect to see a wide variety of aftermarket parts and accessories available in the near future. 
Richard's Choices for Best 9mm for the Money: 
Finding a quality self-defense pistol when you are on a budget can be a little tricky. There are many cheap guns, but how do you know which ones deliver the performance on which you are willing to bet your life? Here are my three picks for affordable compact 9mm pistols that are suitable for both concealed carry and home defense. I've shot no less than 1,000 rounds through each one and have carried each for personal protection.
Walther Creed – $399
The Creed is an economical pistol developed by the highly-respected Walther Arms company. While its small enough for concealed carry, it is not a pocket pistol. You can get a full grip on this polymer-framed gun, and the recoil is mild.
Reliability– I've had no malfunctions after more than 1,000 rounds through my personal Creed. It works with every brand of self-defense ammunition I've tried, and it's backed by a limited lifetime warranty that includes a goal of fixing every gun within 48 hours. 
Long-Term Value– The Walther name is well-known by shooters and supported by the industry. Holster options are plentiful. The accessory rail allows for the easy addition of white lights or supplemental aiming lasers.
Utility– The Creed has a smooth trigger that makes it easy to shoot. You will enjoy shooting this gun and look forward to your next trip to the shooting range for practice. You can even run this handgun in local matches if the competition bug bites you.
Other Features– Walther designed the Creed with a slide that is easy to manipulate, even if you have reduced hand strength. It has full-size sights and a standard magazine that holds 16 rounds. The grip is one of the more comfortable designs on the market.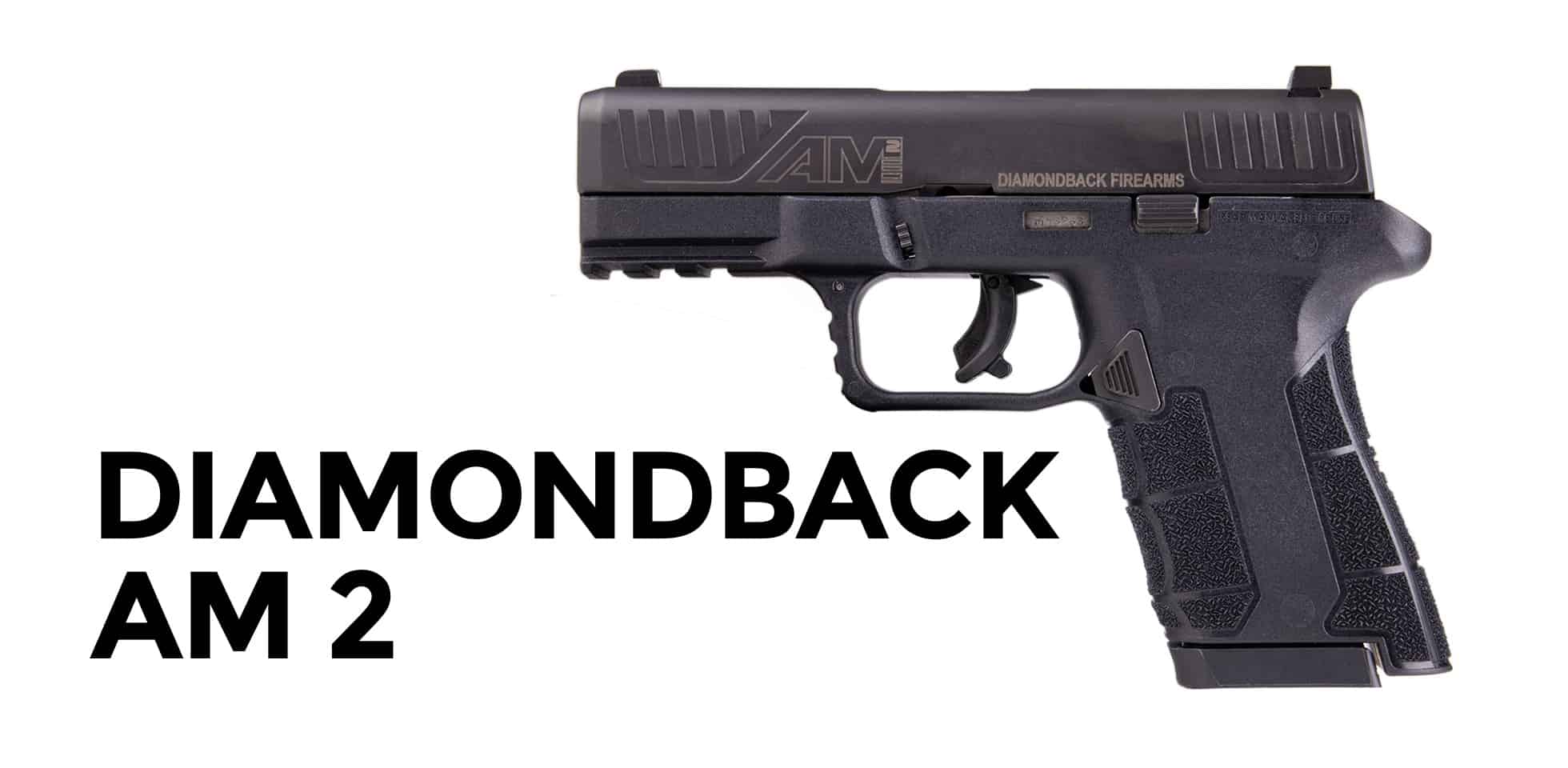 Diamondback AM2 – $339
Based on the Space Coast of Florida, Diamondback Firearms offers a full line of handguns and modern sporting rifles for the American shooter. Its latest offering is the compact AM2 pistol.
Reliability–Over multiple trips to the range, I've shot approximately 1,200 rounds through this gun. It has been entirely free of malfunctions with all of the hollow point ammunition I've tested. Although the AM2 design is relatively new, Diamondback Firearms backs it with a limited lifetime warranty.
Long-Term Value– This is not a collector's piece, so don't look at this as anything more than a survival tool. Diamondback uses Glock pattern sights, allowing you a wide range of upgrades should you decide to add night sights later. It is equipped with a standard accessory rail for lights and lasers. Not all holster manufacturers have tooled up for this pistol, but several companies, including CrossBreed Holsters and Dara Holsters & Gear, offer carry rigs.
Utility– Modestly sized, the frame is large enough to obtain a full grip when drawing and shooting. This enhances both accuracy and comfort when shooting. Although the trigger may be a touch gritty when new, it smooths out quickly. Felt recoil is minimal.
Other Features– The AM2 has an aggressive texture that minimizes hand slipping. Factory sights use a combination of a front post with a wide U-shaped rear notch. I've found this style of sight to be fast under pressure. A 12-round and a 17-round magazine come with the gun.
Smith & Wesson SD9 VE – $389
The SD line of pistols is often overlooked in the Smith & Wesson catalog. These 9mm pistols guns represent fantastic value. They are based on an old but proven design that uses a polymer frame and is striker-fired.
Reliability– I've never had a SD series pistol fail on me, and I have more than 3,000 rounds through mine. Smith & Wesson is one of the old hands in the gun industry and backs this pistol with a lifetime service policy.
Long-Term Value– I don't expect these pistols will ever appreciate in value, but they will provide many, many years of service. Many holster makers support this line. The SD pistols have a rail that will accept industry standard accessories.
Utility– This is a personal defense pistol that also serves up an afternoon of fun at the range. While it can be used for organized shooting competitions, I've found the trigger is a bit too heavy for serious gaming.
Other Features– Although it lacks the aggressive texturing of the AM2 or the incredible shape of the Creed, the SD9 VE feels very good in the hand. The standard model has a satin stainless steel slide with a black frame. Three-dot sights are standard and can be replaced. 
Rounding It All Up
There you have it. Seven different compact guns, all of which, in our opinion, are some of the best 9mm pistols for the price and suitable for either a newcomer or an experienced pistol owner.
What do you think? Did we get it right? Sound off in the comments below, and be sure to subscribe to our email newsletter for more content like this.