Sig Sauer P365 Review
The formula for compact 9mm single-stack pistols was created in the early 2000's, and didn't change much for a decade or so. The formula was simple: smaller guns which trade off concealability and ease of carry for smaller ammunition capacity. Eight rounds in a magazine was the accepted norm, and no one really challenged this idea. No one, that is, until the Sig Sauer P365 came along. 
The Sig P365 was introduced in early 2018 to almost universal acclaim. The P365 includes many design cues from the larger P320 semi-automatic pistol, the military's new standard service pistol, albeit in a reduced size. This includes features such as an integrated fire control group which contains the trigger that is nestled into a polymer grip module. This means that it's easy to swap out one grip frame for another of a different size or color, making it easy to customize your gun to your liking. 
More Bullets, More Better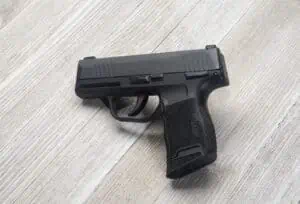 The real game-changer, though, is the magazine of the P365, and how it fits into the frame of the pistol. 10 round pistol magazines for compact pistols are nothing new. Scaled-down versions of larger guns like the Glock 26 have used 10 round magazines for over two decades now. What is new, however, is packing 10 rounds into a gun that's barely over an inch wide and has a grip long enough to wrap all your fingers around it. There are also 12 round and 15 round magazines available for the P365. This means that this pistol potentially has over twice the ammo capacity of some of the other guns in our compact 9mm handgun test.
That additional ammo capacity does come with some drawbacks, though. The P365 is quite short, one of the shortest in our tests. However, once you start adding more magazine capacity, that magazine grows in length. This increases the height of the pistol as well. A pistol's height (the distance from the top of the slide to the base of the magazine) is important because it affects how easy the pistol is to conceal. A taller pistol sticks out more on your belt, which in turn makes it harder to conceal.
The 12 round or 15 round magazine for the Sig P365 might negate one of the main reasons for carrying a small 9mm, namely concealability. The thinking goes that if your small, 15 round capacity pistol is just as hard to conceal as a larger 15 round capacity pistol, why not carry the larger, easier-to shoot gun instead? I must admit that line of thought makes a lot of sense to me. It's why I recommend people carry their P365s with the ten round or optional twelve round magazine, and have the 15 round magazine as a spare or emergency backup magazine. 
Sig Sauer P365 First Impressions 
The pistol is quite small. It's one of the shortest and skinniest in our test. For some reason, though, the Sig P365 felt smaller in my hand than it actually is when I first picked it up. However, it wasn't hard to hold. The grip on the pistol swells out towards the bottom, mimicking the shape of your hands. The grip also feels quite short, back to front, compared to other guns in this test. These two things work together to make the P365 very easy to hold onto and easy to shoot.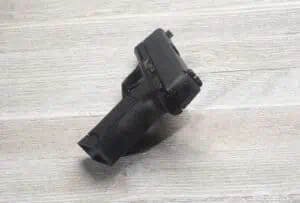 The sights on the gun I shot had a large Day-Glo green circle up front with a tritium dot in the center. This front sight is my favorite set up for a defensive pistol, especially combined with a blacked-out rear like on this pistol. The P365 has a built-in trigger safety to reduce the possibility of a negligent discharge. There are two other internal safeties as well. In addition to this, the version I tested had a manual, frame-mounted safety lever. I had no problems activating the safety as I pressed the gun towards the target. This is exactly what you want in a manual safety. If you're the type that needs a manual safety on your carry gun, the safety on the P365 will work well for you. 
Sig Sauer P365 Range Impressions
On the range, the comfortable grip and good trigger of the P365 made it a fun gun to shoot, even for extended range sessions. The small extension on the end of the standard 10 round magazine was enough for me to get a good grip on the gun. This, along with the great sights on the gun and excellent trigger, made it easy to turn in tight groups on demand. Speaking of which…
Sig Sauer P365 Accuracy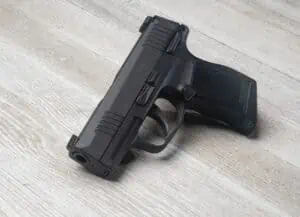 The P365 was one of the most accurate guns in our test. If I have one complaint about this gun, it's that the front sight is so wide, it comes very close to filling up the gap in the rear sight. The large front sight post makes it easy to pick up as you point your gun towards the target. However, the small gap between the front sight post and the rear sight posts makes it tough to get a precise sight picture. There is just not enough gap to easily judge sight alignment. This is why I prefer a narrower front sight on my pistols. 
Ammo Test Results
From a bench rest at 15 yards, the Sig Sauer P365 averaged groups that were just under three inches in diameter. We used the same three kinds of 9mm ammo to test the P365 as we did with all the other guns in our roundup of the best small 9mm compact polymer pistols. 
American Eagle 115 Grain FMJ
Average Group Size: 3.1 inches
Minimum Group Size: 2.7 inches
Maximum Group Size: 3.5 inches
Average Velocity: 1100 fps
Wolf 115 Grain FMJ
Average Group Size: 3 inches
Minimum Group Size: 2.5 inches
Maximum Group Size: 3.4 inches
Average Velocity: 1051 fps
Federal 147 Grain HST JHP 
Average Group Size:2.67 inches
Minimum Group Size: 1.87 inches
Maximum Group Size: 4.3 inches
Average Velocity: 953 fps
Overall Average Group Size: 2.94 inches
Reliability
Sig Sauer is known for making reliable guns, and the P365 we shot is no exception. While there were some reports of early problems with the striker-fired action of this gun. Since, then, though, Sig has corrected these problems, and it has become one of the best-selling guns in America.
Wrap up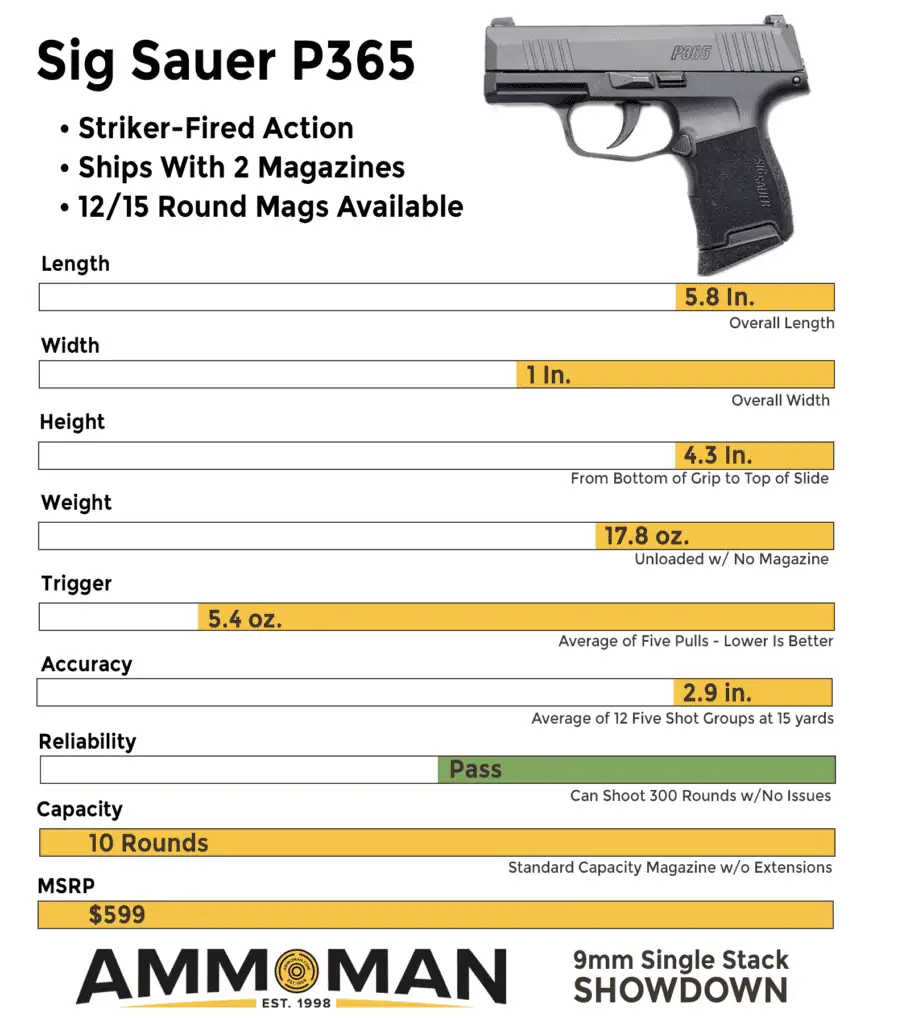 With a $599 MSRP, the Sig Sauer P365 is one of the pricier pistols in our test. However, it is also packed with great features like a comfortable grip, great trigger and an outstanding magazine capacity. It represents a new standard in the compact concealed carry market, and a gun that I've recommended over and over to people who are looking for a compact pistol for defensive use. If you're looking for a gun to serve double duty protecting yourself and your loved ones inside and outside the home, you just might be looking to buy a Sig Sauer P365.