Springfield Armory XD-E: Hammer-Fired Innovation
It seems that every new handgun hitting the market is a striker-fired pistol. I understand: they tend to be reliable and affordable to manufacture. While there's nothing wrong with that, I do miss many of the hammer-fired guns I grew up around.
Springfield Armory is well known for its lines of striker-fired pistols like the XD Legacy series, XD(M) and XD-S. One variant in the XD line is a little less known, but it stands out like a peacock in the company's catalog: the XD-E.
What is the XD-E? It is a line of hammer-fired pistols that turns everything you thought you knew about the XD pattern pistols upside down. Let's dive into the line and talk about my recent acquisition: the XD-E 3.8. 
9mm Springfield Armory XD-E Specifications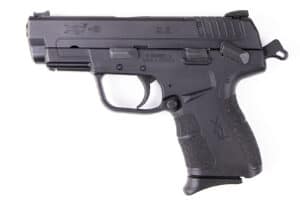 Manufacturer: Springfield Armory
Importer: Springfield Armory
Action: hammer-fired, DA/SA and SA
Caliber: 9mm
Capacity: 8+1
No. of Magazines Included: 2
Grip/Frame Material: Polymer
Sights: fixed two-dot rear, fiber optic front
Trigger Pull (Average of 4 Pulls): 10.4 pounds (DA), 5.3 pounds (SA)
MSRP: $542
Length: 7.2 inches
Width: 1.0 inches
Height: 5.0 inches
Weight (unloaded): 26.4 ounces
General Information
Rolled out in 2017, the Springfield Armory XD-E turned a few heads. Until then, all of the pistols offered by Springfield Armory were either 1911 variants or polymer-framed, striker-fired handguns. When Springfield Armory announced the hammer-fired XD-E many people wondered, why?
At its core, this is a single-stack pistol available with three different barrel lengths: 3.3", 3.8" and 4.5". All models are available in 9mm with .45 ACP being an option in the smallest guns. They are topped with a red fiber optic front sight and use the Mod.2 grip features. But, none of this really explains the purpose behind the pistols. I think some of the less common features, such as its double action / single action operation are what define this pistol.
Springfield Armory positioned the XD-E as a versatile handgun with features that catered to the self-defense shooter. Among those features were the ability to carry the gun in a traditional double action mode or as a cocked and locked pistol. Further, the gun did away with the grip safety found on other XD pistols and instead opted for a frame mounted safety that also served as a decocker. Also, the Low Effort Slide presented a potential solution to people with reduced upper body strength.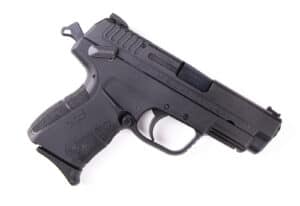 The XD-E has a traditional double-action trigger. That is to say the gun has a long first trigger pull, while subsequent shots are lighter, single-action shots. When you are finished shooting, you press the frame mounted decocker down to return the gun to its initial double action mode.
However, Springfield Armory went a little farther with the idea. If you press the decocker up, the lever acts as a safety that deactivates the trigger. If you like, you can carry the pistol in single-action mode for a consistent trigger pull.
What's nice about the safety is it does not hinder other manipulations of the pistol. So, you can place the gun on safe while loading or unloading the gun for an additional guard against an unintentional discharge. Likewise, the gun is designed to be field stripped with the safety on.
I mentioned the Low Effort Slide previously, and I should spend a little time explaining what that is. Essentially, the slide takes less force to pull back than the force required in similar guns. The company claims a 27% reduction in required effort "when compared to leading striker-fired pistols in its category." Springfield Armory doesn't identify specifically which pistols, but my guess would be the Smith & Wesson Shield and Glock 43.
On my 3.8" barreled XD-E, the slide is easy to retract. It does feel easier than my Shield, but by how much I could not say. Regardless, if you struggle with working the slide on a pistol, you may want to check out this gun at your local gun shop.
Range Time
Some of the early guns I trained with were double action, including the Smith & Wesson 645 and SIG Sauer P220. In my professional career, I carried Smith & Wesson revolvers and SIG P226 pistols. So, I have a lot of experience with DA guns. I was eager to see how the XD-E would compare to my time with the other guns.
I've spent a lot of time shooting this pistol and have more than 1,000 rounds through it at this point. From a reliability standpoint, the gun turned in a flawless performance. Every kind of load I've tried, including +P self-defense loads, ran without an issue. Additionally, steel cased ammo runs without a hitch.
The double-action pull feels longer and heavier than the measured weight suggests. However, it has almost no take-up and no perceptible overtravel. Throughout the trigger stroke, the resistance seems consistent and completely smooth. 
While significantly shorter than the DA pull, the single action trigger does have a fair amount of takeup. The travel distance is short with a clean break.
Accuracy was good with the gun – especially when shooting in SA mode. While all groups were reasonable, I achieved the best results with the Federal HST Tactical load. This is a standard pressure 147-grain hollow point designed for self-defense. Using a sandbag rest, my best five-shot group was 1.8" at 15 yards. Not bad for these aging eyes.
The decocker worked well. As a safety, I found the lever easy to manipulate with the thumb of my shooting hand.
Ammo Test Results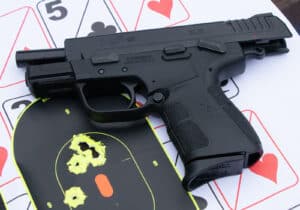 American Eagle 115 gr FMJ
Average Velocity: 1170 fps
Average Group Size: 2.1"
Federal HST Tactical 147 gr JHP
Average Velocity: 991 fps
Average Group Size: 1.8"
Sellier & Bellot 115gr JHP
Average Velocity: 1168 fps
Average Group Size: 2.2"
Velocity is an average of 10 shots, measured by a chronograph 10' in front of the muzzle. Velocity measurements are in feet per second and measured with a Competition Electronics ProChrono Digital. Accuracy is listed in inches for the best five-shot group at 15 yards shot from a rest. 
Parting Shots
The Springfield Armory XD-E line of pistols fills a niche where it is largely alone. Hammer-fired guns have become passé in a world seemingly dominated by striker-fired pistols. Yet, hammer-fired handguns are still in demand by many people and recommended by many instructors.
Unlike many of the classic hammer-fired pistol designs, the XD-E offers the ability to carry cocked and locked in addition to the traditional DA/SA system. This alone will interest many people. 
For me, the thin design with a 3.8" barrel makes for a great concealed carry package: large enough to handle like a full-size pistol yet compact enough to conceal easily. Coupled with good personal protection ammunition like the Federal HST, the XD-E is ready to see you home from most any defensive encounter.