Black Hills Ammunition

Black Hills Ammunition Ammo For
Sale
All About Black Hills Ammo

Located in Rapid City, South Dakota, Black Hills ammunition manufactures highly sought-after rifle and handgun ammunition. The military, law enforcement and discerning civilians largely make up the customers who buy Black Hills.
The quality and accuracy of their ammunition is tough to beat, which makes their products very popular with anyone who demands only the most accurate rounds. Black Hills ammunition is so reliable, it is trusted by every branch of the US Military (including their snipers and rifle teams) and law enforcement agencies throughout the country.
Black Hills Ammunition earned such an excellent reputation for quality and accuracy that several of the biggest firearms manufacturers use their ammunition for product development testing. Among those companies are Smith & Wesson, Sig Sauer, HK, FN, Mossberg, and Beretta.
All of Black Hills' ammunition is manufactured with non-corrosive primers and re-loadable brass cases. They do not manufacture their own components, but each and every piece of ammo they produce is hand inspected by quality control specialists at each stage of the manufacturing process and they reject any round that shows even small blemishes.
All of the packaged ammunition that ships from their facility is labeled with lot numbers that identify which employees crafted the ammo and when it was made.
Black Hills Rifle Ammo
Black Hills Ammunition is very well-known for their .223 and 5.56 rifle ammo. Their 75 grain heavy match .223 ammo is an especially popular load. Available in several bullet weights, these calibers are beloved by precision and long-range rifle shooters because of the shot-to-shot consistency and repeatable accuracy. Black Hills also produces larger rifle calibers like the 338 Lapua Magnum, a military and sniper round, and the 300 Winchester Magnum, a rifle round that is popular with hunters because of its great ballistic performance at long distances.
Black Hills Gold is one of their premier lines of ammunition. These rounds are geared toward shooters who want more from their ammo and they are popular with big game hunters the because the specialized bullet used creates a large wound channel.
In addition to their new manufactured ammo, Black Hills offers factory remanufactured rifle ammo in .223 and handgun ammo in .40 Smith & Wesson. Since their remanufactured ammo is less expensive than their new ammo and is made with the same level of commitment and quality control, it's a great choice for shooters with budget limitations who still require a high level of accuracy.
Pistol Ammunition from Black Hills
Black Hills also produces handgun ammo in several popular calibers, including 357 Magnum, 38 Special, .45 ACP, and 9mm Luger.
Their handgun cartridges are well-suited for serious training use and shooters who demand top quality. For self-defense use, Black Hills has created a unique ammo called HoneyBadger™, which doesn't rely on a hollow point bullet, like traditional self-defense ammo. Instead, they have chosen to use a fluted, solid copper bullet that is designed to provide optimal penetration while piercing through clothing with no issues.
Cowboy Action Loads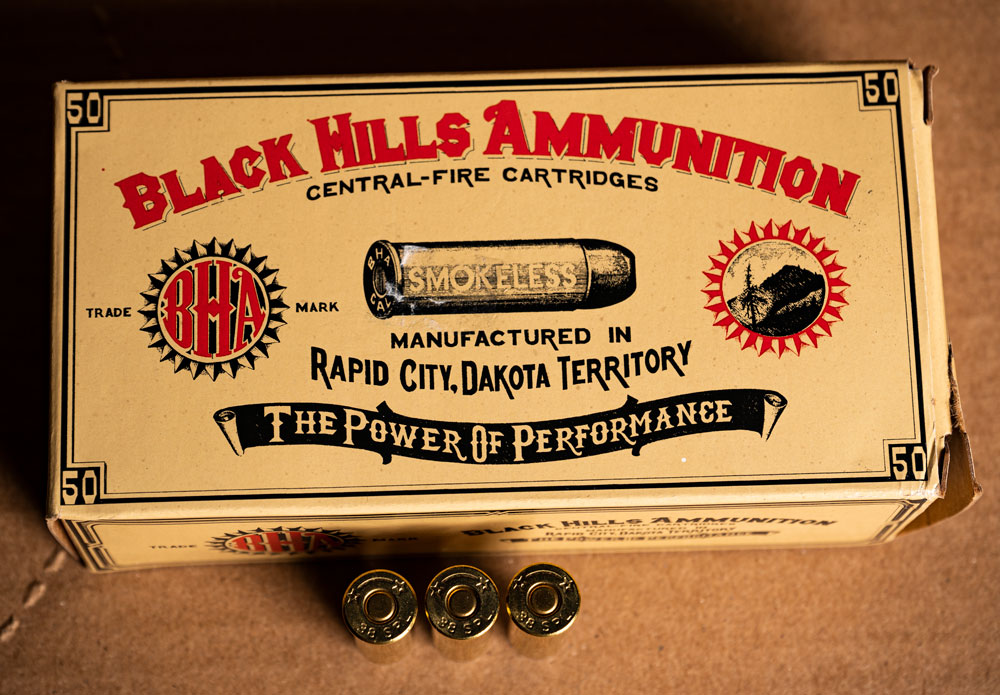 One of Black Hills' specialties is ammunition that meets the needs of SASS and other types of Cowboy Action Shooting, They offer more calibers in cowboy loads than any other company producing ammunition today, including period correct ammo that may have previously been obsolete, and they take great care to ensure that every load is authentic and suitable for use in revolvers and lever action rifles.
Black Hills Ammo History
Black Hills Ammunition has been a family business since they first opened up shop. The founder, Jeff Hoffman, was a police officer for over 35 years and during his service, he made a habit of inspecting the ammunition he carried while on duty. This personalized attention to detail and quality control carried over into his work when he bought into an existing company called Black Hills Shooter Supply in 1981. Hoffman worked as a police officer during the day and an ammo loader at night for several years. In 1988, Jeff and his wife, Kristi, formed Black Hills Ammunition. Their first big contract was with the Army Marksmanship Unit, where they developed specialized loads designed for long-distance shooting. By the late 90s, nearly every branch of the military was purchasing ammunition from the company.
Several decades later, the company is still proudly owned and operated by Jeff Hoffman, and they employ a staff of about 60 people. While Black Hills has grown significantly over the years, they have stayed strong with their roots in hand-crafted, top-quality ammunition. Black Hills Ammunition is still a relatively small company, but their sky-high standards and commitment to producing only the best rifle and handgun ammunition make their products an excellent value.