9mm Smith & Wesson M&P Shield 2.0:
Improving An Already Great Gun
There's one thing you should know, right up front. The first version of the 9mm Smith & Wesson M&P Shield has been my carry gun since 2012. I've shot thousands of rounds through my gun, brought it to gun classes all across the country, and it is resting in a holster on my hip as I type this. I like the S&W M&P Shield series, and you'll see in this M&P Shield 2.0 review, it improves upon the original in a number of meaningful ways. 
The rollout of the M&P Model 1.0 kick-started interest in single-stack 9mm compact pistols. There were guns in this niche before the Shield's introduction from Ruger, Kel-Tec, and other manufacturers. However, the Shield was the first pistol in this market niche to feature a look and feel similar to full-sized service pistols. This move paved the way for Glock, Sig Sauer, and others to roll out pistols like the Glock 48 that were branded just the same as their larger guns. While it may seem subtle, the effect of this move was to extend the existing trust people had for Smith & Wesson's M&P line of guns into the compact pistol market. This, in turn, increased confidence in the guns themselves ("Hey, it's like my M&P Compact, only even smaller.") and turned the M&P Shield 1.0 into a best-seller.
In 2018, Smith & Wesson updated the Model 1.0 version with new features and improvements. We go into more detail about how the M&P Shield 2.0 model differs from the Shield 1.0 model over here, but it boils down to a few quick points.
More aggressive stippling on the frame 

Front serrations on the slide

Better trigger 
Let's look at the features of the Shield 2.0 in more detail. 
9mm Shield 2.0 Review: First Impressions 
The 9mm Smith & Wesson M&P Shield is a striker-fired compact single stack pistol. It ships with two magazines, one that holds 7 rounds and one that holds 8 rounds. Smith & Wesson offers a wide range of options for the M&P Shield, such as lasers and night sights. In addition to this, there are "Performance" models that feature ported barrels and further upgrades. The version we tested was a standard model with a manual safety on the side of the frame. The pistol also has a trigger safety, an internal safety, and a drop safety.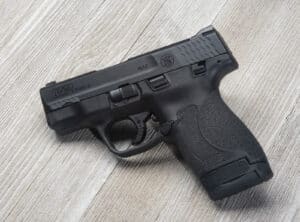 Because the M&P Shield 2.0 is the same dimensions as the 1.0 version, most external accessories such as lights, lasers, and holsters will fit both models. The internals, however, are different between the two models. Trigger upgrades for the 1.0 version, like those from Apex Tactical, will not work with the 2.0 model. 
Range Impressions
The Shield is skinny, just under one inch in width. Despite that, it's easy to hold and grip. The more aggressive stippling on the 2.0 model helps to control the gun on the range. However, it's not enough to be painful on the hands during extended range trips. That said, the seven round mag is a little too short for comfortable use. That shorter magazine will come in handy if you choose to pocket carry the Shield, though. The eight round magazine has a sleeve on it that extends the grip stippling the length of the gun. But, that extension is not locked into place and can slide up the magazine. This can result in the sleeve pinching the palm of your hand when doing a reload. There are aftermarket solutions, such as the Magfix replacement baseplate, which replace the moveable sleeve with a fixed extended length baseplate.
The Shield ships with three dot sights. As I've mentioned with other guns in this test, they are not my preferred type of sight. Fortunately, there are other options from the factory such as TruGlo Tritium sights or even a factory-installed red dot sight.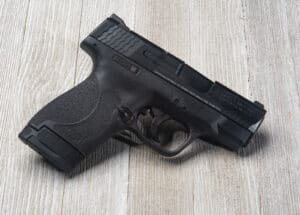 The improved trigger of the Shield 2.0 model shows up in spades on the range. The trigger on the 2.0 version that I shot is easily the equal of the upgraded trigger in my Model 1.0 Shield. Light and crisp with some takeup, it's an excellent trigger in a small defensive firearm.
The ergonomics of the Shield are quite good. The slide release lever is easy to grasp, although it does require a bit of effort to get the slide to go forward. I have shot hundreds of rounds in my 1.0 Shield in one day while attending various gun classes, with no ill effects on my hands or wrists. If you're looking for a pistol that you can train and practice with as well as carry, the Shield is definitely one you should look at. 
Accuracy 
We tested the M&P Shield 2.0's accuracy by shooting four, five round groups of three different ammo types at a target 15 yards away. We also measured the speed of each bullet with a Pro Chrony chronograph set up 10 feet away from the firing line. 
Ammo Test Results
American Eagle 115 Grain FMJ
Average Group Size: 3.2 inches
Minimum Group Size: 2.8 inches
Maximum Group Size: 3.6 inches
Average Velocity: 1116 fps
Wolf 115 Grain FMJ
Average Group Size: 3.1 inches
Minimum Group Size: 2.3 inches
Maximum Group Size: 4.3 inches
Average Velocity: 1040 fps
Federal 147 Grain HST JHP
Average Group Size: 2.9 inches
Minimum Group Size: 2.3 inches
Maximum Group Size: 3.6 inches
Average Velocity: 943 fps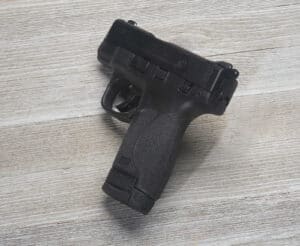 Overall Average Group Size: 3.04 inches
Despite its shorter barrel, the M&P Shield 2.0 turned in results right in the middle of the pack for our tests. In my experience, the accuracy of these guns is more than enough to handle your everyday defensive carry needs. For example, I have passed the FBI Pistol Qualification test at the highest level, Instructor level, a number of times with my 9mm Shield. Practice and range time are what make you a good shooter, not your pistol. 
Reliability 
To test the reliability of the 9mm Smith & Wesson M&P Shield 2.0, we shot three hundred rounds of different ammunition styles and bullet weights from Hornady, Wolf, Federal, and others. The M&P Shield 2.0 shot all the ammo in our test with no issues of any kind. 
M&P Shield 2.0 Review Wrap-up
The 1.0 model of this gun is my everyday carry defensive model, so yes, I do recommend the M&P Shield 2.0 for everyday carry. However, some of the features on this pistol are a bit dated. The maximum capacity of eight rounds in a magazine, for instance, lags behind similar pistols from Glock and Sig Sauer. The option for a red dot sight is very nice, as is the wide range of accessories for the gun. The M&P Shield 2.0 may not have all the bells and whistles of other similar guns, but it does have the history and proven track record of Smith & Wesson behind it, making it an excellent choice in a 9mm single stack compact pistol.