Springfield Armory 911 Review: A Fun-Sized 1911 
"Never a CCW gun closer to heaven than the Springfield Armory Nine Eleven"
-Bill Shakespeare, a 1911 fan (probably)
If you are a fan of the 1911-platform and have been looking for something compact to carry, let me introduce you to the 911 pistol from Springfield Armory.
A casual observer can see the influence of the classic 1911 design in the 911 pistol. The function of the 911 is similar with a crisp single-action trigger and an ambidextrous thumb safety. We found in our review, if you like the 1911, this pistol will just feel right in your hands.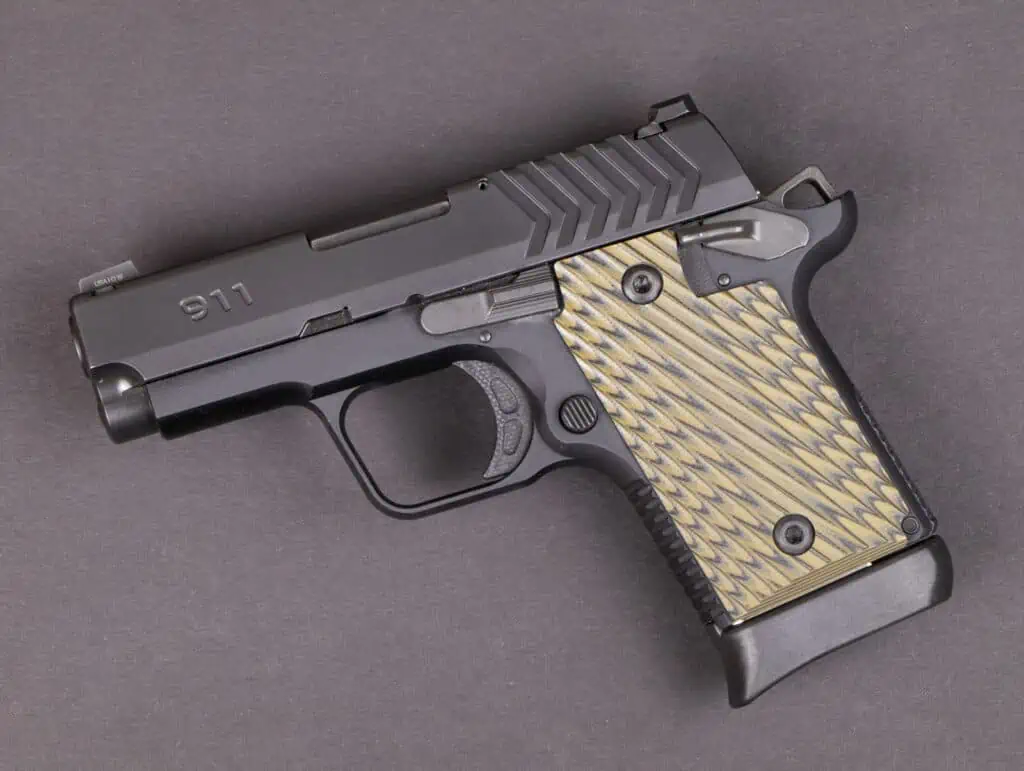 Springfield Armory 911 Specs
Manufacturer:  Springfield Armory
Importer:  Made in the USA
Action:  Hammer-Fired, Single-Action
Caliber:  9mm
Capacity:  6+1, 7+1 (extended)
Number of Magazines Included:  2 (one of each)
Grip/Frame Material:  G10 grips on 7075-T6 aluminum frame
Sights:  Pro-Glo tritium/luminescent front with white outline tritium rear
Trigger Pull (Average of 4 Pulls):  7.1 lbs
MSRP:  $580
Length:  5.9"
Width:  0.99" at grip, 0.85" at slide
Height:  3.9"
Barrel Length:  3"
Weight (unloaded):  15.3 oz
Available Calibers
Springfield Armory chambers the 911 for two different cartridges: the .380 ACP and the 9mm. For this review, I had the 9mm version. With 6 rounds in the standard magazine and 7 rounds in the extended mag, you should have ample protection for many of the common threats the average citizen might encounter. In terms of capacity, the 911 is on par with popular defensive pistols like the Glock 43 and edges out most of the classic J-frame revolvers.
The gun is not merely a shrunk down version of a pure 1911 Government pistol.  It has its own unique features and parts but holds true to the spirit of its progenitor.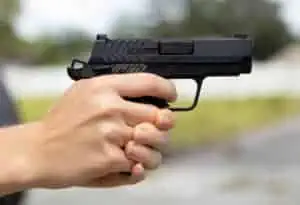 My sample 911 pistol has a 3" barrel with a full-length guide rod, flat wire spring and external extractor. Its grip panels are made of G10, a kind of fiberglass laminate material known for its strength and resistance to water and chemicals. The pistol's trigger is also made of G10.
Springfield Armory uses a 7075-T6 aluminum frame. This is the same heat-treated alloy used in the receivers of the M4/M16 series of rifles that have served the US military for decades. Not only is it very strong, it is relatively light which is great for a concealed carry pistol. The company uses a hard coat anodized finish to protect against corrosion.
Springfield Armory 911 Sights
Springfield Armory uses a bright front sight that combines two technologies for a great aiming point across all lighting conditions. The Pro-Glo sight uses a tritium vial that glows in low- and no-light conditions. Surrounding it is a relatively large ring of photoluminescent material. The ring absorbs ambient light and then releases the energy as a bright glow as the ambient light fades. Further, the photoluminescent ring is a yellow-green that is easily visible in full daylight. No matter what the lighting is, you will be able to get on target fast.
In the rear, Springfield uses a U-shaped notch with a pair of tritium vials. The rear sight has a leading hard edge that assists with one-handed slide manipulation.
Springfield Armory 911 Range Time
Reliability with the 911 was 100%. I ran a variety of 9mm loads through it from the Liberty Ammunition 50 grain JHP +P to the Federal HST 147 gr. All of them ran without a problem. 
I had been eager to see how well the 911 did with the 115 grain and 50 grain loads. I'd previously tested a SIG SAUER P938 which is a similar design to the 911. The Sig pistol had reliability issues with the very light loads. I was happy to see that the Springfield Armory pistol had no such problems and ran everything I fed it.
Accuracy was reasonable. With a smaller pistol, you have additional recoil to manage and a shorter sight radius. Fortunately, the light trigger and amply sized sights mitigate those issues. Without any support, I was able to keep all rounds in the upper chest of a man-sized target at 15 yards. For such a small pistol, this is a very reasonable level of accuracy.
However, I also shot the pistol from a bag to see what kind of groups I could achieve.
Ammunition Performance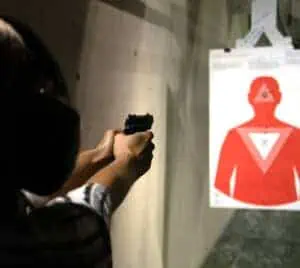 Fiocchi 124 gr FMJ
Velocity: 1,051 fps
Avg Group Size: 3.97"
Min Group Size: 3.20"
Max Group Size: 4.78
Federal HST 147 grain JHP
Velocity: 923 fps
Avg Group Size: 3.21 inches
Min Group Size: 3.02 inches
Max Group Size: 3.71 inches
Liberty Ammunition Civil Defense  50 gr JHP +P
Velocity: 1,924 fps
Avg Group Size: 3.85 inches
Min Group Size: 3.53 inches
Max Group Size: 4.12 inches
Velocity is an average of 10 shots, measured by a chronograph 10 feet in front of the muzzle.  Velocity measurements are in feet per second and measured with a Competition Electronics ProChrono Digital.  Accuracy is listed in inches for a five-shot group at 15 yards shot from a bag rest.
Recoil in this pistol is moderate. A brand new shooter may not take well to it, while an experienced 1911 aficionado will find it quite mild.
Springfield 911 Grips
For me, the G10 grips provided plenty of traction, but it does not fill my hand well. Fortunately, Springfield Armory offers a version of the pistol with rubber wrap-around grips. This model does a much better job of filling my hand while still staying thin enough for easy concealment.
With the flush-fitting magazine, my pinky hangs off the bottom of the pistol without even a sliver of purchase on the front of the magazine well. In addition to the extra round, the extended magazine includes enough space for my pinky to assist in gripping the pistol. While the pinky is rarely considered a powerful finger, my ability to control the pistol is greatly enhanced with it.
Bottom Line: Springfield Armory 911 Review
In our time evaluating it, the Springfield Armory 911 proved to be a capable defensive pistol. It was reasonably accurate, offered a solid amount of firepower and was completely reliable with all kinds of ammunition.
If you like the 1911-platform but are looking for something a little lighter and smaller to carry, the SA 911 is a good gun to check out.