Pocket Sized Powerhouse: Springfield Armory Hellcat Review
In uncertain times, people look to their security. Be it a common mugger or a full blown insurrection, people are universally concerned with defending themselves and their family from violent attack.
While a shotgun or AR-15 are definitely appropriate for home defense, something smaller is called for when leaving the house for groceries or heading into the office. At the same time, you want something in a major caliber and with enough ammunition to fend off multiple attackers.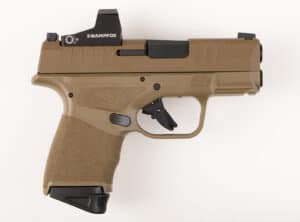 Introduced in late 2019, the Springfield Armory Hellcat is a 9mm pistol that offers a broad range of features – including the ability to stuff 11 rounds into the magazine while maintaining a grip width that is only 1" across. That would certainly seem to check many of the boxes for a concealable self-defense tool.
I was recently able to get a new Hellcat in Desert Flat Dark Earth trim for evaluation. Since it was an "optics ready" model, I paired it with the new Sentinel reflex sight from Swampfox.
After getting it on the range, I was mostly impressed with the gun. Let's not waste any time and dive right into this Springfield Armory Hellcat Review.
Springfield Armory Hellcat OSP FDE Specifications
Manufacturer: Springfield Armory
Importer: Springfield Armory
Action: Striker-fired
Caliber: 9mm
Capacity: 11+1 / 13+1
Number of Magazines Included: 2
Grip/Frame Material: Polymer
Sights: Luminescent with tritium insert front, U-notch rear, optic ready
Trigger Pull (Average of 4 Pulls): 6.4 pounds
MSRP: $643
Length: 6.0"
Width: 1.0"
Height: 4.0"
Weight (unloaded): 17.9 oz
General Information
The Hellcat is an amazing little gun. While many people are drawn to it based on the amount of firepower it offers in a small package, it stands out for other reasons as well.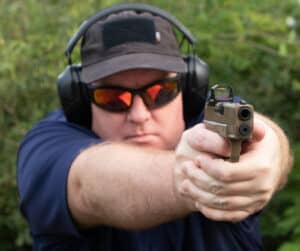 For me, the grip on this gun is excellent. The double-stack magazine requires a frame that is thicker than many single-stack guns. At the widest point of the grip, I measured the Hellcat to be 1.02" thick. I measured the Glock 43 grip at 0.91" and the Smith & Wesson Shield at 0.93". While thinness helps with concealment, the slightly thicker grip of the Hellcat fits my hand very well. 
Get A Grip
The Springfield Armory Hellcat uses a grip texture that feels similar to skateboard tape, though not quite as aggressive. For me, the grip really locks into the hand. If you carry this gun, you may want a t-shirt between it and your skin.
I like the sights the company uses on this gun. The front sight is a photoluminescent circle surrounding a tritium vial. This provides a clear aiming point in any lighting condition. The rear sight is a wide U-notch for rapid alignment.
Of course, you have the option of adding an optic on this pistol. A reflex sight projects a bright red dot into your field of view. This allows you to focus on the threat instead of the front sight. Similar optics have been used with great success on rifles during the past two decades.
The slide is cut for any optic with the RMSc footprint. Other pistols that use the RMSc size include the SIG SAUER P365XL, Smith & Wesson Shield M2.0 OR, and Walther PPS MR OR. Having a gunsmith cut a slide for you can cost hundreds of dollars depending on the quality of work. A factory cut slide is a huge saver in both time and money.
Unlike the company's existing XD line of pistols, the Hellcat does not have a grip safety. Consequently, I find the trigger feels slightly heavier than other Springfield Armory pistols. It seems smooth with a slight amount of take-up and a crisp break.
Range Time With The Springfield Armory Hellcat
As I've come to expect with modern pistols, the Hellcat ran well. With more than 350 rounds through the gun, I've experienced no failures of the gun to fire. I did run into a trigger issue that I will describe below. To be clear, the gun fired every time I pulled the trigger.
Many small guns like to squirm a bit when you shoot them. That's physics at work and shouldn't surprise anyone. Springfield Armory seems to mitigate the gun's recoil by going with a double stack magazine. 
Even though the gun is thin, the grip fills the hand a little more than single stack pistols like the XD-S, Glock 43, or Smith & Wesson Shield. I found this gave me a good hold on the gun to control muzzle flip.
Springfield Armory Hellcat Review: Accuracy Test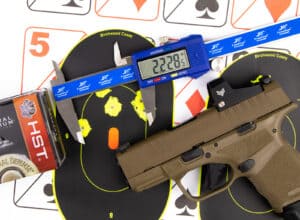 American Eagle 115 gr FMJ
Average Velocity: 1,040 fps
Minimum Group Size: 2.98″
Maximum Group Size: 3.47″
Average Group Size: 3.31"
Federal HST 147 grain JHP
Average Velocity:956 fps
Minimum Group Size: 2.23″
Maximum Group Size: 2.92″
Average Group Size: 2.23"
Wolf Military Classic 115 gr FMJ
Average Velocity: 1,037 fps
Minimum Group Size: 3.76″
Maximum Group Size: 4.81″
Average Group Size: 4.22"
Velocity is an average of 10 shots, measured by a chronograph 10' in front of the muzzle. Velocity measurements are in feet per second and measured with a Competition Electronics ProChrono Digital. Accuracy is listed in inches for a five-shot group at 15 yards shot from a rest.
I felt a hair more accurate with this pistol than I was with the company's XD-S. The trigger on the XD-S was a bit better, I think, but my grip on this pistol is significantly improved versus that gun. That is where I think the accuracy improvement comes from.
Optics Make A Clear Difference
The Swamp Fox Sentinel performed beautifully. I mounted the "always on" version of the optic on the pistol. It senses ambient lighting conditions and automatically adjusts the brightness of the aiming point. 
I tested the pistol both indoors and outside. No matter the lighting conditions, the Sentinel adjusted appropriately and instantaneously. Add in the rugged construction and sub-$300 price tag and I think this pistol-sized red dot is a winner. 
Trigger Concerns
Prior to heading to the range, I spent a little time dry firing the gun. I encountered no issues. However, after a few dozen shots on the range, I hit a small problem: the trigger would not pull to the rear.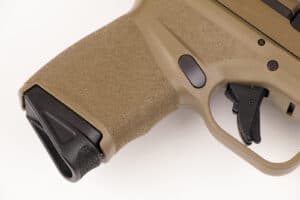 Diagnosing the problem, I discovered that if I placed virtually any lateral pressure on the side of the trigger, it could cause the trigger safety to stop on the frame. When pressing the trigger, if my finger touched the trigger safety first, I had no problems. If my finger touched the edge of the trigger prior to touching the safety, the safety would engage and prevent me from pulling the trigger.
The Response
I'd never had a problem with a Springfield Armory gun before, so I reached out to the company about my problem. They responded with the following statement:
The Hellcat™ employs a proven trigger safety mechanism that is used in many of today's most trusted firearms. When the trigger safety lever that is incorporated into the trigger is not engaged, it blocks the trigger from moving rearward. The trigger safety is also designed to minimize the risk of the pistol firing if dropped, or firing if the trigger is exposed to any movement that is not a direct firing pull. The trigger safety in the Hellcat functions as designed and we have done extensive testing to ensure its reliability and safety. Not only has it been proven by hundreds of respected members of the firearms community, the Hellcat™ has recently been awarded approval for law enforcement use by the National Tactical Officers Association and received their highest Gold rating.
As with any firearm, it is important to familiarize yourself with the safe operation of the firearm before any use, including for self-defense purposes. Additionally, engaging in proper and regular training for those who carry firearms for personal and self-defense is highly recommended. The safety of our customers is of the utmost importance to Springfield Armory, and we design all of our firearms to hold this high standard.
Parting Shots – Springfield Armory Hellcat Review
The Springfield Armory Hellcat is an amazing little pistol that offers an enormous amount of firepower in a small package. It has many of the features I look for in a defensive pistol including top-tier sights, complete reliability, and a grip that fits my hand well.
When you add in the optics-ready slide and accessory rail, it is clear this is one of the most value-packed subcompact pistols on the market.
My only hesitation in giving a full recommendation of this gun is the problem I encountered with the trigger. I'd recommend trying this gun in the store prior to purchase. If you have no problems – go for it. It is a great self-defense package.