PELICAN 7100 FLASHLIGHT - 5.12"
There's no need to be afraid of the dark when you can defeat it so easily. Just pull out your Pelican 7100 and shine away!
This tactical flashlight is a mere 5.12" long, yet its brilliantly powerful bulb casts up to 700 lumens of light on demand. At its brightest setting the 7100's battery lasts 1.25 hours. At medium (348 lumens) it lasts 1.5 hours, and at low (33 lumens) it lasts for 9.25 hours. An additional strobe mode pulses 695 lumen light so you can disorient a threat or hold a rave wherever you please. The 7100's included battery recharges in a mere 1.5 hours!
The 7100 is designed to take a licking and keep on shining. Its body is made of aluminum with a Type II anodized finish, and has an AR coated glass lens and carbon steel pocket clip. The flashlight's low battery indicator will help prevent disaster. Working around water? The 7100's IPX8 waterproof rating protects it against submersion up to one meter (39") deep!
Battery - 14500
(included)
or single AA battery
Length - 5.12"
Weight - 3.6 oz. (excluding battery)
Includes - Removable pocket clip
Lumen Output for the Pelican 7100
We independently tested the Pelican 7100 with an instrument called an integrating sphere. This tool allowed us to capture the light the flashlight emitted and measure the lumens produced. In the chart below, you'll see how the Pelican 7100 did in comparison to its advertised 695 lumens over the course of 2 hours (120 minutes) of testing.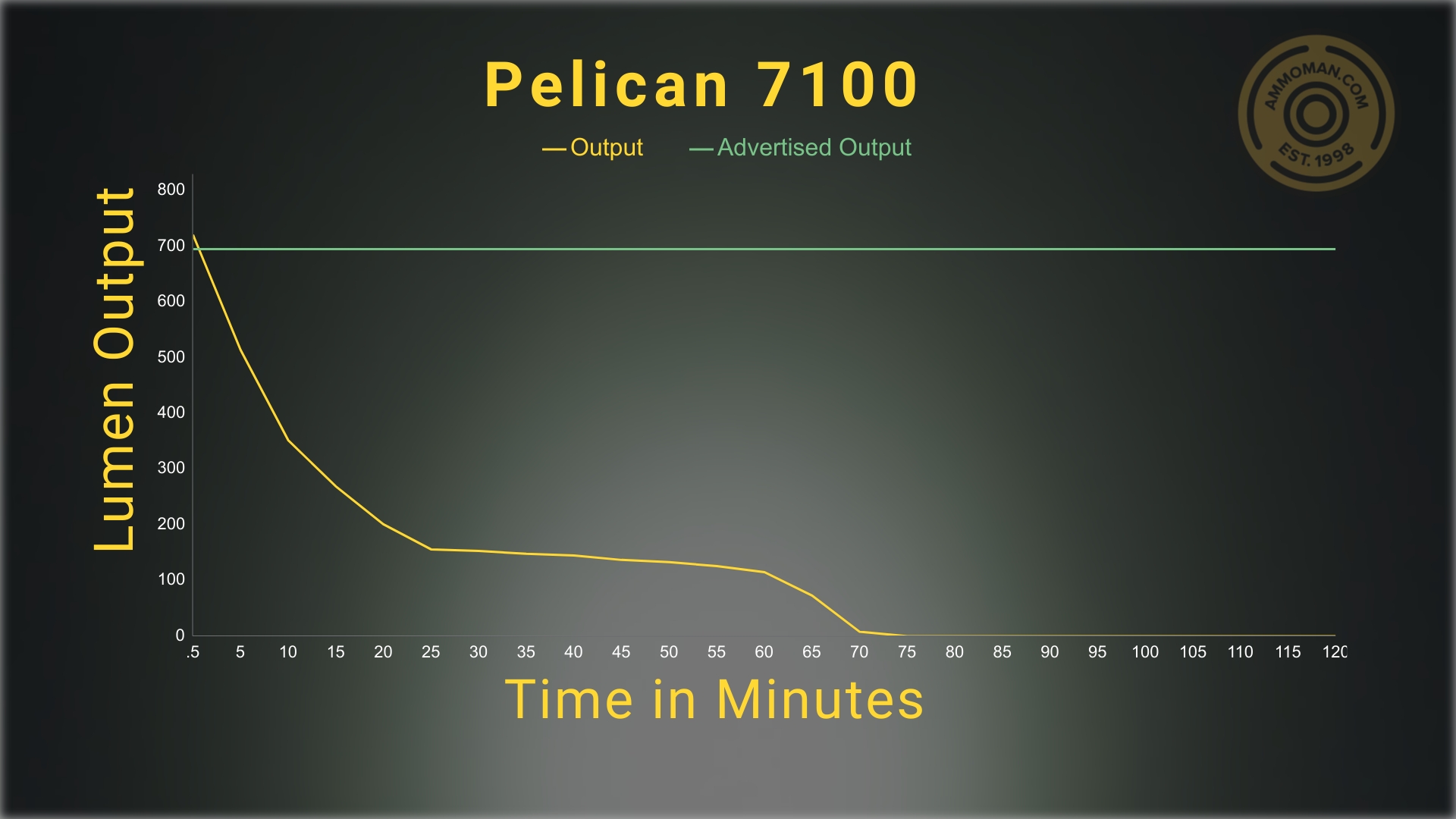 | | |
| --- | --- |
| Manufacturer | Pelican |
| Manufacturer SKU | 7100 |