PELICAN 7600 FLASHLIGHT - 6.19"
Carrying the Pelican 7600 is like having a little ray of sunshine in your pocket! Whether you are a law enforcement officer, contractor, home inspector, auto mechanic, hunter, camper – or anyone else who enjoys being able to see what they're doing at all times – the 7600 belongs at your side.
The 7600's powerful LED is capable of exceeding a brightness of
900
lumens. It has four settings: high (944 lumens), medium (479 lumens), low (37 lumens) and strobe. The 7600 additionally comes with red and green LEDs, which can help to preserve your night vision or turn the flashlight into a traffic wand with an additional slip-on accessory (sold separately).
This flashlight comes with a USB rechargeable lithium ion battery. Just plug it into your computer, wall or vehicle for five hours and you'll be prepared for the darkest night. A full-time battery indicator will alert you if you're running low on juice.
The rugged 7600 is plated with Type III hard anodizing finish, and its IPX8 submersible status means you can safely submerge it in water up to one meter (39") deep.
Battery - 18650
(included)
or CR123
Length - 6.19"
Weight - 5.4 oz. (excluding battery)
Lumen Output Testing of the Pelican 7600
To get a sense of just what the Pelican 7600 tactical flashlight is capable of, we did some testing of the light. Aided by an instrument called an integrating sphere, we were able to measure the lumen output of the light over two hours of run-time. You can see the results of that testing along with the advertised lumen output of 944 in the graph below: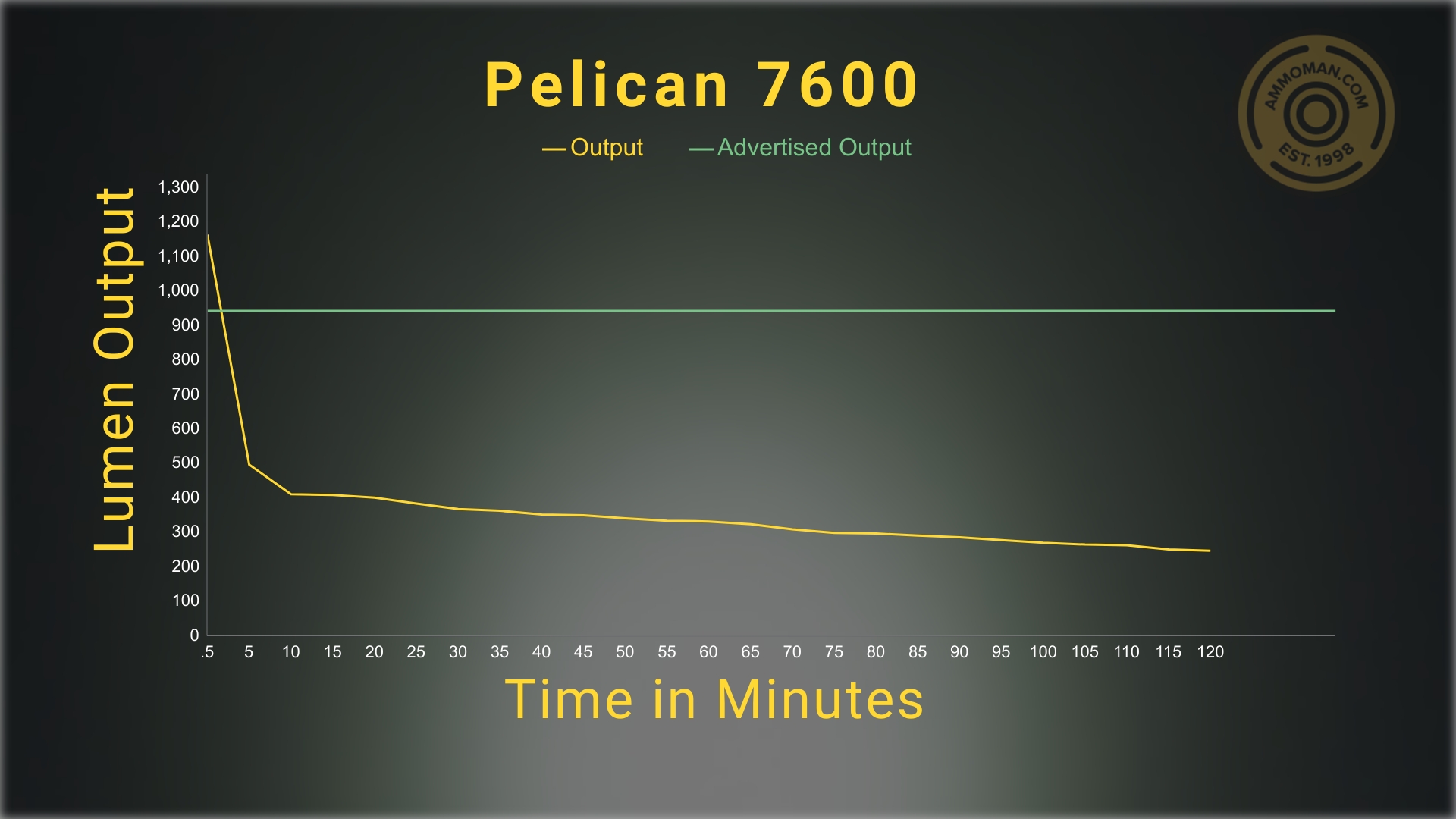 | | |
| --- | --- |
| Manufacturer | Pelican |
| Manufacturer SKU | 7600 |