FLASHLIGHT - STREAMLIGHT PROTAC 2L-X USB - 5.14"
Are you tired of tearing through disposable batteries like a horse goes through hay? Embrace the rechargeable battery – now more convenient than ever!
The ProTac 2L-X by Streamlight is powered by the manufacturer's own SL-B26 protected Li-Ion USB rechargeable battery pack, which comes with its own integral USB port. Simply plug the removable battery into your computer or other USB device and wait! The ProTac 2L-X also includes two CR123A batteries for backup.
This EDC flashlight's LED is capable of casting 500 lumens for 3.25 hours (or 2.75 hours when powered by CR123A batteries). Need to conserve power? The low setting casts 40 lumens for 30 hours with either type of battery. Or utilize the strobe setting to signal a teammate or disorient an assailant! (4.5 hours SL-B26; 3.25 hours CR123A).
The ProTac 2L-X's signature TEN-TAP Programming lets you choose the order in which the flashlight's modes activate at the push of the tailcap button: high-strobe-low, low-high, or high only.
Trust the rugged anodized aluminum ProTac 2L-X to endure all kinds of physical trauma. It is rated to withstand impact following a two meter (78") fall, and thanks to its gasket-sealed lens it can survive being submerged in water up to one meter (39") deep for 30 minutes. Its head's clever anti-roll design keeps the flashlight in place whenever you lay it down!
Battery - Streamlight SL-B26 rechargeable battery pack (included), two CR123A batteries (also included)
Length - 5.14"
Weight - 4.4 oz. (including battery)
Includes - Nylon holster, removable pocket clip, USB cord
ProTAC 2L-X USB Lumen Test Results
Using a device called an integrating sphere that measures light output, we tested this model of Streamlight to see how its lumen output compared with what's advertised. Below, you'll see the measured output over the course of two hours (120 minutes) and see it did quite well when compared to the advertised 500 lumen output.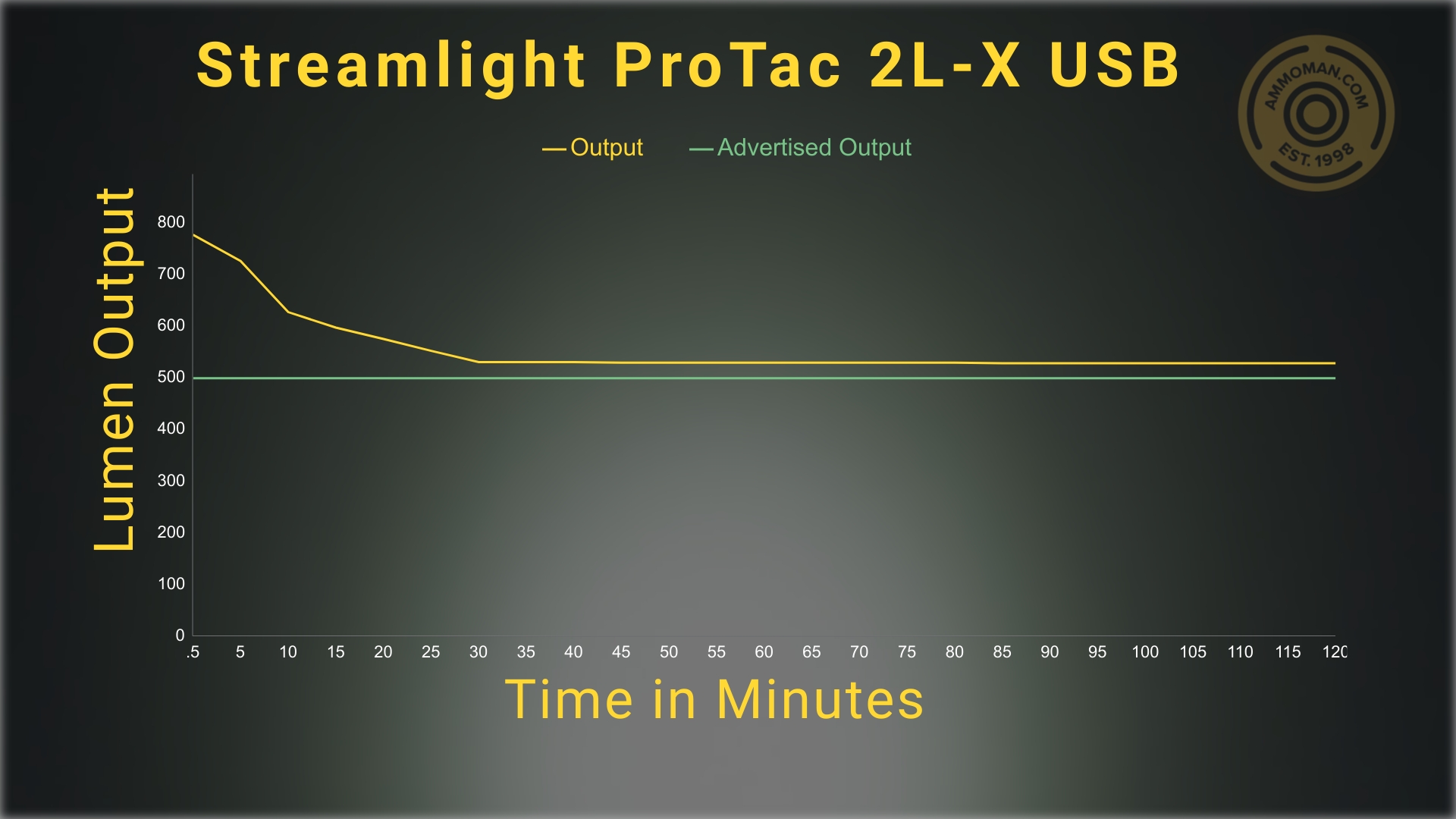 | | |
| --- | --- |
| Manufacturer | Streamlight |
| Manufacturer SKU | 88082 |