STREAMLIGHT PROTAC HL 3 Flashlight - 7.1"
The power of 36,000 candles in the palm of your hand! The ProTac HL 3 by Streamlight utilizes three powerful lithium batteries (included) to blast 1,100 lumens, which is sufficient to illuminate objects up to 1,242 feet away!
The ProTac HL 3's proprietary TEN-TAP Programming gives you full control over the flashlight's brightness. Quickly cycle from full blast (2 hours) to low light (35 lumens, 43 hours), or utilize the strobe feature (2 hours) to effectively disorient an attacker. Just press the tailcap button to cycle through the three modes in the order you prefer!
This tactical flashlight is built to endure constant abuse. Its shock-resistant LED is designed for 50,000 hours of usage. Its anodized aircraft aluminum body is hearty enough to survive falls up to one meter (39") high, and its sealed glass lens makes the ProTac HL 3 safe to submerge in water up to one meter deep for 30 minutes.
The ProTac HL 3's high-quality electronics ensure optimal light output right up until the batteries run out of juice. The RoHS compliant flashlight even features an anti-roll head, so you can safely set it down whenever you need your hands free.
Battery - Three CR123A (included)
Length - 7.1"
Weight - 9.3 oz. (including batteries)
Includes - Nylon holster, removable pocket clip
Lumen Test Results for the ProTac HL 3
Using a device called an integrating sphere, we captured all the light Streamlight's ProTac HL-3 flashlight emits and measured the lumen output. You can see the results of our two hour (120 min
ute) test below along with the advertised lumen output. Of course, lumens aren't everything but it can be a handy measurement to know when shopping for a flashlight.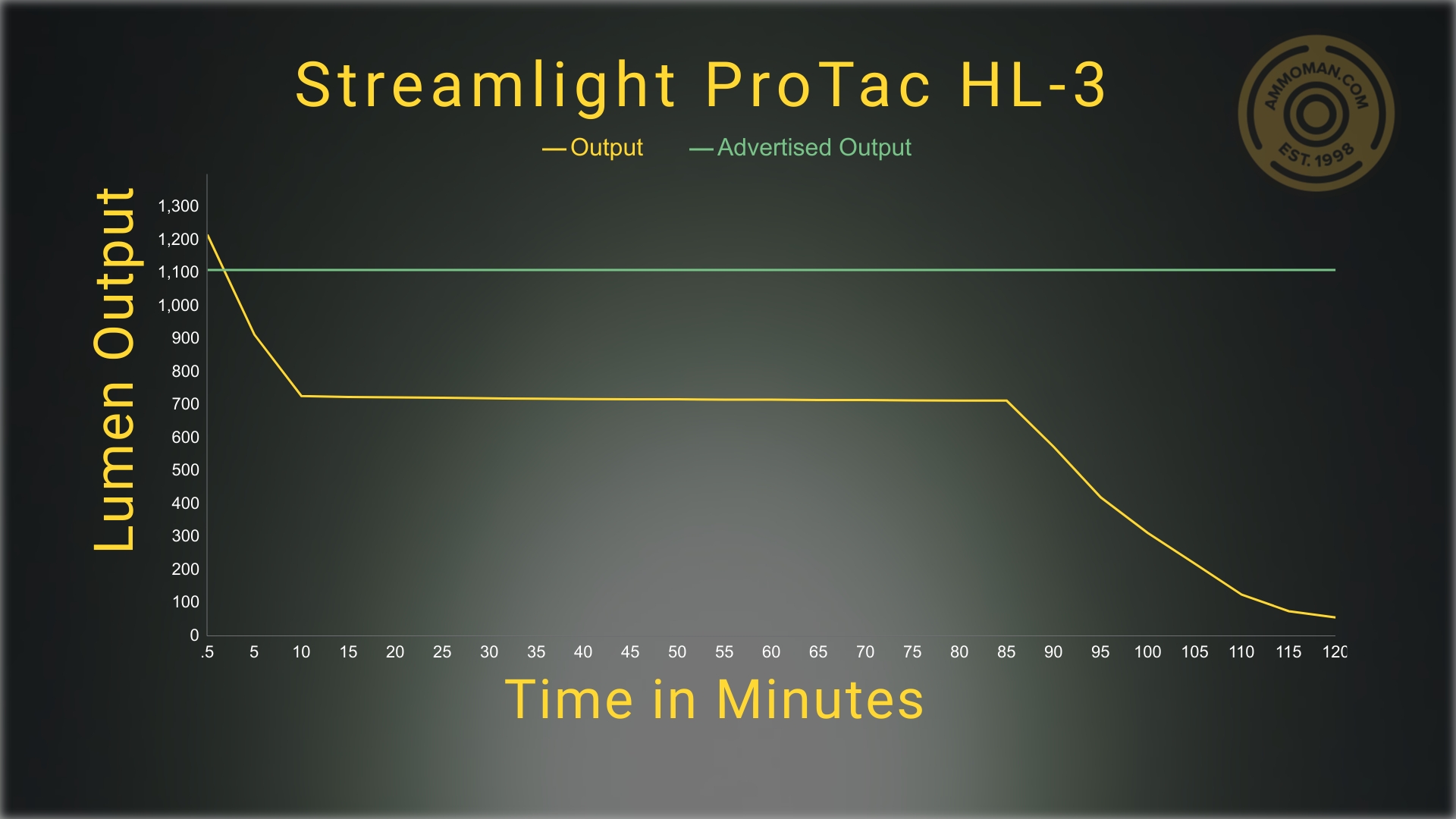 | | |
| --- | --- |
| Manufacturer | Streamlight |
| Manufacturer SKU | 88047 |