FLASHLIGHT - STREAMLIGHT PROTAC HL - 5.25"
The ProTac HL by Streamlight offers a versatile illumination solution for any situation. Whether you've sworn to uphold the law or you've sworn to go fishing at night, this is your go-to flashlight!
The ProTac HL's patented TEN-TAP Programming lets you quickly cycle between three modes of illumination with the push of its tail button: high (750 lumens, 1.25 hours), low (35 lumens, 18 hours), or strobe (for signaling friendlies or disorienting threats, 2.5 hours).
The ProTac HL's anodized aircraft aluminum body is intensely durable and will withstand impact from heights up to one meter (39"). The flashlight's O-ring sealed lens grants it IPX7 level water resistance (one meter for up to 30 minutes). This RoHS compliant flashlight additionally features an anti-roll head, so you can safely set it down without risk of losing it. Limited lifetime warranty included!
Battery - Two CR123A (included)
Length - 5.25"
Weight - 5.5 oz. (including batteries)
Includes - Nylon holster, removable pocket clip
Lumen Output Testing of the ProTac HL
As part of our mission to find the best tactical flashlight on the market, we tested the ProTac HL with a device called an integrating sphere. This tool allowed us to capture the light emitted from the flashlight and record the results in lumens. In this case, Surefire advertises an output of 750 lumens, which we confirmed this light puts out when you first turn it on. Below, you'll see how the lumen output fares over the course of 2 hours (120 minutes) of time.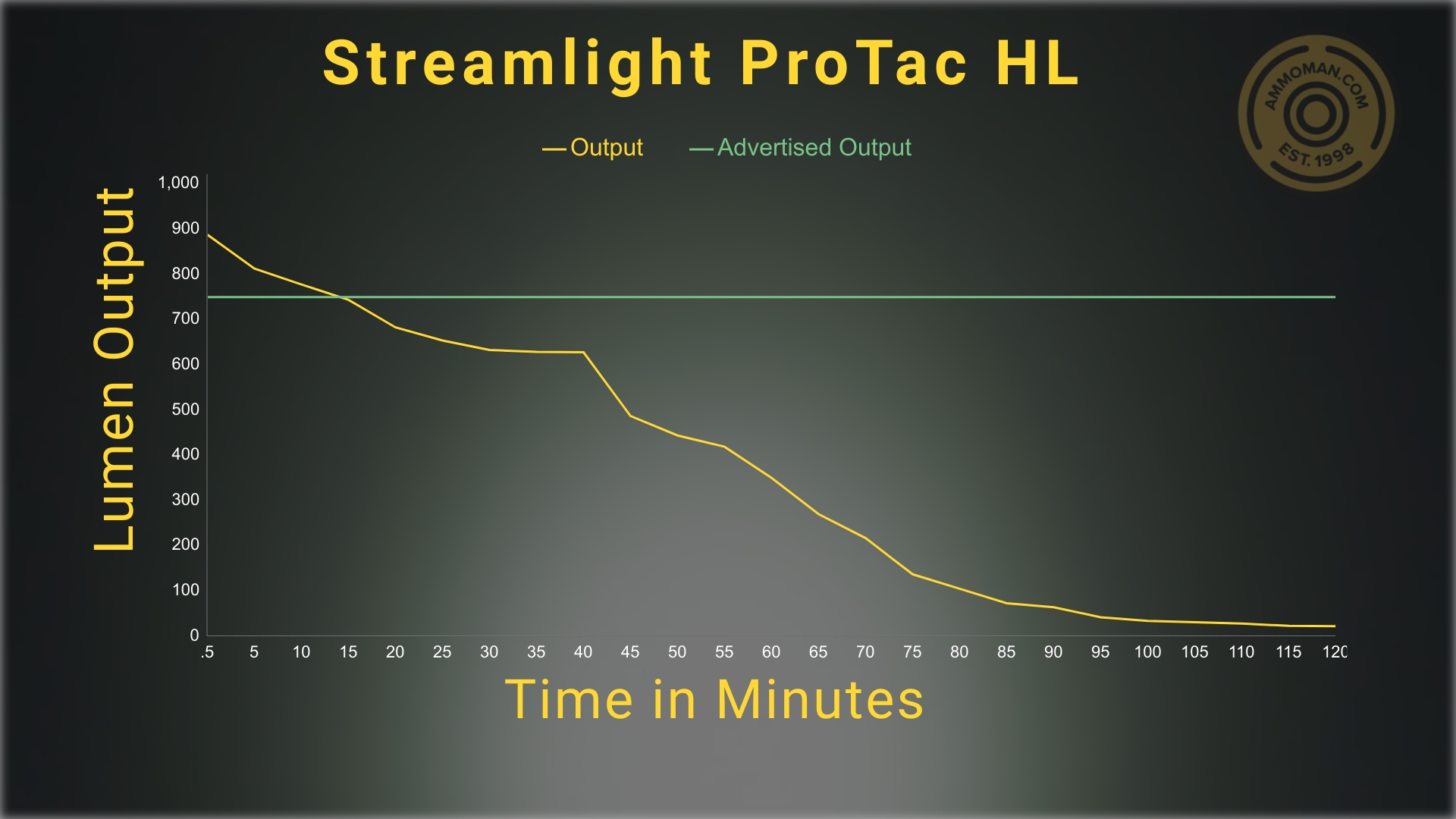 | | |
| --- | --- |
| Manufacturer | Streamlight |
| Manufacturer SKU | 88040 |