STREAMLIGHT PROTAC HL USB FLASHLIGHT - 6.5"
The ProTac HL USB flashlight by Streamlight makes recharging your batteries a snap! Just plug this lightweight moonbeam into any computer, compatible outlet, portable battery pack or vehicle console that has a USB port, and you'll be back on the go soon. The port is even protected by a water resistant sliding metal sleeve!
The ProTac HL USB features a rugged LED that's capable of blasting 1,000 lumens to light up areas up to 718 feet away. Max power drains the flashlight in 1.5 hours. You may alternatively use the medium (380 lumens, 3.5 hours) or low (65 lumens, 23 hours) settings to conserve battery power while still seeing what you're doing. The additional strobe feature can be lifesaving when you need to disorient a threat, fast.
Can't get to a USB port? No problem! This flashlight's self-adjusting cradle also accommodates two CR123A batteries without letting them jostle around.
The ProTac HL USB is designed for cops and other folks with dangerous or highly active jobs. Its anodized aluminum body can withstand impact resulting from a one meter (39") fall, and its IPX4 rating means splashing water won't harm it. The flashlight's single tailcap button makes it easy to use one-handed, and its anti-roll head stays put when you rest the flashlight on the ground or the hood of your vehicle.
The ProTac HL USB features Streamlight's own TEN-TAP Programming. With it you can program the flashlight to cycle high-strobe-low, high only, or low-medium-high.
Battery - Rechargeable P/N 74175 battery (included), two CR123A batteries, or Streamlight SL-B26 battery pack
Length - 6.5"
Weight - 7.2 oz. (including batteries)
Includes - Nylon holster, removable pocket clip, USB cord
Lumen Test Results for the ProTac HL USB
We independently tested the lumen output from this flashlight using a device called an integrating sphere. This tool allowed us to capture and measure all the light the ProTac HL USB emitted. Below, you can see the results of our 2 hour test, along with a green line that indicates the advertised lumen output Streamlight advertises for this light. While lumens aren't everything, it can be a helpful data point when picking a flashlight.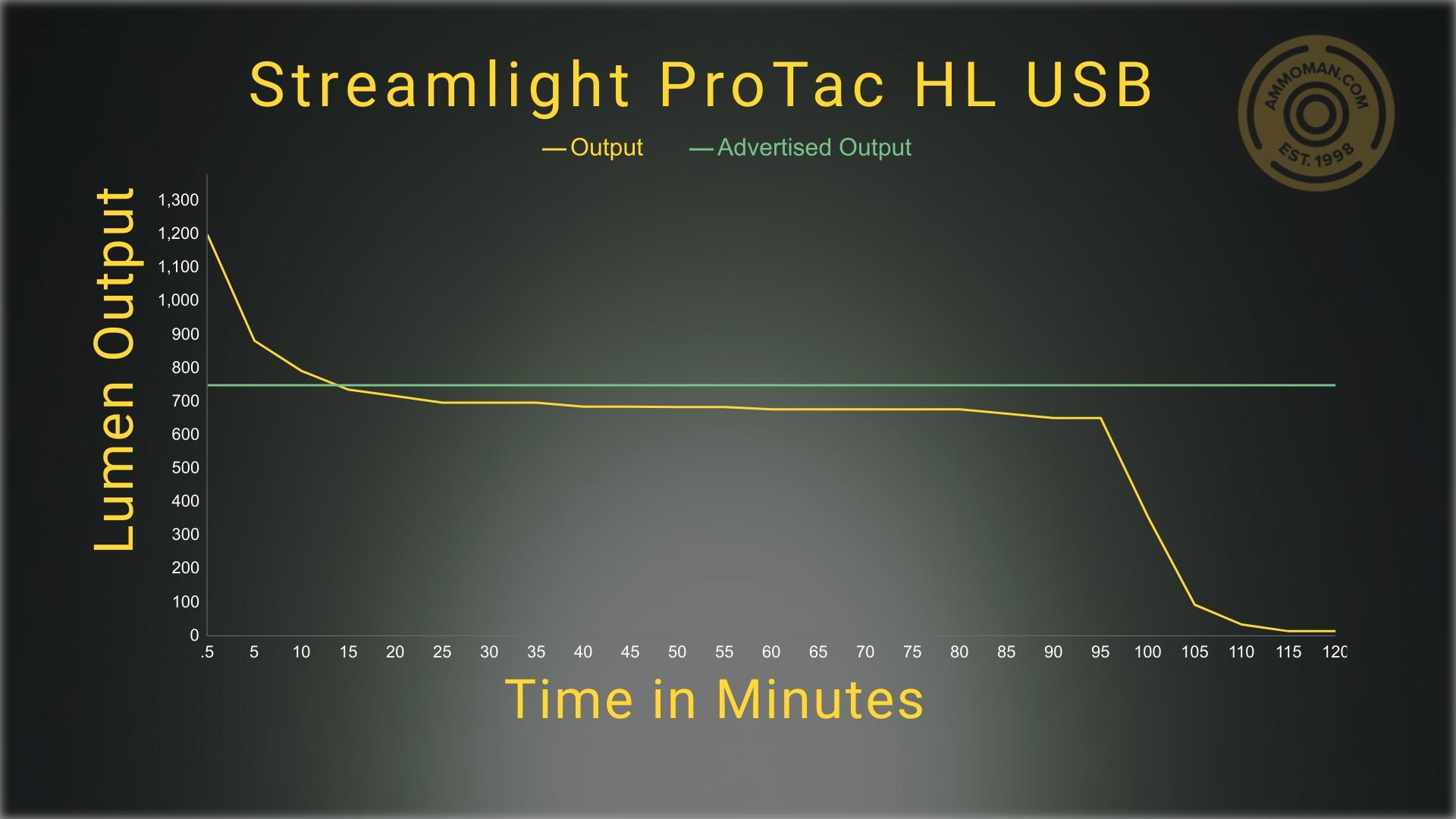 | | |
| --- | --- |
| Manufacturer | Streamlight |
| Manufacturer SKU | 88054 |