PMC Ammo

All About PMC Ammo

PMC is a budget-friendly ammunition manufacturer that sits at the intersection of quality and value and they are one of the leading suppliers of ammunition around the world. Their ammunition is manufactured in South Korea and before leaving their IOS-9000 certified factories, all ammunition is required to go through a rigorous quality control process.
PMC's dedication to quality is reflected in their manufacturing strategy. They employ vertical integration to manage every single step of the manufacturing process, which means they internally source all of their components and oversee the production of everything from the brass mills that produce their brass strip that the cartridges are made from, to the final product.
PMC ammunition is available for both rifles and handguns and all of their ammunition is reloadable and made from non-corrosive materials. Their ammunition is produced according to SAAMI and US Military Specification Standards and they are a huge player on the international ammo scene, including manufacturing NATO-spec rounds used by the South Korean military. If you are looking for dependable handgun or rifle ammunition made using extremely high standards, PMC is a solid choice.
PMC Handgun Ammunition
PMC's handgun ammunition has gained a positive reputation among gun owners because of its cheap cost, high availability, and shooting consistency. Their handgun ammunition is available in a range of calibers that include .32 ACP, 38 Super, and 10mm and is made with non-corrosive Boxer primers and reloadable brass casings. To ensure the quality and consistency of the ammo they produce, each round is inspected using an electronic quality control system.
The PMC Bronze line of handgun ammunition is a great choice for recreational shooters and for those who train regularly because of its relatively low price point and consistent performance. The PMC line includes cartridges made with full metal jacket (FMJ), jacketed hollow point (JHP), and jacketed soft point bullets (JSP). The .357 magnum Starfire self-defense ammunition is a good choice for anyone who has chosen a revolver as their everyday carry and their SFX ammunition, specifically engineered to feed reliably, is popular with those who own and carry 9mm semi-auto handguns.
Rifle Ammunition from PMC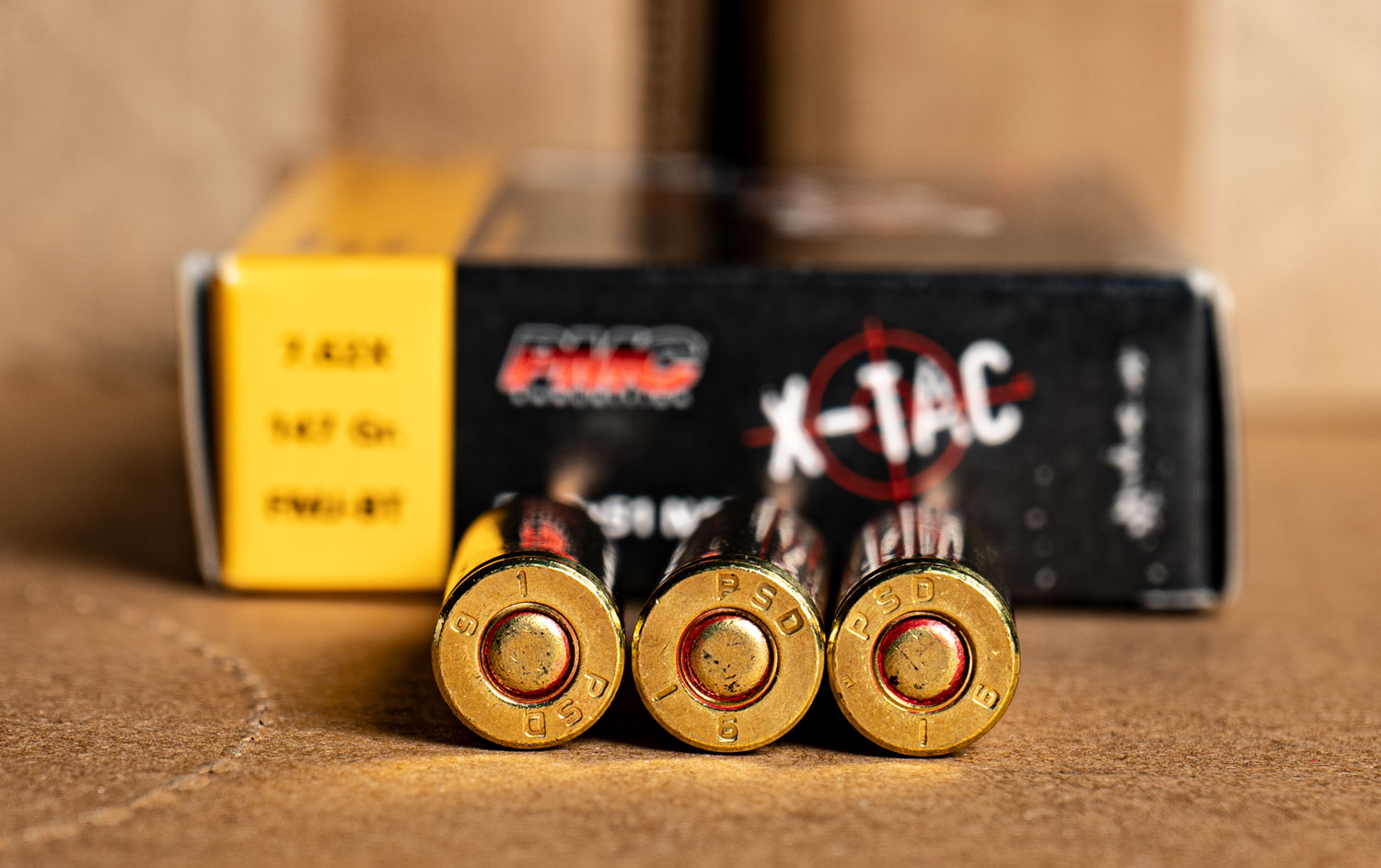 Almost all of PMC's centerfire rifle ammunition sold in the US is loaded with the same powder used by the US military. Each piece of rifle ammunition produced is reloadable, even the cartridges made with crimped primers. Their Bronze line of rifle ammo is made for the price-conscious shooter who does not want to sacrifice accuracy. This appealing combination makes the line very popular among recreational shooters and those who run through high volumes of ammo.
PMC's green-tipped M855 X-TAC line of rifle ammunition has been tested by military and law enforcement around the world and is designed to be used in situations where reliability is paramount. The X-TAC Match was created for competitive shooters who demand the highest accuracy levels. This ammo is available in .223 and 308 and its 168 grain, Open Tip Match Sierra bullet makes it the perfect choice for long range precision competitors.
Several types of PMC ammo are available in Battle Packs. That's a special packaging that will withstand unfriendly environments. These packs are made with a high-density polymer sleeve then vacuum-sealed, making them great for long-term storage or transporting to and from the range.
History of the Company
The Poongsan Corporation found PMC Ammunition back in 1968 in an effort to satisfy the country's demands for small arms ammunition. Their ammunition plant in Angang, South Korea was established soon after to supply ammunition to their own country. Shortly after they began manufacturing ammunition, they became very successful and decided to sell their surplus to new international markets. PMC has had a presence inside the United States since the early 1990s, and they currently have an office in Houston, Texas. A good portion of the ammunition they produce each year still goes to the military in their country, with the rest being sold in the international market.
Their mission to create the highest quality ammunition with a low price point has made their products incredibly popular throughout the world. PMC has become well known in the United States and other countries and their reputation for quality at a modest price ensures that they will remain one of the largest ammunition companies doing business in the United States.