Remington Ammo

About Remington Ammo

Headquartered in Madison, North Carolina, the Remington Arms Company, Inc. manufactures ammunition under the name Remington Ammo. They are one of America's best-known and most trusted manufacturers of pistol, rifle, rimfire, and shotgun ammunition and they have been a market leader in both arms and ammunition for over 200 years.

Remington carries the distinction of developing and adapting more types of cartridges than any other company in the world. They continue to innovate and develop new cartridges to this day. Their massive product lineup serves as evidence of that innovation with a ton of options in shotgun, rimfire, centerfire, and handgun ammunition.
All of the Remington factories are located in the United States, and the majority of their ammunition is produced in a state-of-the art facility in Arkansas. They also have extensive operations in New York, Kentucky, North Carolina and Ohio.
Shotgun Ammunition
Remington is well known for their production of a wide variety of shotgun shells in 12 gauge, 20 gauge, and 410 gauge. They produce several varieties of shotgun ammunition for hunting, including shells meant for hunting waterfowl, turkey, and upland game. They also manufacture buckshot, slugs for large game and self-defense, and target loads for recreational or competitive shooting. Their Slugger Rifled Slugs are very popular with hunters because they are designed to shoot flatter and more accurately than a standard 12 gauge slug. Some of Remington's ammunition is available in a reduced or low recoil configuration, which makes follow up shots faster and is a little easier on the shoulder.
Remington Handgun Ammunition
HTP, Golden Saber, UMC & More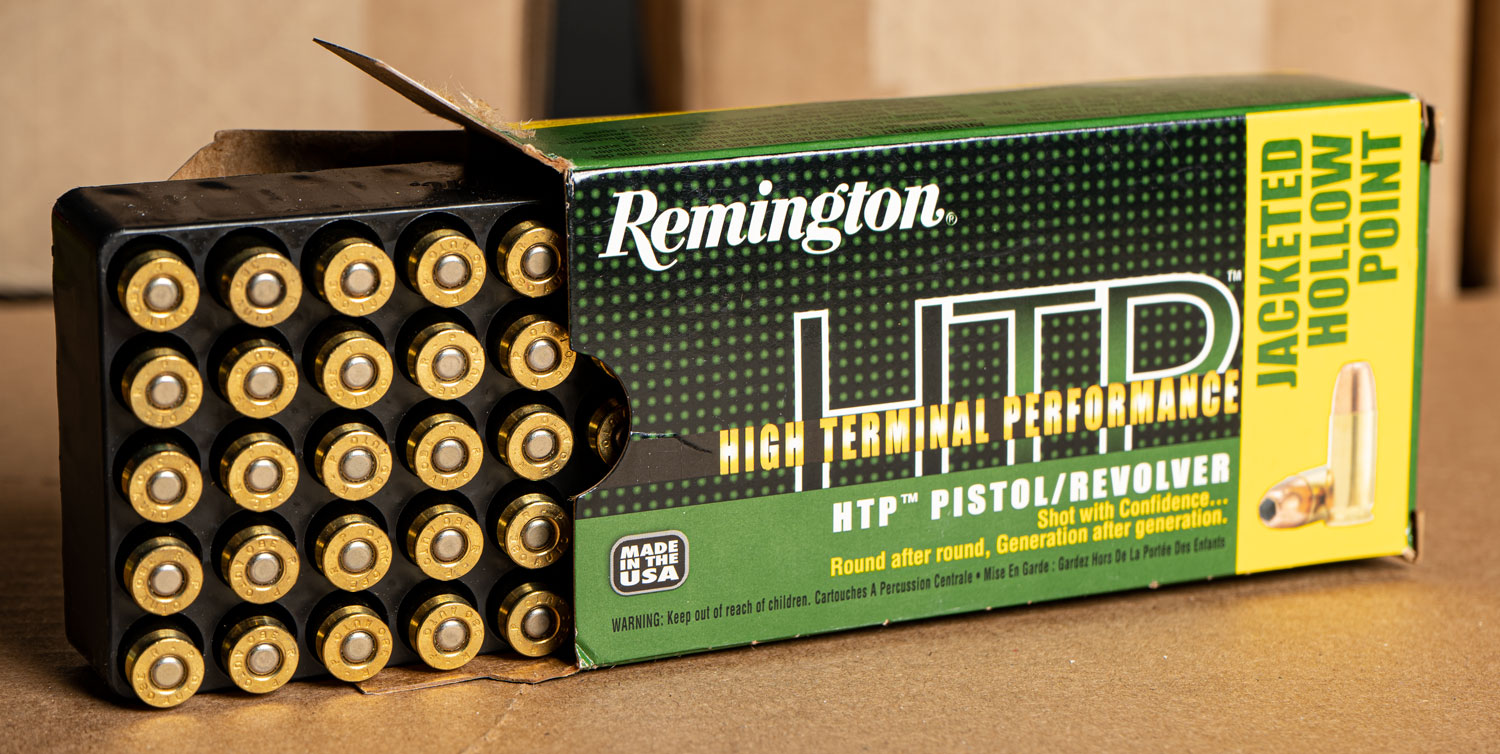 Remington manufactures every popular handgun caliber for handguns and revolvers, including 9mm, .38 Special, and .45 Automatic (ACP). They also produce less common ammunition like .45 GAP and .25 ACP, as well as cult favorites like .44 Remington Magnum and 10mm. Ammo types include jacketed hollow point (JHP), full metal jacket (FMJ), lead round nose (LRN), and semi-jacketed hollow point (SJHP). Remington is practically synonymous with .22LR rimfire ammunition and their Golden Saber ammunition is a top choice for self-defense applications.
Remington UMC ammo is their range training ammunition and probably the most popular load they sell. This is what you'll want to buy in bulk if you are hitting the range for a weekend of trigger time. It's cheap and is considered "ball ammo" so it's not designed to expand upon impact with a target.
Rifle Ammunition
Remington's rifle ammunition is one of the most purchased ammunition products in the world. Their .223 rifle ammunition is so popular, the bullet's name was changed from .223 Special to .223 Remington after Remington perfected the design in the 1960s. In addition to the .223, Remington makes reliable and accurate rifle ammunition in several calibers for applications including recreational, hunting, defensive, and highly regarded match ammo for rifle competitions.
Their Core-Lokt centerfire rifle ammunition is one of the best-selling hunting ammunition of all time. This rifle ammo has been relied upon by hunters for many decades because of its controlled expansion and proven performance in the field.
Company History
Remington is proud of their inventive American heritage—they have been in continuous operation since they were founded. The company started out in 1816, when Eliphalet Remington II forged his own rifle in his father's blacksmith shop. He was dissatisfied with the rifles available at the time and decided he could make a better flintlock rifle. He did just that, then entered a target-shooting event where he placed second in the contest. The rifle he built was a hit with the other competitors, and he received so many orders before he stepped off the field, he decided to go into the business of making guns.

After building the business for a decade, Eliphalet built a factory in Ilion, NY, which is still owned and operated by Remington Arms today. Throughout the1800s, Remington saw great success and they continued to expand.In 1871, the company created Remington Ammunition Works and began manufacturing ammunition.
Remington is currently owned by Cerberus Capital Management, a private equity firm, who purchased Remington in 2007.
During their 200-year history, Remington Arms has had many acquisitions, with one of the most notable being their merger with Union Metallic Cartridge Company, who was once the largest ammunition plant in the United States. In 1912, the companies were officially merged as Remington UMC, and Remington still manufactures UMC brand ammunition to this day.
Remington's legacy includes supplying both firearms and ammunition to both the US military and foreign allies during World War I and World War II and manufacturing the first commercially successful typewriter. While Remington has previously ventured into a number of other industries, including clothing, knives, and even hair rollers, they have more recently brought their focus back to firearms and ammunition in an effort to ensure quality and performance.
Remington is serious about maintaining their reputation for innovative, high-quality ammunition that sets performance standards. Their commitment to producing top-quality ammunition ensures that they will continue to lead the market, both domestically and globally, through the 21stcentury.