Hornady Ammo

All About Hornady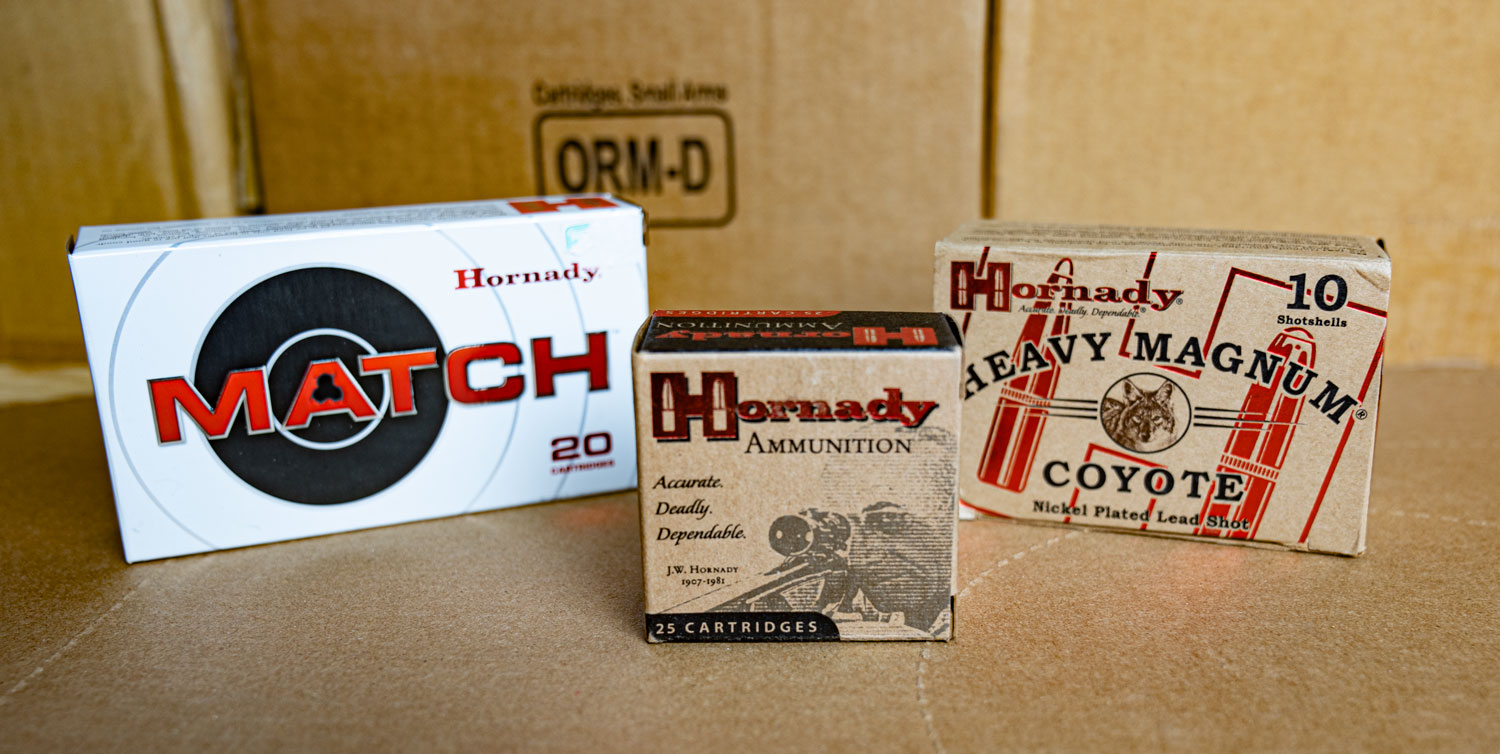 Hornady Ammunition is one of the most well-regarded names in the firearms industry. Based in Grand Island, Nebraska, they have been producing incredibly accurate and trustworthy match-grade ammunition for over five decades.
Hornady makes an extensive variety of pistol, rifle, rimfire, and shotgun ammunition. It's tailored to the needs of hunters, competition and recreational shooters, as well as gun owners looking for dependable self-defense rounds. When it comes to making precision ammunition, Hornady is in its own league—the company manufactures their own bullets and brass cases using only the finest quality materials and their commitment to producing only the most "accurate, deadly, and dependable" ammunition has earned them countless awards.
Hornady Rifle Ammunition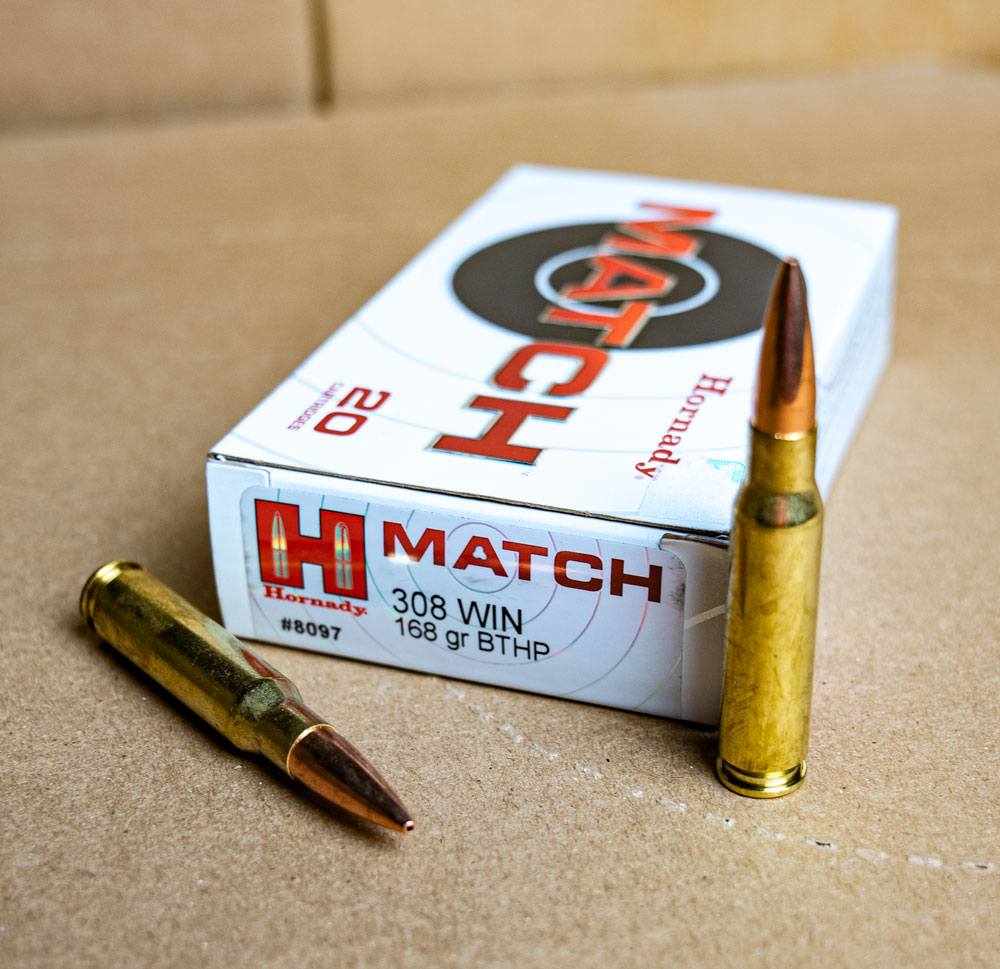 Hornady's roots are in rifle ammunition—the first bullet they ever made was the .30-caliber, and it's still one of their most popular rounds. They offer over a dozen product lines that include nearly every modern caliber of rifle ammunition. While all of Hornady's rifle ammo is made to perform at the highest level, each product line is made for a specific type of shooting.
Hornady A-MAX bullets
Their devotion to accuracy makes Hornady rifle ammunition a fan favorite among long range shooting competitors. The Superformance and A-Max .308 provides the accuracy competitive shooters require and the ELD 6.5 Creedmoor has the velocity to reach out to targets at long distances. Hunters will find an almost overwhelming choice of rifle ammo, including Hornady's American Whitetail ammunition, created especially for deer hunters and 30.06 Full Boar ammo, which offers controlled expansion while retaining at least 95% of its weight during delivery.
For those looking for dependable 2.23 or 5.56 ammo, Hornady manufacturers several types of ammo in a variety of bullet weights. These lines include the budget-friendly Frontier line made for target shooting, the "Match" series for competition, and Critical Defense for self-defense purposes.
Hornady does not shy away from specialization, and that includes self-defense ammunition for classic lever-action guns. Their LEVERevolution ammunition is available in 357 Magnum, .45 Colt, 30-30 and 45.70 and provides spitzer ballistics in lever-action rifles while still loading and cycling safely in tubular magazines.
Handgun Ammunition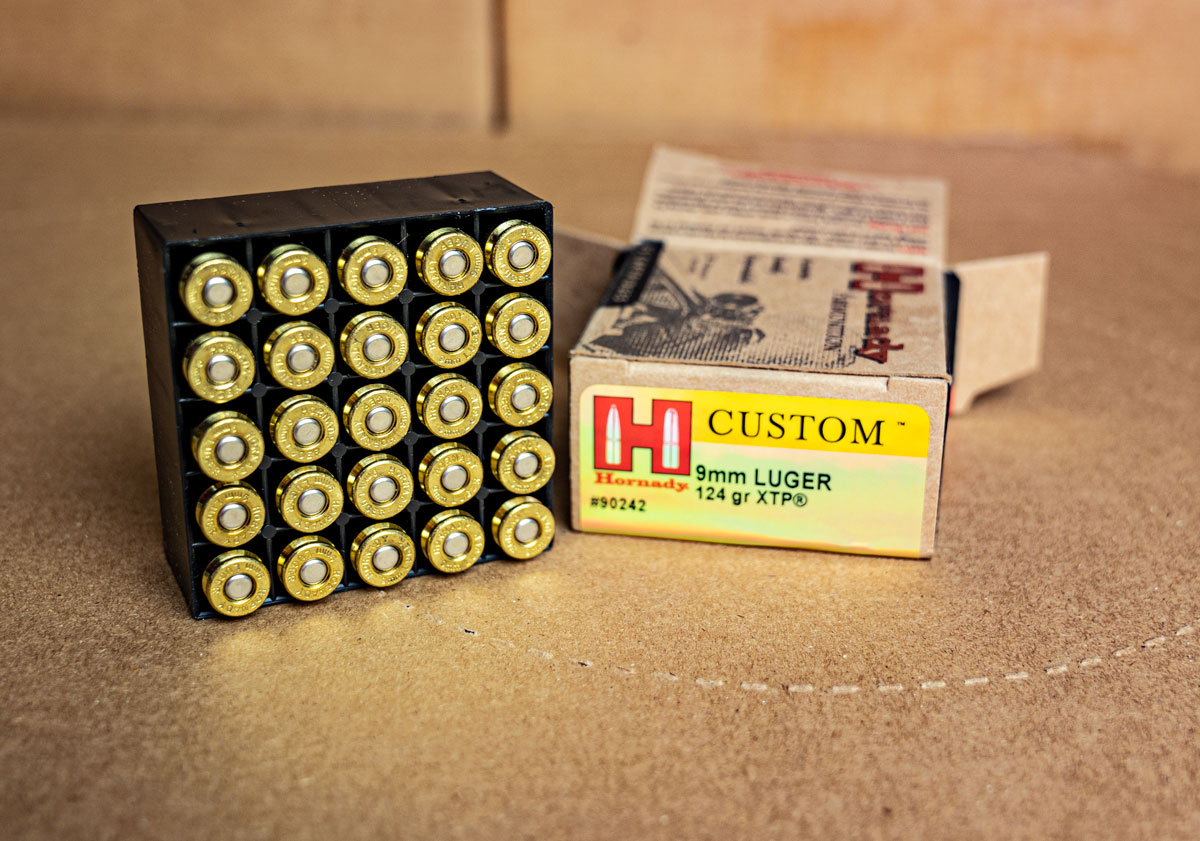 Not to be outdone by their rifle ammunition, Hornady's handgun ammunition is in a class by itself. From .25 ACP to 10mm, Hornady offers nearly unmatched dependability and a wide variety of product lines for different applications.
Critical Defense for Protection
Self-defense ammunition is one of Hornady's specialties. The Critical Defense line of self-defense handgun ammo is incredibly popular with those who carry concealed because of its ability to provide maximum threat-stopping power. The patented Flex Tip technology used in this unique ammo ensures that debris won't clog the bullet during impact. The Custom XTP line, available in popular defensive calibers like 9mm, offers serious knock down power thanks to their highly acclaimed XTP bullet.
Hornady's American Gunner series of handgun ammunition is available in popular calibers, including 9mm, .40 S&W, and 38 Special. This ammo is popular with both recreational shooters and those who carry because it is reasonably priced and serves as a good self-defense training round.
Hornady Shotgun Ammunition
In addition to Hornady's infamous rifle and handgun ammunition, they also make shotgun ammunition for hunting, competition, and self-defense. Popular lines include Critical Defense in 410 bore, designed to put three projectiles into an assailant at seven yards, Superformance shotgun ammo, created to provide versatility and high velocity without increasing felt recoil or muzzle blast, and the Varmint Express shell, which is 12 gauge buckshot that makes a great choice for small predator hunting.
Hornady Rimfire Ammunition
Hornady has a long history of manufacturing rimfire ammunition. They were the original developer of the .17 HMR cartridge, a round that's often used for vermin hunting. They also produce the .22 WMR, a caliber that's also a good match for hunting small animals.
History of the Ammo Maker
Hornady started their business as a 2-person operation in a former auto body shop in Grand Island, Nebraska and has grown tremendously over time. They are now the largest independently owned bullet and ammunition manufacturer in the world. Hornady has been an innovator since the very beginning—Joyce Hornady started working in the industry in the early 1940's alongside Vernon Speer, where they worked together to make bullet jackets from spent rimfire cases. In 1949, Joyce founded Hornady so he could create high-accuracy bullets for reloading that were affordable. In the mid-60s, Joyce expanded his horizons by making remanufactured ammunition under the name Frontier Ammunition, and eventually merged that company with Hornady.
By continuously innovating and pioneering new styles of bullets and ammunition, Joyce grew the company into the powerhouse it is today. His youngest son, Steve Hornady joined the company in 1970, and Marval Hornady, Steve's wife, started working at the company a short time later. The company was passed on to Steve when Joyce Hornady died unexpectedly in a plane crash in 1981. Over time, Hornady has exponentially expanded their product line, and they stay true to their roots by continuing to cater to shooters who demand high-performance ammunition.
Hornady has a long history of advocating on behalf of the shooting and hunting industry. Today, Hornady woks with the National Shooting Sports Foundation (NSSF), the National Rifle Association, and HAVA, a non-profit organization that helps disabled soldiers transition after returning to the US.
No matter the task, Hornady Ammunition has a round to get the job done. The company is optimistic about their future, and they should be—Hornady is second to none when it comes to producing top-of-the-line ammunition for any application.