Wolf Ammo

All About Wolf Ammo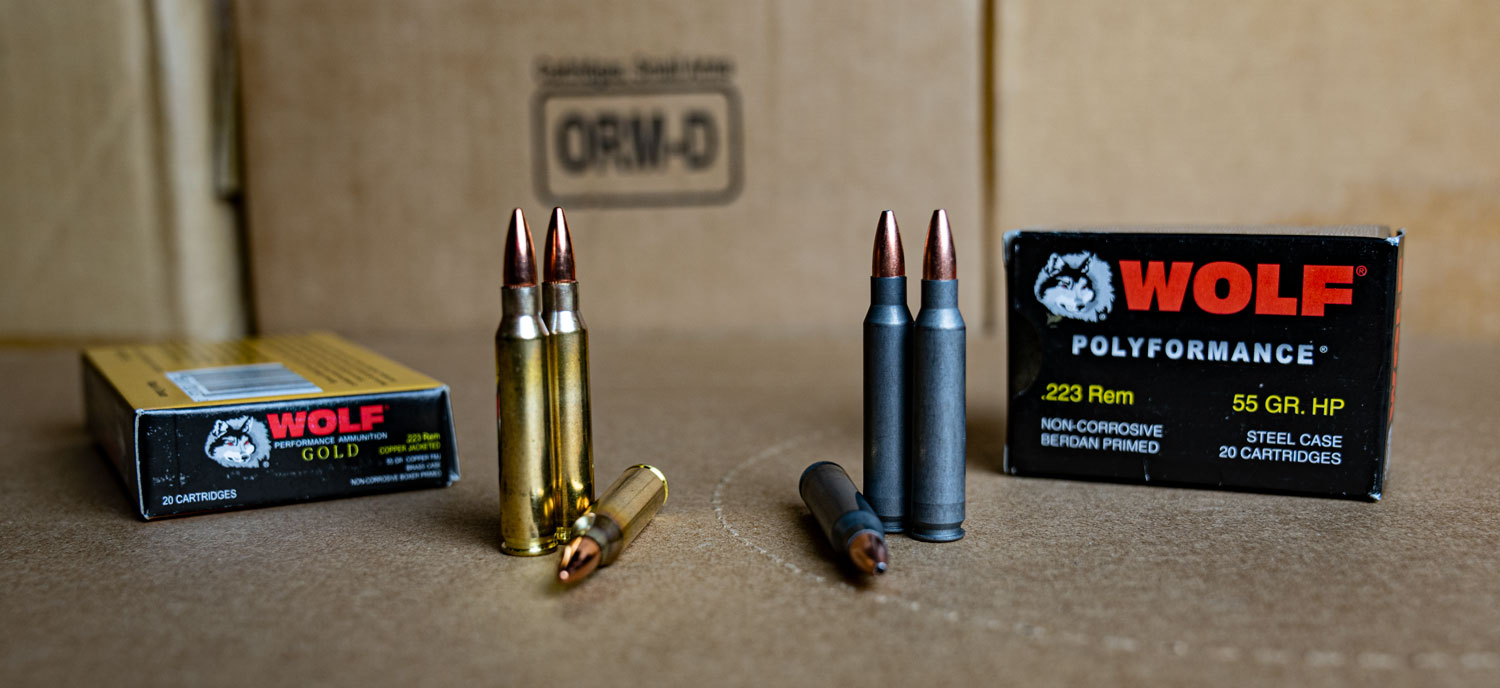 WOLF Performance Ammunition, also known as WPA, is one of the leading manufacturers of budget-friendly ammunition in the world. They produce a large variety of calibers, and military rifle calibers are one of their specialties. WOLF ammo is a great choice for recreational shooters who are looking for cheap rounds that will perform reliably. Firearms enthusiasts who shoot bulk ammo and need lots of rounds without doing too much damage to their bank accounts.
WOLF manufactures non-corrosive pistol, rifle, and rimfire ammunition made with either steel or brass cases. They are best known for their steel-cased ammunition, which is less expensive than brass-cased ammo but offers similar reliability. Not all indoor ranges allow ammunition with steel components due to its magnetic properties, so be sure to check with the range before shooting WOLF's steel-cased ammunition indoors.
WOLF Rifle Ammunition
Polyformance, WPA & Wolf Gold
WOLF is well-known for their rifle ammunition and they produce three distinct lines in many different calibers. Their steel-cased Military Classic line of rifle ammo is available in both common and nostalgic military calibers such as .223, 7.62x39, and 7.62x54r. Their 5.45x39mm rounds are very popular with AK platform owners—the quality and accuracy of these rounds make them a significant upgrade from military surplus ammunition. They also manufacture lesser known calibers like the 303 British, a rifle and machine gun caliber that is sometimes used for hunting deer or other medium-sized game, and the 6.5 Grendel, an alternative AR platform caliber.
The Polyformance line of rifle ammunition features a proprietary polymer-coating that is designed to assist with feeding and extraction. Most of their rifle calibers are made using a bimetal bullet, which can exhibit magnetic properties.
WOLF's Gold line of ammunition is made with high-quality components, including reloadable brass cases, copper-jacketed bullets, and Boxer primers. The .223 caliber is made specifically for the AR-15 and offers a flat trajectory and high velocity.
WOLF Handgun Ammunition
WOLF produces a limited line of handgun calibers that are used by both low and high-volume shooters. Their handgun ammunition is available in their Military Classic and Polyformance lines, and both lines are manufactured with steel cases. WOLF's 9mm is one of their all-time most popular rounds, as it performs very well either target shooting or training purposes. Like their rifle ammunition, WOLF's handgun ammo generally has some magnetic properties and may not be suitable for all indoor ranges.
WOLF Rimfire Ammunition
For those looking competition-level precision in a .22 LR round, WOLF offers .22 LR Match Target ammunition. This rimfire ammunition is a little different from their other lines because it is made by ELEY, an ammo manufacturer based out of the UK and known for producing some of the most accurate ammo ever produced. These match grade rounds deliver top-of-the-line performance at an incredibly reasonable price and the components include the first-quality brass and Vihtavuori powder to ensure maximum performance.
WOLF's History
A relative newcomer to the ammunition industry, WOLF Performance Ammunition was not founded until 2005. The rumors of their ammunition being the same as another Russian manufacturer are indeed true—when WOLF started out, their ammunition was originally manufactured at the Tula Cartridge plant in Tula, Russia. It's not uncommon for people to confuse the two companies since they once partnered, but in 2009, they became an entirely separate entity and are no longer associated with Tula. Today, WOLF is a trademarked name associated with Sporting Supplies International (SSI), a major importer of ammunition. Wolf's ammunition is currently produced in several different European countries, and they are headquartered in California.
WOLF Performance Ammunition makes reliable products at a comfortable price point and without sacrificing accuracy. With WOLF ammo, a firearms enthusiast can send a lot of rounds downrange without worrying about how much each round costs.
Note: Since some testing has shown that WOLF's steel cases may not form a perfect seal inside the chamber of some modern firearms, we recommended that you clean your guns after using Wolf ammunition to remove any excess carbon that may be present.
WOLF is one of the only ammunition manufacturers to offer a 100% Performance Guarantee. If you are not satisfied with any of their products can return it to WOLF for a complete refund equal to the remaining amount of ammo.