BULK 9MM AMMO SHIPS FOR FREE!
9x19 ammo and 9mm Luger refers to the same NATO caliber and are commonly referred to as simply 9mm ammo. 9mm ammo is the most popular handgun cartridge in the world and has a history dating back to the German Empire in 1902 where the round was developed by a man named Georg Luger.
9mm Ammo In-Stock and For Sale:
9mm Ammo in Stock for Range Use, Plinking, and Personal Protection
Want to learn more? Check out the video below for a quick summary and more info on our bulk 9mm options:
We work hard to keep a steady supply of all types of 9mm ammo and 9mm bullet types in stock and available for shooters. That means a good assortment of full metal jacket bullets for plinking as well as jacketed hollow points (JHP) for self-defense use. As always, bulk 9mm for sale ships for free from AmmoMan.com and you'll typically find the cheapest price per round on full 1,000 round cases of 9mm ammunition.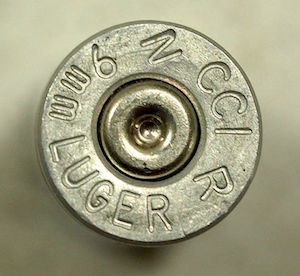 Brass cased 9mm rounds from Federal, Remington, and PMC are among the most trusted rounds for most 9mm handgun shooters but you're likely to have great luck with well-known foreignbrands like Wolf and Tula that manufacture 9x19 ammo with steel cases as well.
Additionally, look for a good supply of both standard 115 grain projectiles along with heavier 124gr. and 147 grain 9mm bullets. Lighter 9mm ammo generally delivers a muzzle velocity of around 1,300 feet per second while the heavier rounds come in around 1,000 feet per second.
Most shooters just getting their start prefer the lighter 115 grain rounds as they typically will deliver slightly less recoil than the heavier, 147 grain ammo will. With that in mind, many established pistol shooters that choose 9mm as their caliber for personal protection lean toward the heavier round because of the damage it can inflict upon a target, especially when paired with a well-engineered self-defense bullet like Federal HST, Remington Golden Saber, or Hornady's Critical Defense line of ammunition.